The Anatomy Lesson (Paperback)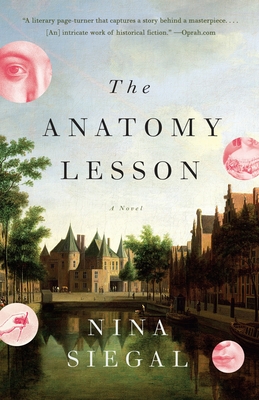 Description
---
A single day in Amsterdam, 1632. The Surgeons' Guild has commissioned a young artist named Rembrandt to paint Dr. Nicolaes Tulp as he performs a medical dissection. In the swirl of anticipation and intrigue surrounding the event, we meet an extraordinary constellation of men and women whose lives hinge, in some way, on Dr. Tulp's anatomy lesson. There is Aris the Kid, the condemned coat thief whose body is to be used for the dissection; Flora, his pregnant lover; Jan Fetchet, the curio dealer who acquires corpses for the doctor's work; the great René Descartes, who will attend the dissection in his quest to understand where the human soul resides; and the Dutch master himself, who feels a shade uneasy about this assignment.
       As the story builds to its dramatic conclusion, circumstances conspire to produce a famous painting—and an immortal painter. Vividly rendered, masterfully written, The Anatomy Lesson is a story of mind and body, death and love—and redemptive power of art.
About the Author
---
Nina Siegal received her MFA in fiction from the Iowa Writers' Workshop and her BA from Cornell. She is the author of two novels, A Little Trouble With the Facts and The Anatomy Lesson, and is the recipient of many fellowships, grants, and awards, including the Jack Leggett Fellowship from Iowa, a Fulbright Fellowship in Creative Writing, and MacDowell Colony Fellowships. She has covered fine art and culture for The New York Times, Bloomberg News, the International Herald Tribune, W, Art in America, and many other publications.
Praise For…
---
"A literary page-turner that captures a story behind a masterpiece. . . . [An] intricate work of historical fiction." —Oprah.com

"Fascinating. . . . Conveys the pomp, graft, bustle and rough justice of 17th-century Holland through a multitude of voices." —The New York Times Book Review

"Siegal succeeds in the task she has set herself—to transmute her material into a work of art." —The New Yorker
 
"Nina Siegal's lovely novel dissects the dissection, evocatively translating the painted narrative into words." —Russell Shorto, author of Amsterdam

"Brilliantly structured. . . . Filled with vivid characters. . . . Dazzling." —Margot Livesey, author of The Flight of Gemma Hardy

"Once in a rare while, you get to read a story of such breathtaking beauty and intelligence that you remember why you love to read. The Anatomy Lesson is just such a novel. In stunning prose, Nina Siegal animates Rembrandt's first masterpiece, spinning a deeply affecting tale of love, loss and redemption as she reveals the secrets of the human soul. It is a gorgeous literary page turner of immense sympathy and elegance, equal in artistic élan to its inspiration. Brava!" —Robin Oliveira, author of My Name is Mary Sutter

"A thought-provoking and richly populated novel by a talented new voice." —Shelf Awareness

"Virtually every sentence is drenched in the atmosphere of 17th-century Amsterdam. We feel as if we are walking at Rembrandt's side, in a cell awaiting the execution of a thief, rushing through the streets with the condemned's lover in hopes of saving him. This is a novel to be absorbed for its rich evocation of a single day when one man died and another rose to fame for his art." —Historical Novel Society

"Splendid. . . . Through masterful use of subtle details, embroidered into beautiful writing, Siegal suggests that art and violence often intertwine." —Publishers Weekly