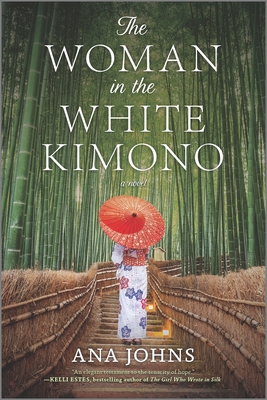 Staff Reviews
---
Excellent depiction of post WWII Japan and the little known tragic fate of children born of American servicemen and Japanese women. There is lots to pull at your heartstrings and is an interesting look at Japanese culture. In the vein of Before We were Yours. Hard-to-put-down!
— From
What Karin is Reading
I had no expectations re this bestselling novel or the author when a friend offered it...along with "you've got to read this one." So I dove in blind, guessing that I might discover a voice and themes similar to Lisa See. Ana Johns captivated me even more than See from the beginning of THE WOMAN IN THE WHITE KIMONO, as her story travels from a cancer patient's final days with his daughter in present day America back to his WWII days as a sailor serving in Japan and a remarkable love affair that changed several lives forever.
In 1957, seventeen-year-old Naoko Nakamura meets her beloved Haijme at the same time her family arranges for her marriage with a respectable and honorable Japanese man of high status in the community. To marry an American soldier would bring disgrace in her culture, even without others knowing that she already carries Haijme's unborn child. She is forced to make drastic choices, staying true to her lover and her heart while putting herself and her baby in unforeseen danger.
Therein lies the surprise element of the book...Based on historical events involving real young Japanese women, the author's compassionate research reveals the atrocities involving those who became pregnant through rape, poor judgment or, as in Naoko's case, a genuine bond with an American serviceman. Thousands of babies were born alive
then murdered in sequestered "maternity homes" or babies of mixed race were taken from their mothers against their will and handed off to overcrowded orphanages. Ana Johns brings to light a disturbing glimpse of Japanese history with relevant reflections for today about "the right to life."
Upon his death, Haijme's daughter Tori, finds a letter that reveals "Pops'" love affair and the possibility that Tori might even have a sister born years ago to Naoko. Tori journeys to remote Japan to uncover the truth and makes peace, at last, with the important people in her father's past and her own extended family.
Ana Johns has delivered a memorable, moving novel.
Sandy Ferguson Fuller
— From
What Sandy is Reading
Description
---
"Cinematic, deeply moving, and beautifully written." --Carol Mason, author of After You Left Inspired by true stories, The Woman in the White Kimono illuminates a searing portrait of one woman torn between her culture and her heart, and another woman on a journey to discover the true meaning of home. Japan, 1957. Seventeen-year-old Naoko Nakamura's prearranged marriage secures her family's status in their traditional Japanese community. However, Naoko has fallen for an American sailor, and to marry him would bring great shame upon her entire family. When it's learned Naoko carries the sailor's child, she's cast out in disgrace and forced to make unimaginable choices with consequences that will ripple across generations. America, present day. Tori Kovac finds a letter containing a shocking revelation. Setting out to learn the truth, Tori's journey leads her to a remote seaside village in Japan, where she must confront the demons of the past to pave a way for redemption. In breathtaking prose, The Woman in the White Kimono shows how two women, decades apart, are inextricably bound by the secrets between them.