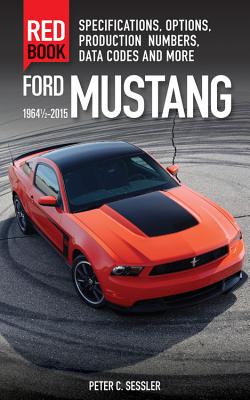 $24.99
Not Currently On The Shelf, But We Can Ship It To You In 3-5 Days
Description
---
Complete data on over 50 years of America's original pony car.
Ford's Mustang is America's most popular pony car. Whether you're a collector, historian, or armchair enthusiast, you need all the specs and details that in sum define each Mustang year and model. Ford Mustang Red Book is your one-stop information shop--a key companion for shows, auctions or any venue where you need to quickly and easily access accurate reference data.
From the first six-cylindered Mustang of the 1964-1/2 model year, through fire-breathing, world-beating Boss and Shelby models, to 2015's all-new Mustang, Ford Mustang Red Book offers all the data and detail Mustang fans lust after. This is an in-depth look at all the Mustang models, including the anniversary and pace cars, and the specialty packages for street and competition driving that have made the Mustang an automotive legend. Don't miss out on the ultimate reference resource on America's best-loved pony car!
About the Author
---
Longtime automotive journalist Pete C. Sessler has authored numerous books on a variety of automotive topics. His writing has also appeared in North American automotive magazines. Sessler is a member of the International Motor Press Association and the former editor in chief of MuscleCars magazine. He resides in Dunnello, Florida. Learn more about him on his website, www.petercardassilarisessler.com.
Praise For…
---
"Peter Sessler has put together more Mustang (including Shelby) specification and price guides than we can count. He has come out with one every few years, includes the newest cars. He has found his niche, and he is very good at it." - Shelby American
"The 5x8-inch sized book is easy to carry in a glovebox or console and features 240 pages packed with information you'll no doubt come to rely on as much as we do. Over 100 color photos (and six black and white photos) help break up the sections and show major body styles and trim levels as well. It's all in there, from the first six-cylinder Mustangs through the Boss and Shelby models right up to today, it is a one-stop reference resource you'll want to have in your Mustang media collection." - MustangAndFords.com