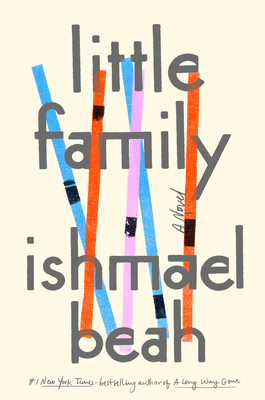 Staff Reviews
---
Ismeal's smile is contagious and his brilliant writing is addictive too. Millions loved his biography Long Way Gone and I think his new novel Little Family is great too. This follows 5 children that through unfortunate circumstances are surviving together is Zimbabwe. They are street-smart, resilient, smart and resourceful. Although tragic things have brought these kids together the book doesn't dwell on that but rather their love and caring for each other, their dealing with others' and their philosophy. The characters are so well portrayed, I immediately could picture them and was cheering for them all the way. Outstanding!
— From
What Karin is Reading
Description
---
From the #1 New York Times–bestselling author of A Long Way Gone.

A powerful novel about young people living at the margins of society, struggling to replace the homes they have lost with the one they have created together.

Hidden away from a harsh outside world, five young people have improvised a home in an abandoned airplane, a relic of their country's tumultuous past. Elimane, the bookworm, is as street-smart as he is wise. Clever Khoudiemata maneuvers to keep the younger kids—athletic, pragmatic Ndevui, thoughtful Kpindi, and especially their newest member, Namsa—safe and fed. When Elimane makes himself of service to the shadowy William Handkerchief, it seems as if the little family may be able to keep the world at bay and their household intact. But when Khoudi comes under the spell of the "beautiful people"—the fortunate sons and daughters of the elite—the desire to resume an interrupted coming of age and follow her own destiny proves impossible to resist.

A profound and tender portrayal of the connections we forge to survive the fate we're dealt, Little Family marks the further blossoming of a unique global voice.
About the Author
---
Ishmael Beah is the Sierra Leonean and American author of the novel Radiance of Tomorrow and the memoir A Long Way Gone, which was a #1 New York Times bestseller and has been published in more than forty languages. A UNICEF Ambassador and Advocate for Children Affected by War, and a member of the Human Rights Watch Children's Advisory Committee, he lives in Los Angeles with his wife and their children.
Praise For…
---
"A testament to Beah's confidence as a writer and a remarkable storyteller." —The New York Times Book Review

"Deeply affecting. . . . Little Family is an empathy-expanding story without the heavy gears of polemical fiction. . . .  [Beah] conveys his unsettling assessment with a more delicate balance of tenderness and dread. . . . [The] little family have such a clear-eyed sense of their place as disposable members of society. To hear their story should make our confirmed blindness a little harder to maintain." —The Washington Post

"Arguably the most-read African writer in contemporary literature." —Vanity Fair

"[A] vibrant outing. . . . Beah informs his characters' blend of street savvy and naïveté with bursts of details. . . . Fans of African postcolonial fiction are in for a treat." —Publishers Weekly

"An ingenious setup. . . . readers will be drawn to discover what befalls a group fending for itself amid conflict and crime. Beah draws on both his life and imagination to depict children leading brave, provisional lives." —Kirkus Reviews

"Beah portrays his characters with exquisite tenderness, imbuing them with a grace that belies their wretched situation. . . . In a work less harrowing but no less effective than Radiance of Tomorrow, Beah continues to speak eloquently to the impact of colonialism on generations of African children for whom freedom is merely an illusion." —Library Journal

"Unflinching and unadorned, Beah's novel provides an indelible portrait of desperate survival."  —Booklist (starred review)

Praise for A Long Way Gone:

"Everyone in the world should read this book."  —The Washington Post

"A breathtaking and unselfpitying account of how a gentle spirit survives a childhood from which all innocence has suddenly been sucked out. . . truly riveting."  —Time

"Deeply moving, even uplifting. . . Beah's story . . . demands to be read." —People 

Praise for The Radiance of Tomorrow:

"Written with the moral urgency of a parable and the searing precision of a firsthand account . . . There is an allegorical richness to Beah's storytelling and a remarkable humanity to his characters. We see tragedy arriving not through the big wallops of war, but rather in corrosive increments."  —The New York Times Book Review