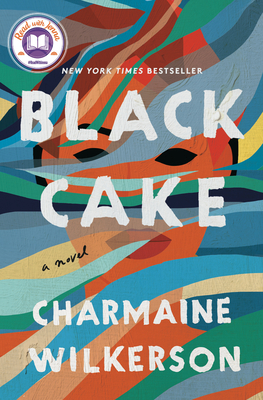 Staff Reviews
---
The recipe for black cake is complicated just like the history of this Caribbean family. Secrets blended through differing perspectives in a tasty story. I enjoyed this on many levels – it's a story of family history, sibling ties, and a wonderful love story. I found myself immersed in the characters and their journey. "We can't choose what we inherit. But can we choose who we become?" A strong and enjoyable debut.
— From
What Karin is Reading
Eleanor Bennett dies before revealing many secrets of her life. She leaves a recording for her two adult children Benny and Byron who have not gotten along in years. From her upbringing on a beautiful shore in the West Indies to her daring escape and life transformations thereafter, this book jumps back and forth in time each leap reveals a little bit more. It's a layering effect that keeps the reader reading and guessing. The two siblings--will they put aside their grudges and past history in order to understand the new family history that is revealed?
— From
What Amy is Reading
Description
---
NEW YORK TIMES BESTSELLER • READ WITH JENNA BOOK CLUB PICK AS FEATURED ON TODAY • Two estranged siblings delve into their mother's hidden past—and how it all connects to her traditional Caribbean black cake—in this immersive family saga, "a character-driven, multigenerational story that's meant to be savored" (Time).
 
"Wilkerson transports you across the decades and around the globe accompanied by complex, wonderfully drawn characters."—Taylor Jenkins Reid, New York Times bestselling author of The Seven Husbands of Evelyn Hugo, Daisy Jones & The Six, and Malibu Rising

In development as a Hulu original series produced by Marissa Jo Cerar, Oprah Winfrey (Harpo Films), and Kapital Entertainment
 
We can't choose what we inherit. But can we choose who we become?
In present-day California, Eleanor Bennett's death leaves behind a puzzling inheritance for her two children, Byron and Benny: a black cake, made from a family recipe with a long history, and a voice recording. In her message, Eleanor shares a tumultuous story about a headstrong young swimmer who escapes her island home under suspicion of murder. The heartbreaking tale Eleanor unfolds, the secrets she still holds back, and the mystery of a long-lost child challenge everything the siblings thought they knew about their lineage and themselves.

Can Byron and Benny reclaim their once-close relationship, piece together Eleanor's true history, and fulfill her final request to "share the black cake when the time is right"? Will their mother's revelations bring them back together or leave them feeling more lost than ever?

Charmaine Wilkerson's debut novel is a story of how the inheritance of betrayals, secrets, memories, and even names can shape relationships and history. Deeply evocative and beautifully written, Black Cake is an extraordinary journey through the life of a family changed forever by the choices of its matriarch.
About the Author
---
Charmaine Wilkerson is an American writer who has lived in Jamaica and is based in Italy. A graduate of Barnard College and Stanford University, she is a former journalist whose award-winning short fiction has appeared in various magazines and anthologies. Black Cake is her first novel.
Praise For…
---
"Black Cake is a character-driven, multigenerational story that's meant to be savored. . . . Thought-provoking and poignant."—Time

"A thrilling debut novel about sibling ties and hidden family history."—Glamour

"As delicious as the titular dessert."—W Magazine

"Wilkerson explores the nuances of racial identity and betrayal in a powerful novel."—Vogue (UK)

"Black Cake is a satisfying literary meal, heralding the arrival of a new novelist to watch."—Associated Press

"A stellar first-time entry from a talented new writer that's full of food, surfing, and rich patois."—BET

"Crafted with delicate intention and textured with a blend of perspectives."—Vulture

"I was instantly taken in by this multigenerational tale of identity, family, and the lifelong push and pull of home. This novel has a tremendous heart at its center, and I felt its beat on every page. What an extraordinary debut."—Mary Beth Keane, New York Times bestselling author of Ask Again, Yes

"Exquisite and expansive, Black Cake took ahold of me from the first page and didn't let go. This is a novel about the formation and reformation of a family, and the many people, places, and events that can shape our inheritances without our knowing. A gripping, poignant debut from an important, new voice."—Naima Coster, New York Times bestselling author of What's Mine and Yours

"Black Cake has all the ingredients of the tastiest stories: secrets, romance, danger, and a cast of characters so real you want to scream at them one moment and hug them the next."—Dawnie Walton, author of The Final Revival of Opal & Nev

"So beautifully written I'm struggling to believe it's a debut . . . The cake is the glue that holds all the layers together and the scenes are so well drawn I could almost taste the cake, feel the warm sea on my skin."—Nikki May, author of Wahala

"With fantasy-like sensual detail, Wilkerson slips through time and place to explore the emotional weight of family traditions passed down through generations to heirs challenged to find their own emotional truths."—Lucy Sanna, author of The Cherry Harvest

"Fans of family dramas by Ann Patchett, Brit Bennett, and Karen Joy Fowler should take note. Black Cake marks the launch of a writer to watch, one who masterfully plumbs the unexpected depths of the human heart."—BookPage (starred review)

"Wilkerson uses one Caribbean American family's extraordinary tale to probe universal issues of identity and how the lives we live and the choices we make leave 'a trail of potential consequences' that pass down through generations."—Booklist (starred review)