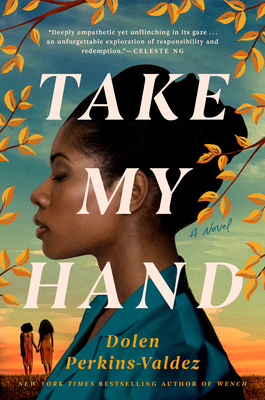 $27.00

Not Currently On The Shelf, But We Can Ship It To You In 3-5 Days
Staff Reviews
---
This is a cross between The Help and Henrietta Lacks; a compelling story that is inspired by appalling true events. I feel this shows injustices and over-reaching government agencies as well as brave individuals and how they can make a difference. I found this thought provoking and it will be great for discussion. A powerful message - don't miss the author note.
— From
What Karin is Reading
This novel was eye opening for me and unfortunately very relevant to current events related to Roe V. Wade. This is based on true events in the 60s and 70s when the US government paid for, justified, and performed sterilizations on young poor and black girls. They justified birth control that was not yet approved. Civil, a newly graduated nurse, takes a job in a family outreach center hoping to help local families. Instead she is swept into the controversial procedures in a way that takes over her life in unexpected ways. This is a very well written historical novel.
— From
What Amy is Reading
April 2022 Indie Next List
---
"Dolen Perkins-Valdez has a gift. Take My Hand sheds light on the long history of forced sterilization of African American women and introduces the incredible Civil Townsend, whose compassion I see in Black women doctors in my own life."
— Morgan Harding, Politics and Prose Bookstore, Washington, DC
Description
---
"Deeply empathetic yet unflinching in its gaze…an unforgettable exploration of responsibility and redemption." —Celeste Ng
 
"Highlights the horrific discrepancies in our healthcare system and illustrates their heartbreaking consequences." —Essence
 
Inspired by true events that rocked the nation, a searing and compassionate new novel about a Black nurse in post-segregation Alabama who blows the whistle on a terrible injustice done to her patients, from the New York Times bestselling author of Wench

Montgomery, Alabama, 1973. Fresh out of nursing school, Civil Townsend intends to make a difference, especially in her African American community. At the Montgomery Family Planning Clinic, she hopes to help women shape their destinies, to make their own choices for their lives and bodies.

But when her first week on the job takes her along a dusty country road to a worn-down one-room cabin, Civil is shocked to learn that her new patients, Erica and India, are children—just eleven and thirteen years old. Neither of the Williams sisters has even kissed a boy, but they are poor and Black, and for those handling the family's welfare benefits, that's reason enough to have the girls on birth control. As Civil grapples with her role, she takes India, Erica, and their family into her heart. Until one day she arrives at their door to learn the unthinkable has happened, and nothing will ever be the same for any of them.

Decades later, with her daughter grown and a long career in her wake, Dr. Civil Townsend is ready to retire, to find her peace, and to leave the past behind. But there are people and stories that refuse to be forgotten. That must not be forgotten.

Because history repeats what we don't remember.

Inspired by true events and brimming with hope, Take My Hand is a stirring exploration of accountability and redemption.
About the Author
---
Dolen Perkins-Valdez is the New York Times bestselling author of Wench and Balm. She was a finalist for two NAACP Image Awards and the Hurston/Wright Legacy Award for fiction, and she was awarded the First Novelist Award by the Black Caucus of the American Library Association. She lives in Washington, DC with her family.
Praise For…
---
NAMED A MOST ANTICIPATED BOOK OF 2022 BY Newsweek ∙ San Francisco Chronicle ∙ Essence ∙ Yahoo! News ∙ The Nerd Daily ∙ Daily Mail ∙ Electric Literature ∙ BookBub ∙ Ms. Magazine ∙ BuzzFeed ∙ Parade ∙ Oprah Daily ∙ NBC News ∙ and more!

"It's a haunting tale of how the actions of government agencies aren't innocent of racism, injustice, or abuse, emotional and physical, of Black people in America. Valdez offers beautifully written prose, gripping dialogue, and unforgettable characters. Take My Hand is another remarkable must-read by Dolen Perkins-Valdez – it and deserves every accolade it's getting."—NPR

"Perhaps the most notable of this book's gifts are its deft packaging of history and its quiet nod—in the juxtaposition of timelines—to the reproductive oppression haunting Black women to this day. Like the most effective education, though, it feels that the information is streaming through the heart, awakening it and inspiring it to action."—San Francisco Chronicle

"A jewel of a book…Perkins-Valdez's grasp of large historical themes is matched by her attention to her characters' lives, their existence so meticulously rendered that you can smell the fetid air of the Williams's country hovel and the scent of the girls freshly bathed and slathered with cocoa butter....Take My Hand reminds us that truly extraordinary fiction is rarely written merely to entertain...Perkins-Valdez has done a fine job of building a structure and scaffolding that will not only endure but also bear the weight of future writers yearning to bring the past to readers afresh."—Washington Post

"[An] impressive historical epic. Valdez's story and characters are deeply affecting and call attention to the importance of recognizing history's dark moments."—Newsweek

"Engrossing from the start….Throughout the novel, detailed descriptions command rapt attention. Between its sizable length and the immense amount of research and history poured into its more than 350 pages, Take My Hand is an excellent example of a Big Ambitious Novel by a 21st-century woman."—The Associated Press

"A searing and ultimately hopeful novel about (in)justice and the importance of learning from history."—Ms. Magazine

"An unforgettable novel about horrendous wrongs and the choice to fight back against them."—BuzzFeed

"In her newest novel, Dolen Perkins-Valdez probes the many ways institutional racism and classism inflicts lasting scars, especially on young Black women—and the grace, courage, and love needed to begin to heal those wounds. Deeply empathetic yet unflinching in its gaze, Take My Hand is an unforgettable exploration of responsibility and redemption, the dangers of good intentions, and the folly of believing anyone can decide what's best for another's life."
—Celeste Ng, #1 New York Times bestselling author of Little Fires Everywhere

"Dolen Perkins-Valdez is a brilliant writer in a class all by herself. I love her voice and how she makes the past feel immediate and relevant, because it is."
—Terry McMillan, #1 New York Times bestselling author

"Take My Hand is a gem: one of those rare and beautiful novels that walks the balance beam of heartbreak and hope.  Dolen Perkins-Valdez demonstrates once again the way she can breathe life into history through fiction that adds deep and profound meaning to the past — and makes its relevance to the present meaningful and clear."
—Chris Bohjalian, #1 New York Times Bestselling Author of The Flight Attendant and Hour of the Witch

"When you know Dolen Perkins-Valdez is writing a book, you know that it is going to be a spectacular thing. And that is the case with Take My Hand. Conveyed as softly as a familial conversation, this is a work that makes difficult things endurable. Perkins-Valdez relays untold pain honestly, astutely, but most of all, gently, like a sage would. That is another way of saying that she crafts this book with great truth and wisdom. As a result, Take My Hand is the kind of rare, elevating, illuminating, useful art that we would all do well to grasp for dear life."
—Robert Jones, Jr., New York Times bestselling author of The Prophets

"Take My Hand will break your heart and lift your soul. A young nurse with big dreams of helping her community comes to an Alabama clinic and is immediately embroiled in the lives of two young Black girls, caught first in the trap of rural poverty and then in the spotlight of a national court case as their mistreatment at the clinic's hands comes out into the open. Dolen Perkins-Valdez is a consummate storyteller: profound, transcendent, heart-wrenching."
—Kate Quinn, #1 New York Times bestselling author of The Rose Code

"Moving, important, and timely, Take My Hand is both a poignant personal story and a riveting courtroom drama. By refusing to accept the status quo, big-hearted, idealistic Civil Townsend sets events in motion that eventually change hearts, minds, and lives, including her own. A perfect book-club pick."
—Christina Baker Kline, #1 New York Times bestselling author of The Exiles

"Perkins-Valdez's latest is a piercing look into a shameful moment in America's history, and could not be more timely. Her electrifying, masterful novel brims with fierce compassion and deserves attention and accolades galore. I will be recommending it to everyone I know."
—Fiona Davis, New York Times bestselling author of The Lions of Fifth Avenue

"This powerful novel finds the humanity in one of the most inhumane chapters of American history. Take My Hand will enrage you. It will illuminate you. It just might redeem you. In the process, it will take your breath away. I don't say this often, but it's a must-read."
—Jamie Ford, New York Times bestselling author of Hotel on the Corner of Bitter and Sweet

"Based on a heart-wrenching true tale of injustice, Take My Hand is a poignant novel that transports the reader to Montgomery, Alabama in the early 1970s and culminates in a dramatic court case against coerced sterilizations. As always, Perkins-Valdez writes with sensitivity, grace and a world-weary wisdom that breaks you before putting you together again. This is a powerful and unforgettable novel that will linger long after you've closed the cover." 
—Stephanie Dray, New York Times bestselling author of The Women of Chateau Lafayette

"Dolen Perkins Valdez takes a moment in our history that has been hidden inside the folds of time and she brings those heinous acts back into the light. This is a riveting story of one woman's fight against a system that believes it has the right to determine who should give birth in this country and who should not. Civil Townsend's plight as she seeks justice is heartbreaking, but also inspiring, reminding us that one woman can stand and make a difference. Beautifully written in typical Dolen Perkins Valdez's style, I didn't put this book down until I closed the last page and even then, I wanted more." 
—Victoria Christopher Murray, New York Times bestselling author of The Personal Librarian

"Delicate and poetic, Dolen manages to fuse beauty and tragedy in her work, which makes her a masterful storyteller and gifted writer. In this story, Dolen speaks eloquently for those who, in being denied the right of having a choice and agency over their bodies, have lost their voice. This haunting tale, captured through the lens of an unforgettable narrator and a cast of memorable characters, will stay with you for a very, very long time." 
—Nicole Dennis-Benn, author of bestselling novels Patsy and Here Comes the Sun

"Inspired by true events this story highlights the horrific discrepancies in our healthcare system and illustrates their heartbreaking consequences."—Essence

"A heart-wrenching page-turner as relevant as ever, Perkins-Valdez presents a smart way in for Americans ready to illuminate history's darkest corners so that we may forward meaningful change in the present."—The AV Club

"…shot through with spirit and hope, it's one hell of a book."—Stylist (UK)

"Perkins-Valdez's narrative, though tragic, brims with hope as one woman refuses to be silenced."—Elle (UK)

"An utterly gripping tale from start to finish, Take My Hand is storytelling at its finest."—Glamour (UK)

"Dolen Perkins-Valdez's Take My Hand Reaches for Hard Truths"—Publishers Weekly (feature)

"There's nothing better than settling down to read a novel and immediately sensing that you're in the hands of a gifted storyteller."—Bookpage (starred review)

"This powerful, timely novel is an excellent choice for bookclubs, as well as for readers of contemporary fiction featuring strong female characters."—Booklist

"Vividly highlights the deep and lasting impact of injustice."—Kirkus Reviews

"Dolen Perkins-Valdez pens a powerfully emotional tale that calls upon the many ways Black women create sisterhoods. The strength and courage the characters exhibit will stay with readers for a long time."—Sisters from AARP