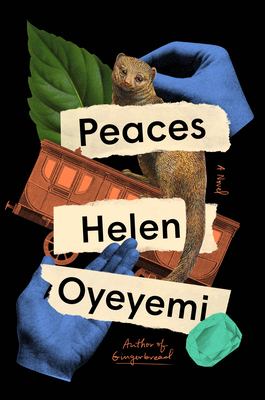 Staff Reviews
---
Without question, Helen Oyeyemi's new novel is a mysterious masterpiece--blending humor, ambiguity, conjecture, double-entendre, creativity, reflection into a just-plain-entertaining saga. Helen offers a unique voice in fiction, already a bestselling author of GINGERBREAD, WHAT IS NOT YOURS IS NOT YOURS and others. She is a rising star.
When gentlemen Otto and Xavier Shin fall in love, Xavier's eccentric aunt gifts them a "honeymoon" train trip to celebrate (and to buy herself a few days of peace and quiet). All seems above-board when the couple first boards The Lucky Day. But they soon realize that this former tea-smuggling train is a mysterious universe of its own, and the few people riding it share a complex relationship. Who is the beautiful Ava Kapoor and is she a genius or a lunatic? Who is Premsyl other than the supposed son of a deceased millionaire, is Prem alive or did he ever exist at all? What are the connections between Laura and Allegra Yu and Otto and Xavier? Will their pet mongoose, Arpad, desert them for Ava's stolen prize mongoose, Chela? And Yuri…is he another figment of imagination or a threat to everyone on the train except himself.
Confusion, chaos, comedy, and convincing characters comprise the colorful plot, often mirroring a jigsaw puzzle with obvious missing pieces. Yet at the root of the frivolity lies a serious philosophical question…what does it mean to a person's life essence to be seen (or unseen) by another person—how does that change our perception of our own reality or self-value—and how does that influence our relationships with others? How meaningful to our past and future is affirmation, acceptance or rejection by others? PEACES doesn't resolve these dilemmas, but it does convince the reader that truth is how we perceive it, boundaries are vital, and the proof of living may be as simple as "to leave our footprints in the mud."
This is a novel to savor slowly or to read again in order to uncover more nuance and novelty and to discover the unseen. Enjoy!
— From
What Sandy is Reading
Description
---
"Enchanting . . . the most surprising, confounding, and oddly insightful couple's trip in recent literary history." —Entertainment Weekly

The prize-winning, bestselling author of Gingerbread; Boy, Snow, Bird; and What Is Not Yours Is Not Yours returns with a vivid and inventive new novel about a couple forever changed by an unusual train voyage.

When Otto and Xavier Shin declare their love, an aunt gifts them a trip on a sleeper train to mark their new commitment—and to get them out of her house. Setting off with their pet mongoose, Otto and Xavier arrive at their sleepy local train station, but quickly deduce that The Lucky Day is no ordinary locomotive. Their trip on this former tea-smuggling train has been curated beyond their wildest imaginations, complete with mysterious and welcoming touches, like ingredients for their favorite breakfast. They seem to be the only people on board, until Otto discovers a secretive woman who issues a surprising message. As further clues and questions pile up, and the trip upends everything they thought they knew, Otto and Xavier begin to see connections to their own pasts, connections that now bind them together.

A spellbinding tale from a star author, Peaces is about what it means to be seen by another person—whether it's your lover or a stranger on a train—and what happens when things you thought were firmly in the past turn out to be right beside you.
About the Author
---
Helen Oyeyemi is the author of the story collection What Is Not Yours Is Not Yours, winner of the PEN Open Book Award, along with six novels, including Gingerbread and Boy, Snow, Bird, which was a finalist for the 2014 Los Angeles Times Book Prize.
Praise For…
---
Praise for Peaces:

"In her latest novel—set on an esoteric, ramshackle, Wes Anderson–esque train to nowhere—Oyeyemi achieves the impossible: She unstirs the soup, reconstituting the links that bind her eccentric cast of characters to one another." —The New York Times Editor's Choice

"Enchanting . . . the most surprising, confounding, and oddly insightful couple's trip in recent literary history." —Entertainment Weekly
[CA1]
"Welcome back to the magical, maddening milieu of Oyeyemi's singular fiction, in which trapdoors spring open and revelations emerge like Russian nesting dolls." —O, The Oprah Magazine

"The novel weaves a romantic and surreal path through the fever dream of Oyeyemi's imagination." —Esquire

"Oyeyemi is a master of leaps of thought and inference, of shifty velocity, and the story's long setup has the discombobulating quality of walking through a moving vehicle while carrying a full-to-the-brim cup of very hot tea." —The New York Times Book Review

"Peaces is elliptical and strange and funny, and despite its Wes Anderson–like setting, it's a very bleak little cautionary tale. It proposes that failing to grasp someone's essential self is pernicious and contagious, that we mistake outlines and portraits for bodies and souls. This train story becomes a comedy of manners built around the gravest possible breach of etiquette: refusing, literally, to see someone." —Vulture

"Glorious." —Vox

"Weird and wonderful . . . Oyeyemi skillfully crafts a most creative story that evokes life's deeper questions." —The Christian Science Monitor

"[P]ractically mind altering . . . Oyeyemi trains her irresistible prose and considerable powers of perception on the uncanny valley that forms between one person's experience and another's interpretation, divergences that cast eerie shadows on the course of relationships past, present and future. A superbly fun Rorschach test of staggering creativity." —Shelf Awareness

"Oyeyemi once again pushes the boundaries of the novel. . . . A surrealist tale of love, heartbreak, and being haunted by the past." —Kirkus Reviews

"Curious characters, strange events, and mysteries abound in Oyeyemi's delightfully bonkers latest. . . . this exciting and inventive novel brims with unusual insights." —Publishers Weekly

"Delightfully weird and deliciously eccentric . . . quite unnerving, and it's due in large part to Oyeyemi's choice to conceal the truth, to keep you interested, eager to figure out the mystery." —Chicago Review of Books
 
"Oyeyemi has once again crafted a layered modern-day fairy tale replete with interlinked stories and unexpected connections among its vibrant characters." —Booklist

"Peaces is like the work of a hypnotist: those open to its allure will inevitably fall under its thrall." —BookPage

"A wild wonderland full of rabbit holes that seem to lead nowhere and yet somehow connect." —Ploughshares

"The premise is whimsical, but the narrative unfolds into darker, more existential layers. . . . Oyeyemi's prose is hypnotic, rendering the story both cinematic and quick to stoke the reader's own imagination." —Shondaland.com
 
"Peaces is indeed set on a train, but while it contains no small amount of mystery and intrigue, at its core it is a romantic reckoning, and a provocation: What does it mean to really see someone?" —Lit Hub
 
"A surreal, inspired journey." —The Millions