Evicted: Poverty and Profit in the American City (Paperback)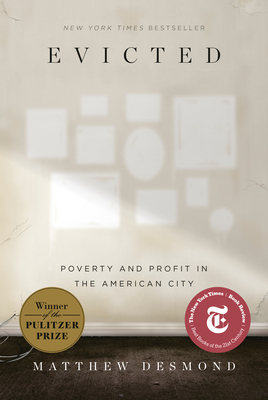 Staff Reviews
---
Excellent narrative, disguised as a story but full of deep research of the housing crisis. This is an excellent book club book, and the one we chose to launch our local women's activist book club for Eagle County!
— From
What Nicole is reading
Well, it is exactly what you would expect-- an untangling of stress, anger and unfortunate circumstances of poverty and housing. It is told through different personal stories rather than journalistic fact. It is heart breaking, inspiring and eye-opening.
— From
What Mackenzie is reading
Description
---
NEW YORK TIMES BESTSELLER • WINNER OF THE PULITZER PRIZE • NAMED ONE OF TIME'S TEN BEST NONFICTION BOOKS OF THE DECADE • One of the most acclaimed books of our time, this modern classic "has set a new standard for reporting on poverty" (Barbara Ehrenreich, The New York Times Book Review).

In Evicted, Princeton sociologist and MacArthur "Genius" Matthew Desmond follows eight families in Milwaukee as they each struggle to keep a roof over their heads. Hailed as "wrenching and revelatory" (The Nation), "vivid and unsettling" (New York Review of Books), Evicted transforms our understanding of poverty and economic exploitation while providing fresh ideas for solving one of twenty-first-century America's most devastating problems. Its unforgettable scenes of hope and loss remind us of the centrality of home, without which nothing else is possible. 

NAMED ONE OF THE BEST BOOKS OF THE YEAR BY President Barack Obama • The New York Times Book Review • The Boston Globe • The Washington Post • NPR • Entertainment Weekly • The New Yorker • Bloomberg • Esquire • BuzzFeed • Fortune • San Francisco Chronicle • Milwaukee Journal Sentinel • St. Louis Post-Dispatch • Politico • The Week • Chicago Public Library • BookPage • Kirkus Reviews • Library Journal •  Publishers Weekly • Booklist • Shelf Awareness

WINNER OF: The National Book Critics Circle Award for Nonfiction • The PEN/John Kenneth Galbraith Award for Nonfiction • The Andrew Carnegie Medal for Excellence in Nonfiction • The Hillman Prize for Book Journalism • The PEN/New England Award • The Chicago Tribune Heartland Prize

FINALIST FOR THE LOS ANGELES TIMES BOOK PRIZE AND THE KIRKUS PRIZE

"Evicted stands among the very best of the social justice books."—Ann Patchett, author of Bel Canto and Commonwealth 

"Gripping and moving—tragic, too."—Jesmyn Ward, author of Salvage the Bones

"Evicted is that rare work that has something genuinely new to say about poverty."—San Francisco Chronicle
About the Author
---
Matthew Desmond is a professor of sociology at Princeton University. After receiving his Ph.D. in 2010 from the University of Wisconsin at Madison, he joined the Harvard Society of Fellows as a Junior Fellow. He is the author of four books, including Evicted: Poverty and Profit in the American City, which won the Pulitzer Prize, National Book Critics Circle Award, and Carnegie Medal, and PEN / John Kenneth Galbraith Award for Nonfiction. The principal investigator of The Eviction Lab, Desmond's research focuses on poverty in America, city life, housing insecurity, public policy, racial inequality, and ethnography. He is the recipient of a MacArthur "Genius" Fellowship, the American Bar Association's Silver Gavel Award, and the William Julius Wilson Early Career Award. A contributing writer for the New York Times Magazine, Desmond was listed in 2016 among the Politico 50 as one of "fifty people across the country who are most influencing the national political debate."
Praise For…
---
"Astonishing... Desmond has set a new standard for reporting on poverty."—Barbara Ehrenreich, New York Times Book Review

"After reading Evicted, you'll realize you cannot have a serious conversation about poverty without talking about housing. . . . The book is that good, and it's that unignorable."—Jennifer Senior, New York Times Critics' Top Books of 2016

"This book gave me a better sense of what it is like to be very poor in this country than anything else I have read. . . . It is beautifully written, thought-provoking, and unforgettable."—Bill Gates

"Inside my copy of his book, Mr. Desmond scribbled a note: 'home = life.' Too many in Washington don't understand that. We need a government that will partner with communities, from Appalachia to the suburbs to downtown Cleveland, to make hard work pay off for all these overlooked Americans."—Senator Sherrod Brown, Wall Street Journal

"My God, what [Evicted] lays bare about American poverty. It is devastating and infuriating and a necessary read."—Roxane Gay, author of Bad Feminist and Difficult Women

"Written with the vividness of a novel, [Evicted] offers a dark mirror of middle-class America's obsession with real estate, laying bare the workings of the low end of the market, where evictions have become just another part of an often lucrative business model."—Jennifer Schuessler, New York Times

"In spare and penetrating prose . . . Desmond has made it impossible to consider poverty without grappling with the role of housing. This pick [as best book of 2016] was not close."—Carlos Lozada, Washington Post

"An essential piece of reportage about poverty and profit in urban America."—Geoff Dyer, The Guardian's Best Holiday Reads 2016

"It doesn't happen every week (or every month, or even year), but every once in a while a book comes along that changes the national conversation. . . . Evicted looks to be one of those books."—Pamela Paul, editor of the New York Times Book Review

"Should be required reading in an election year, or any other."—Entertainment Weekly

"Powerful, monstrously effective . . . The power of this book abides in the indelible impression left by its stories."—Jill Leovy, The American Scholar

"Gripping and important . . . [Desmond's] portraits are vivid and unsettling."—Jason DeParle, New York Review of Books

"An exquisitely crafted, meticulously researched exploration of life on the margins, providing a voice to people who have been shamefully ignored—or, worse, demonized—by opinion makers over the course of decades."—The Boston Globe

"[An] impressive work of scholarship . . . As Mr. Desmond points out, eviction has been neglected by urban sociologists, so his account fills a gap. His methodology is scrupulous."—Wall Street Journal
Coverage from NPR