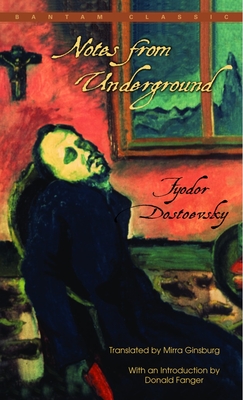 Description
---
"The political cataclysms and cultural revolutions of our century . . . confirm the status of Notes from Underground as one of the most sheerly astonishing and subversive creations of European fiction."—from the Introduction by Donald Fanger

"I am a sick man . . . I am a spiteful man," the irascible voice of a nameless narrator cries out. And so, from underground, emerge the passionate confessions of a suffering man; the brutal self-examination of a tormented soul; the bristling scorn and iconoclasm of alienated individual who has become one of the greatest antiheroes in all literature. Notes From Underground, published in 1864, marks a tuming point in Dostoevsky's writing: it announces the moral political, and social ideas he will treat on a monumental scale in Crime And Punishment, The Idiot, and The Brothers Karamazov. And it remains to this day one of the most searingly honest and universal testaments to human despair ever penned.
About the Author
---
His life was as dark and dramatic as the great novels he wrote. He was born in Moscow in 1821, the son of a former army surgeon whose drunken brutality led his own serfs to murder him by pouring vodka down his throat until he strangled. A short first novel, Poor Folk (1846), brought him instant success, but his writing career was cut short by his arrest for alleged subversion against the Tsar in 1849. In prison he was given the "silent treatment" for eight months, before he was led in front of a firing squad. Dressed in a death shroud, he faced an open grave and awaited execution when an order arrived commuting his sentence. He then spent four years at hard labor in a Siberian prison, where he began to suffer from epilepsy, and he only returned to St. Petersburg a full ten years after he left in chains. His prison experiences coupled with his conversion to a conservative and profoundly religious philosophy formes the basis for his great novels. But it was his fortuitous marriage to Anna Snitkina, following a period of utter destitution brought about by his compulsive gambling, that gave Dostoyevsky the emotional stability to complete Crime and Punishment, The Idiot, The Possessed, and The Brothers Karamazov. When he died in 1881, he left a legacy of masterworks that influenced the great thinkers and writers of the Western world.