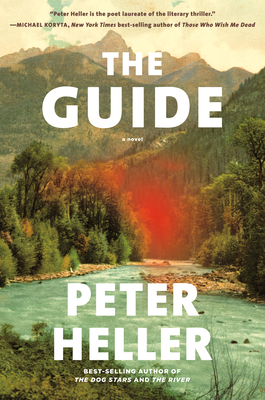 Staff Reviews
---
Jack from The River is back to his home state of Colorado and takes an end of summer job as a flyfishing guide in a tight, secluded canyon above Crested Butte that caters to the ultra rich. Peter Heller is a master storyteller whose pacing captures the readers attention. For the first half of the book I enjoyed the slow pace and intensive descriptions of fly fishing that made me want to grab my rod and head to a trout stream. But in typical Heller fashion, sinister and unexplainable events and hints of the lingering worldwide pandemic keep Jack feeling uneasy. Finally his need to know what is happening in the fishing lodge next door leads to the discovery of shocking international greed and sickening exploitation. Heller speeds up the pace and all hell breaks loose. No more hints here- grab this book and set aside some time for Peter Heller to give you a bumpy ride.
— From
What Amy is Reading
September 2021 Indie Next List
---
"This follow-up to The River is just as pitch perfect, with each bit of suspense doled out at just the right time. You don't need to read The River before reading The Guide, but it will definitely deepen the experience."
— Paul Swydan, The Silver Unicorn Bookstore, Acton, MA
Description
---
NATIONAL BESTSELLER • The best-selling author of The River returns with a heart-racing thriller about a young man who is hired by an elite fishing lodge in Colorado, where he uncovers a plot of shocking menace amid the natural beauty of sun-drenched streams and forests.

"Peter Heller is the poet laureate of the literary thriller." —Michael Koryta, New York Times best-selling author of Those Who Wish Me Dead

Kingfisher Lodge, nestled in a canyon on a mile and a half of the most pristine river water on the planet, is known by locals as "Billionaire's Mile" and is locked behind a heavy gate. Sandwiched between barbed wire and a meadow with a sign that reads "Don't Get Shot!" the resort boasts boutique fishing at its finest. Safe from viruses that have plagued America for years, Kingfisher offers a respite for wealthy clients. Now it also promises a second chance for Jack, a return to normalcy after a young life filled with loss. When he is assigned to guide a well-known singer, his only job is to rig her line, carry her gear, and steer her to the best trout he can find.

But then a human scream pierces the night, and Jack soon realizes that this idyllic fishing lodge may be merely a cover for a far more sinister operation. A novel as gripping as it is lyrical, as frightening as it is moving, The Guide is another masterpiece from Peter Heller.
About the Author
---
PETER HELLER is the national best-selling author of The River, Celine, The Painter, and The Dog Stars. The Painter was a finalist for the Los Angeles Times Book Prize and won the prestigious Reading the West Book Award, and The Dog Stars has been published in twenty-two languages to date. Heller is also the author of four nonfiction books, including Kook: What Surfing Taught Me About Love, Life, and Catching the Perfect Wave, which was awarded the National Outdoor Book Award for Literature. He holds an MFA from the Iowa Writers' Workshop in poetry and fiction and lives in Denver, Colorado.
Praise For…
---
NATIONAL BESTSELLER • A USA Today Book Not to Miss • A LitHub Most Anticipated Book • A CrimeRead Novel You Should Read • An Alta Best Book • A Veranda Magazine Best Book • An AARP Hot New Novel

"Heller writes like a veteran outdoorsman influenced by Cormac McCarthy and Jon Krakauer… Masterclasses in the unsettling." 
—Lauren Daley, Boston Globe

"In his new mystery, author Peter Heller pulls off a rare balancing act once again: He gives us fast-paced action and intrigue, interspersed with closely observed, reflective nature writing. Speed up for the crime-solving, slow down for the Zen."
—Julia Rubin, Associated Press
 
"The Guide is a literary work and a paean to fishing, as inspiring as A River Runs Through It… Poetic… Engaging… The Guide is a beautifully written book, a tribute to Colorado, its bounty and its ability to heal the soul."
—Sandra Dallas, Denver Post

"Stunning... Stunning descriptions... Precise and evocative... The Guide is an excellent book, one to sink into and enjoy in one sitting, if you can. Readers will be transported, and find themselves just as wrapped in the mystery as Jack himself."
—Fiona Cook, Mystery and Suspense Guide

"A devastating indictment of the lengths to which people of extraordinary means will go to protect themselves... The simple, sensorial beauty of Heller's writing about the natural world... is the true soul of the book."
—Lisa Henricksson, AirMail

"Mr. Heller's descriptions of nature and fishing are Hemingwayesque, and he's also good at writing about people—their passions, impulses and ethical boundaries."
—Tom Nolan, Wall Street Journal
 
"Peter Heller's thrillers unfurl like campfire yarns… The scenery cascades in long, panoramic passages, whereas the human characters are rendered in quick glances."
—Pete Tosiello, New York Times Book Review

"An ever so subtly dystopian wilderness noir that speculates on the horrors of a post-pandemic society... The enticing mystery keeps the pages turning, but not too quickly. The Guide is too beautifully written to speed through it, the descriptions of nature lush and vivid."
—USA Today

"Riveting... A chilling reminder of the dangers that might lie in wait for us all."
—Minneapolis Star Tribune

"Heller is building a reputation as a modern master of the wilderness thriller... Heller manages to perfectly balance meditations on nature, memory, and loss while also unspooling a gripping thriller."
—CrimeReads

"Heller is an expert at building suspense, and he's a first-rate nature writer, lending authenticity to the wealth of wilderness details he provides… The Guide is a glorious getaway in every sense, a wild wilderness trip as well as a suspenseful journey to solve a chilling mystery."
—BookPage

"Heller presents another brilliantly paced, unnerving wilderness thriller paired with an absorbing depiction of a remote natural paradise. … Masterful evocations of nature are not surprising, given Heller's award-winning nonfiction about his own outdoor experiences, while his ability to inject shocking menace into a novel that might otherwise serve as a lyrical paean to nature is remarkable."
—Booklist, starred

"Heller's lush descriptions of fishing and river country are matched with a riveting, surprising mystery that captures the difference between the filthy rich and everyone else. The novel's speculative approach to the lingering effects of Covid-19 is frightening in its subtlety and one of the book's special charms. Readers looking for a credible couple and a story of redemption will love this."
—Publishers Weekly

"Fisherman's noir isn't a genre, but maybe it should be... This is an unconventional mystery, an unconventional romance, and an unconventional adventure, creepy and spiritual in equal measure... The author clearly knows his way around a river; the long, descriptive passages create a vivid sense of place and action... By the time Jack and Alison encounter a young woman running down the road in a hospital gown in a scene right out of the sinister noir Kiss Me Deadly, they're in too deep, and they're too curious, to quit the dangerous puzzle before them. You might feel the same. There's danger at the end of the line in this unconventional mystery."
—Kirkus

"Peter Heller is the poet laureate of the literary thriller, and The Guide offers further proof for the case. Powered by Heller's trademark prose, which alternately thunders and eddies like his beloved western rivers, this sinister and soulful story unfurls so skillfully that it's easy to ignore all the layers beneath—but you shouldn't. Heller writes about the eternal questions and the exquisite details, and he knows the places where they intersect in the human heart and the natural world."
—Michael Koryta, New York Times bestselling author of Those Who Wish Me Dead