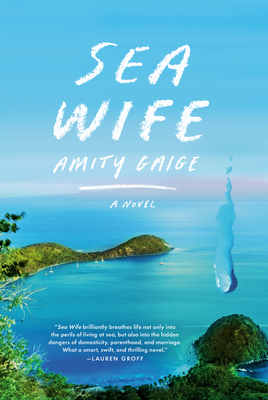 Staff Reviews
---
An entertaining mystery that alternates between the points of view of a wife and her deceased husband's sailing log book. This novel embodies the lark of setting sail for a year to escape it all. But of course, the most hidden baggage is what makes the story float, and it all plays out in a pretty tight hull of a sailing vessel. Strong writing filled with the language of the sea and great references to poetry and song. A perfect book for when you need to escape!
— From
What Nicole is reading
A fast-paced engaging novel with immediate appeal for anyone who has sailed a smaller craft for days on end across open ocean waters. The author delivers her narrative like an
autobiography, so intimately that her voice belies fiction. From the outset, the reader knows that the family voyage will end tragically, but the actual cause of their demise comes as a surprise. Amity Gaige offers up a thriller and a compassionate story about two parents and their two young children who challenge the boredom of a conventional life and take to the sea. A tribute to marriage, parenting, courage, loyalty and love.
— From
What Sandy is Reading
May 2020 Indie Next List
---
"Wherever you go, your anxieties go with you — even (or especially) if you go live on a boat to sail the world with your spouse and small children. Nothing will ever be the same for Juliet, Michael, and their family after their harrowing year at sea, and no reader will be the same after reading this taut, brilliant novel. I can't stop thinking about it."
— Mary Laura Philpott, Parnassus Books, Nashville, TN
Description
---
A New York Times Notable Book

"Sea Wife is a gripping tale of survival at sea—but that's just the beginning.  Amity Gaige also manages, before she's done, to probe the underpinnings of romantic love, marriage, literary ambition, political inclinations in the Trump age, parenthood, and finally, the nature of survival itself in our broken world.  Gaige is thrillingly talented, and her novel enchants."
—Jennifer Egan

"Sea Wife brilliantly breathes life not only into the perils of living at sea, but also into the fraught and hidden dangers of domesticity, motherhood, and marriage. What a smart, swift, and thrilling novel."
—Lauren Groff

From the highly acclaimed author of Schroder, a smart, sophisticated page literary page-turner about a young family who escape suburbia for a yearlong sailing trip that upends all of their lives.

Juliet is failing to juggle motherhood and her stalled-out dissertation on confessional poetry when her husband, Michael, informs her that he wants to leave his job and buy a sailboat. With their two kids—Sybil, age seven, and George, age two—Juliet and Michael set off for Panama, where their forty-four foot sailboat awaits them.  

The initial result is transformative; the marriage is given a gust of energy, Juliet emerges from her depression, and the children quickly embrace the joys of being feral children at sea. Despite the stresses of being novice sailors, the family learns to crew the boat together on the ever-changing sea.  The vast horizons and isolated islands offer Juliet and Michael reprieve – until they are tested by the unforeseen.

Sea Wife is told in gripping dual perspectives: Juliet's first person narration, after the journey, as she struggles to come to terms with the life-changing events that unfolded at sea, and Michael's captain's log, which provides a riveting, slow-motion account of these same inexorable events, a dialogue that reveals the fault lines created by personal history and political divisions.  

Sea Wife is a transporting novel about marriage, family and love in a time of unprecedented turmoil. It is unforgettable in its power and astonishingly perceptive in its portrayal of optimism, disillusionment, and survival.
About the Author
---
AMITY GAIGE is the author of four novels, O My Darling, The Folded World, Schroder, and Sea Wife.  Sea Wife was a 2020 New York Times Notable Book. Her previous novel, Schroder, was shortlisted for the UK's Rathbones Folio Prize in 2014, and was translated into 18 languages. Amity is the winner of a Fulbright Fellowship, fellowships at the MacDowell and Yaddo colonies, and a 2016 Guggenheim Fellowship in Fiction. Her short stories, essays, and book reviews have appeared in publications such as The New York Times, The Guardian, Die Welt, Harper's Bazaar, The Yale Review, One Story, and elsewhere. She lives in West Hartford, CT, with her family, and teaches at Yale.
Praise For…
---
"Stunning... Amity [tows] you to tragedy with the graceful crawl of a poet and the motorboat intensity of a suspense author."
—New York Times Book Review

"Profound and universal... "Sea Wife" achieves a lovely balance between the real and the metaphoric"
—The Wall Street Journal

"Gaige's razor-sharp novel is wise to marital and broader politics. But it's also such gripping escapism that it feels like a lifeboat."
—People

"Cuts to the heart of mundane marital strife and the legacy of trauma."
—Elle

"Gaige is a superb writer."
—The Boston Globe

"Gripping... A powerful take on a marriage on the rocks."
—Kirkus Reviews

"[A] splendid, wrenching novel...Every element of this impressive novel clicks into a dazzling, heartbreaking whole."
—Publishers Weekly [starred review]

"Sea Wife is a gripping tale of survival at sea—but that's just the beginning.  Amity Gaige also manages, before she's done, to probe the underpinnings of romantic love, marriage, literary ambition, political inclinations in the Trump age, parenthood, and finally, the nature of survival itself in our broken world.  Gaige is thrillingly talented, and her novel enchants."
—Jennifer Egan

"Taut as a thriller, emotionally precise yet threaded with lyricism, Sea Wife is at once the compelling story of a family's glorious, misbegotten seafaring adventure and an allegory for life itself. This is an unforgettable novel."
—Claire Messud

"Sea Wife is an immersive pleasure. Amity Gaige captivates us, tricks us, and transports us.  She understands the inner and the outer world—from quiet misery to murderous seas—and there is no world she cannot explore and illuminate."
—Amy Bloom

"Sea Wife brilliantly breathes life not only into the perils of living at sea, but also into the fraught and hidden dangers of domesticity, motherhood, and marriage. What a smart, swift, and thrilling novel."
—Lauren Groff

"Few writers have portrayed marriage and parenthood with more fierce intelligence than Amity Gaige, but in Sea Wife, she has outdone herself.  This is an unforgettable portrait of a family that ventures out to sea, only to be riven by the weight of the past, and the politics of the present. Piercingly written and compelling from beginning to end, Sea Wife is a major accomplishment."
—Adam Haslett