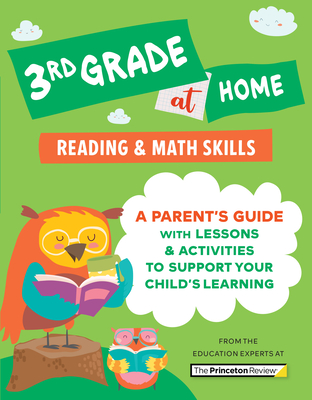 Description
---
Learn at home with help from the education experts at The Princeton Review! 3RD GRADE AT HOME provides simple, guided lessons and activities that parents can use to help keep 3rd graders on track this year.

Anxious about remote learning and hybrid schooling? Worried that the unique circumstances around coronavirus and education might keep your child from getting the help they need in class this year? Want to help support your child's schooling, but not sure where to start?

You're not alone! 3RD GRADE AT HOME is a parent guide to supporting your child's learning, with help you can undertake from home. It provides:
 
· Guided help for key 3rd grade reading and math topics
· Skills broken into short, easy-to-accomplish lessons
· Explanations for parents, plus independent question sets for kids
· Fun at-home learning activities for each skill that use common household items
· Parent tips, review sections, and challenge activities seeded throughout the book

The perfect mix of parent guidance, practical lessons, and hands-on activities to keep kids engaged and up-to-date, 3RD GRADE AT HOME covers key grade-appropriate topics including:

· early reading comprehension
· context and understanding
· fiction and nonfiction
· event order
· problem and solution
· addition and subtraction
· multiplication and division
· fractions and decimals
· shapes, symmetry, and patterns
· probability
... and more!
About the Author
---
The experts at The Princeton Review have been helping students, parents, and educators achieve the best results at every stage of the education process since 1981. The Princeton Review has helped millions succeed on standardized tests, and provides expert advice and instruction to help parents, teachers, students, and schools navigate the complexities of school admission. In addition to classroom courses in over 40 states and 20 countries, The Princeton Review also offers online and school-based courses, one-to-one and small-group tutoring as well as online services in both admission counseling and academic homework help.