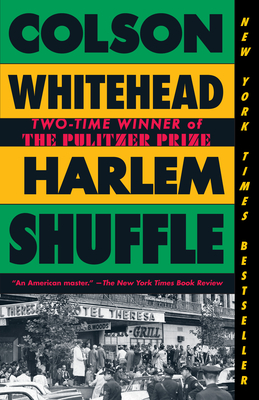 Staff Reviews
---
A true period piece – nowhere is quite like Harlem in the 1960's. Ray is an upstanding business owner unless...he's not. He may need a little cash on the side, has to hand out envelopes to crooked police, keep his shady cousin on the up and up and deal with the social nuances of his neighborhood. The internal tug and pull of Ray is great as well as Whitehead's great characters, writing and plot.
— From
What Karin is Reading
September 2021 Indie Next List
---
"A love letter to 1960s Harlem that's also a heist novel, a family saga, and so much more. Colson Whitehead proves once again that he's always at the top of his game!"
— Alyssa Raymond, Copper Dog Books, Beverly, MA
Description
---
NEW YORK TIMES BESTSELLER • From the two-time Pulitzer Prize-winning author of The Underground Railroad and The Nickel Boys, this gloriously entertaining novel is  "fast-paced, keen-eyed and very funny ... about race, power and the history of Harlem all disguised as a thrill-ride crime novel" (San Francisco Chronicle).

"Ray Carney was only slightly bent when it came to being crooked..." To his customers and neighbors on 125th street, Carney is an upstanding salesman of reasonably priced furniture, making a decent life for himself and his family. He and his wife Elizabeth are expecting their second child, and if her parents on Striver's Row don't approve of him or their cramped apartment across from the subway tracks, it's still home. 

Few people know he descends from a line of uptown hoods and crooks, and that his façade of normalcy has more than a few cracks in it. Cracks that are getting bigger all the time. 

Cash is tight, especially with all those installment-plan sofas, so if his cousin Freddie occasionally drops off the odd ring or necklace, Ray doesn't ask where it comes from. He knows a discreet jeweler downtown who doesn't ask questions, either. 

Then Freddie falls in with a crew who plan to rob the Hotel Theresa—the "Waldorf of Harlem"—and volunteers Ray's services as the fence. The heist doesn't go as planned; they rarely do. Now Ray has a new clientele, one made up of shady cops, vicious local gangsters, two-bit pornographers, and other assorted Harlem lowlifes. 

Thus begins the internal tussle between Ray the striver and Ray the crook. As Ray navigates this double life, he begins to see who actually pulls the strings in Harlem. Can Ray avoid getting killed, save his cousin, and grab his share of the big score, all while maintaining his reputation as the go-to source for all your quality home furniture needs? 

Harlem Shuffle's ingenious story plays out in a beautifully recreated New York City of the early 1960s. It's a family saga masquerading as a crime novel, a hilarious morality play, a social novel about race and power, and ultimately a love letter to Harlem. 

But mostly, it's a joy to read, another dazzling novel from the Pulitzer Prize and National Book Award-winning Colson Whitehead.
About the Author
---
COLSON WHITEHEAD is the #1 New York Times bestselling author of eleven works of fiction and nonfiction, and is a two-time winner of the Pulitzer Prize, for The Nickel Boys and The Underground Railroad, which also won the National Book Award. A recipient of MacArthur and Guggenheim fellowships, he lives in New York City.
Praise For…
---
A NEW YORK TIMES NOTABLE BOOK OF THE YEAR • NATIONAL BOOK CRITICS CIRCLE NOMINEE • New York Times Book Review 100 Notable Books of the Year • One of The Washington Posts 50 Notable Works of Fiction of the Year • TIME Magazine 100 Must Read Books of the Year • One of the Best Books of the Year: NPR, Slate, Boston Globe, Town & Country, Vulture, and more • One of President Obama's Favorite Books of the Year • One of The New York Times Critics' Best Books of the Year

"A rich, wild book that could pass for genre fiction. It's much more, but the entertainment value alone should ensure it the same kind of popular success that greeted his last two novels, The Underground Railroad and The Nickel Boys."
-Janet Maslin, The New York Times

One of the Ten Best Books of 2021
– Laura Miller, Slate

"Colson Whitehead has a couple of Pulitzers under his belt, along with several other awards celebrating his outstanding novels. Harlem Shuffle is a suspenseful crime thriller that's sure to add to the tally — it's a fabulous novel you must read."
-NPR.org

"A warm, involving novel" 
-The Wall Street Journal

"A a fiendishly clever romp, a heist novel that's also a morality play about respectability politics, a family comedy disguised as a noir…Harlem Shuffle reads like a book whose author had enormous fun writing it. The dialogue crackles and sparks; the zippy heist plot twists itself in one showy misdirection after another. Most impressive of all is lovable family-man Ray, whose relentless ambition drives the plot forward while his glib salesman's patter keeps you guessing about his true intentions. This book is a blast that will make you think, and what could be better than that?"
-Vox

"Another triumph from Pulitzer winner Whitehead" 
-People Magazine

"Fast-paced, keen-eyed and very funny, "Harlem Shuffle" is a novel about race, power and the history of Harlem all disguised as a thrill-ride crime novel." 
-San Francisco Chronicle

"Enthralling, cinematic…Whitehead's evocation of early 1960s Harlem — strewn with double-crosses and double standards, broken glass and broken dreams — is irresistible…a valentine to a time and place."
-Minneapolis Star-Tribune

"Dazzling…exciting and wise."
-Walton Muyumba, The Boston Globe

"A spectacularly pleasurable read, and while it is, of course, literary, it's also a pure, unapologetic crime-fiction page-turner." 
-Los Angeles Times

"Harlem Shuffle is a wildly entertaining romp. But as you might expect with this two-time Pulitzer Prize winner and MacArthur genius, Whitehead also delivers a devastating, historically grounded indictment of the separate and unequal lives of Blacks and whites in mid-20th century New York."
-Associated Press

"An American master"
-New York Times Book Review

"Two-time Pulitzer winner Whitehead (The Nickel Boys) returns with a sizzling heist novel set in civil rights–era Harlem. It's 1959 and Ray Carney has built an 'unlikely kingdom' selling used furniture. A husband, a father, and the son of a man who once worked as muscle for a local crime boss, Carney is 'only slightly bent when it [comes] to being crooked.' But when his cousin Freddie—whose stolen goods Carney occasionally fences through his furniture store—decides to rob the historic Hotel Theresa, a lethal cast of underworld figures enter Carney's life, among them the mobster Chink Montague, "known for his facility with a straight razor"; WWII veteran Pepper; and the murderous, purple-suited Miami Joe, Whitehead's answer to No Country for Old Men's Anton Chigurh. These and other characters force Carney to decide just how bent he wants to be. It's a superlative story, but the most impressive achievement is Whitehead's loving depiction of a Harlem 60 years gone—'that rustling, keening thing of people and concrete'—which lands as detailed and vivid as Joyce's Dublin. Don't be surprised if this one wins Whitehead another major award."
-Publishers Weekly, starred review

"Whitehead adds another genre to an ever-diversifying portfolio with his first crime novel, and it's a corker. Ray Carney owns a furniture store in Harlem. When the novel begins in 1959, he's selling mostly used furniture, struggling to escape the legacy of his criminal father. 'Living taught you,' Ray believes, 'that you didn't have to live the way you'd been taught.' Almost. Ray's ne'erdo-well cousin, Freddie, who's been luring Ray into hot water since childhood ('I didn't mean to get you in trouble,' is Freddie's constant refrain) regularly brings Ray the odd piece of jewelry, provenance unknown, which Ray peddles to a dealer downtown, building a stake to invest in his business. 'There was a natural flow of goods in and out and through people's lives . . . a churn of property, and Ray facilitated that churn.' It works until Freddie suggests Ray as a fence for a jewel heist at the Hotel Theresa ('the Waldorf of Harlem'), and suddenly the churn produces a potentially disastrous backwash. Following Ray as his business grows and he delicately balances the crooked and straight sides of his life, Whitehead delivers a portrait of Harlem in the early '60s, culminating with the Harlem Riot of 1964, that is brushed with lovingly etched detail and features a wonderful panoply of characters who spring to full-bodied life, blending joy, humor, and tragedy. A triumph on every level."
-Booklist, Starred Review