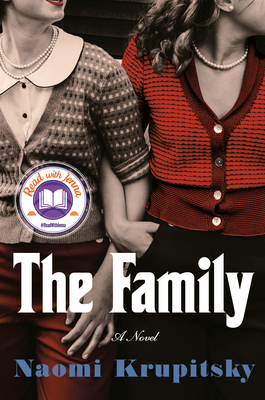 Staff Reviews
---
A cross between The Godfather and My Brilliant Friend; this debut is gripping and highly enjoyable - the first sentence hooked me. Two girls are growing up in an Italian Mafia family in Brooklyn. Themes of tested loyalties and friendship. The writing is lovely and ratchets up to a nail-biting ending. I was riveted!
— From
What Karin is Reading
Description
---
The Instant New York Times bestseller
A TODAY Show Read with Jenna Book Club Pick

A captivating debut novel about the tangled fates of two best friends and daughters of the Italian mafia, and a coming-of-age story of twentieth-century Brooklyn itself.

Two daughters. Two families. One inescapable fate.

Sofia Colicchio is a free spirit, loud and untamed. Antonia Russo is thoughtful, ever observing the world around her. Best friends since birth, they live in the shadow of their fathers' unspoken community: the Family. Sunday dinners gather them each week to feast, discuss business, and renew the intoxicating bond borne of blood and love.

But the disappearance of Antonia's father drives a whisper-thin wedge between the girls as they grow into women, wives, mothers, and leaders. Their hearts expand in tandem with Red Hook and Brooklyn around them, as they push against the boundaries of society's expectations and fight to preserve their complex but life-sustaining friendship. One fateful night their loyalty to each other and the Family will be tested. Only one of them can pull the trigger before it's too late.
About the Author
---
Naomi Krupitsky was born in Berkeley, California, and attended NYU's Gallatin School of Individualized Study. She lives in San Francisco, but calls many places home. The Family is her first novel.
Praise For…
---
A TODAY Show Read With Jenna Book Club Pick
A Barnes & Noble Discover Pick
A Book of the Month Pick
One of Parade's Best Fall Books of 2021
One of Cosmopolitan's Best Historical Fiction of 2021
One of Good Morning America's 15 Books to Curl Up with This November
One of PopSugar's Best New Books of November 2021
One of Bustle's Best Books of November 2021 
One of Real Simple's Best Books of 2021
One of Katie Couric Media's Best Books About Female Friendship

"Vivid, authentic and filled with the unexpected… Once you read this novel of blood and love, promises and betrayal, you may never look at family in quite the same way again." —Washington Post

"Krupitsky's immersive debut is an intoxicating hybrid of The Sopranos and the novels of Elena Ferrante…The writing is downright dazzling…." —San Francisco Chronicle

"Mario Puzo meets Elena Ferrante in Krupitsky's dynamite debut novel...Fans of Adriana Trigiani and Lynda Cohen Loigman will inhale this tense, engrossing novel about family ties, women's friendships, and the treacherous complications of loyalty." —Booklist, starred review

"Insightfully imagining the lives of two Italian American girls born into the Mafia as they come of age and become mothers, Krupitsky has written a debut that readers will want to inhale with occasional pauses to savor her evocative descriptions." —Library Journal, starred review

"Gripping." —Real Simple

"Loyalty, love, loss and redemption take this well told tale to a searing conclusion. You won't be able to put it down!"—Adriana Trigiani, author of Tony's Wife and The Shoemaker's Wife

"It's been a long time since I've stayed up all night to read a book…. Krupitsky has created a riveting story powerful in its realism." —Diane Chamberlain, author of Big Lies in a Small Town

"Krupitsky has constructed a work of exquisite tension….A tremendous debut." —Fiona Davis, author of The Lions of Fifth Avenue

"If you've ever wondered what all of those Italian mafia movies would look like from the perspective of the women in the families, then you need to pick up a copy of The Family by Naomi Krupitsky right now." —PopSugar

"Krupitsky beautifully captures [Sofia and Antonia's] day-to-day lives under never-ending tension. The women's rich stories make this worthwhile." —Publishers Weekly

"With lyrical, dreamlike prose…Krupitsky's confident style adds a satisfying literary dimension to the often-told tale of how the Mafia tested family loyalties…An authentic, moving novel." —Historical Novels Review

"[A] well-written and readable story…The war and the changing neighborhoods also shape their lives, but The Family and the violence it proffers continue to play the biggest role toward a dramatic and revengeful ending." —Florida Times-Union

"Compelling and electrically charged…The Family explores the darkness that lurks just below the surface of compulsory Sunday dinners, forced family vacations, and the crushing obligations of silence and obedience." —Lynda Cohen Loigman, author of The Two-Family House and The Wartime Sisters

"A dazzling debut." –Sarah Winman, author of Tin Man and Still Life

"Krupitsky's fierce debut affirms the potential strength of female friendships against the backdrop of intergenerational trauma…The Family is elucidating and propulsive, a nimbly-written exploration of human connection." —TaraShea Nesbit, author of Beheld and The Wives of Los Alamos

"[A] female version of The Sopranos...As voyeurs, we get to watch two women love and lose, feel and learn, while losing ourselves in the staccato melody of Naomi's prose." —Katie Couric Media

"Fast-paced and readable, and the ebb and flow between Sofia and Antonia as secrets threaten their friendship propel the reader forward." —Kirkus Reviews

"A nuanced evocation of lifelong female friendship in all its shifting, messy, gorgeous complexity." —Whitney Scharer, author of The Age of Light

"Lyrical, gripping, and richly evocative." —Christina Schwarz, author of Drowning Ruth and Bonnie

"Reading this book is like listening in on an intimate conversation between friends, a glimpse of a world that feels deeply lived in and generously rendered. Naomi Krupitsky will make you laugh, cry, and long for a really good plate spaghetti. The Family feels like home." —Emily Beyda, author of The Body Double

"Sweeping and consuming…with astutely observational prose and an insight into the importance of belonging and the meaning of family." —Susie Orman Schnall, author of We Came Here to Shine

"A powerful story of friendship and loyalty…The Family is captivating; once I started reading this exquisite novel, I could not put it down." —Jennifer S. Brown, author of Modern Girls