There There: A novel (Hardcover)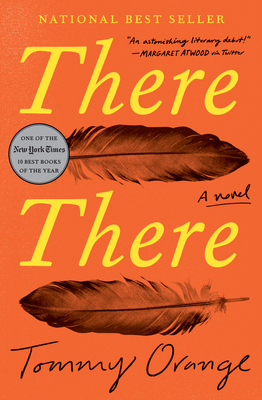 Staff Reviews
---
Great for fans of Junot Diaz' "Brief Wondrous Life of Oscar Wao." Strong imagery and realistic portrayal of growing up young and other in America. A great mix of urban and literary makes this novel one of the best this year!
— From
What Nicole is reading
There There, tackles the non-linearity of life, is a voice on intra-race harm, speaks about the fluidness of decisions and how culture never leaves-- rather how it is placed aside for day-to-day necessities. Nonetheless, at the core, this novel is a breathtaking, devastating and beautiful story of Native lives today. It is a story that will stay with you, inspire you and challenge you.
— From
What Mackenzie is reading
Native American novels are everywhere and There , There has been widely acclaimed as one of the best of the year. Set in Oakland , California, the city serves as a microcosm of Native American life. A variety of characters are introduced to the reader in short, intense chapters. Alcoholism, unemployment, abuse and depression historically prevalent within the culture,are seen through tragic characters and events.The intertwined lives come together at a powpow at the Oakland Coliseum. An intense and compelling read!
— From
What Susan is Reading
June 2018 Indie Next List
---
"There There is the kind of book that grabs you from the start and doesn't let go, even after you've turned the last page. It is a work of fiction, but every word of it feels true. Tommy Orange writes with a palpable anger and pain, telling the history of a cultural trauma handed down through generations in the blood and bones and stories of individual lives. He also writes with incredible heart and humor, infusing his characters with a tangible humanity and moments of joy even as they are headed toward tragedy. There There has claimed a permanent spot in my heart despite having broken it, or maybe because it did. I think this may be the best book I've ever read."
— Heather Weldon, Changing Hands, Tempe, AZ
Summer 2019 Reading Group Indie Next List
---
"This is the kind of book that makes you gasp for air because it has gripped you in that spot between your heart and your neck and won't let go. Orange starts the book by introducing characters who are planning to rob a powwow, and as you begin to enjoy them—start to imagine a happy ending, where parents are found and siblings meet at the powwow, somewhere they can feel like a community—the dread of the robbery builds constantly in the background until it explodes. Orange has brought us a book that really is the cream of the crop—of all the crops."
— Alice Ahn, Water Street Bookstore, Exeter, NH
Description
---
ONE OF THE 10 BEST BOOKS OF THE YEAR—THE NEW YORK TIMES BOOK REVIEW

WINNER OF THE CENTER FOR FICTION FIRST NOVEL PRIZE

One of the Best Books of the Year: The Washington Post, NPR, Time, O, The Oprah Magazine, San Francisco Chronicle, Entertainment Weekly, The Boston Globe, GQ, The Dallas Morning News, Buzzfeed, BookPage, Publishers Weekly, Library Journal, Kirkus Reviews   

NEW YORK TIMES BEST-SELLER 

Tommy Orange's "groundbreaking, extraordinary" (The New York Times) There There is the "brilliant, propulsive" (People Magazine) story of twelve unforgettable characters, Urban Indians living in Oakland, California, who converge and collide on one fateful day. It's "the year's most galvanizing debut novel" (Entertainment Weekly).
 
As we learn the reasons that each person is attending the Big Oakland Powwow—some generous, some fearful, some joyful, some violent—momentum builds toward a shocking yet inevitable conclusion that changes everything. Jacquie Red Feather is newly sober and trying to make it back to the family she left behind in shame. Dene Oxendene is pulling his life back together after his uncle's death and has come to work at the powwow to honor his uncle's memory. Opal Viola Victoria Bear Shield has come to watch her nephew Orvil, who has taught himself traditional Indian dance through YouTube videos and will to perform in public for the very first time. There will be glorious communion, and a spectacle of sacred tradition and pageantry. And there will be sacrifice, and heroism, and loss.
 
There There is a wondrous and shattering portrait of an America few of us have ever seen. It's "masterful . . . white-hot . . . devastating" (The Washington Post) at the same time as it is fierce, funny, suspenseful, thoroughly modern, and impossible to put down. Here is a voice we have never heard—a voice full of poetry and rage, exploding onto the page with urgency and force. Tommy Orange has written a stunning novel that grapples with a complex and painful history, with an inheritance of beauty and profound spirituality, and with a plague of addiction, abuse, and suicide. This is the book that everyone is talking about right now, and it's destined to be a classic.
About the Author
---
TOMMY ORANGE is a recent graduate from the MFA program at the Institute of American Indian Arts. He is a 2014 MacDowell Fellow, and a 2016 Writing by Writers Fellow. He is an enrolled member of the Cheyenne and Arapaho Tribes of Oklahoma. He was born and raised in Oakland, California, and currently lives in Angels Camp, California.
Praise For…
---
"Bravura… There There has so much jangling energy and brings so much news from a distinct corner of American life that it's a revelation… its appearance marks the passing of a generational baton."
—Dwight Garner, The New York Times

"Sweeping and subtle…pure soaring beauty." 
—Colm Toibin, The New York Times
 
"A rush of intensity and fervor… Bursting with talent and big ideas… Funny and profane and conscious of the violence that runs like a scar through American culture."
—Jeff Baker, The Seattle Times

"A new kind of American epic... one that reflects his ambivalence and the complexity of [Orange's] upbringing."
—Alexandra Alter, The New York Times

"Masterful. White-hot. A devastating debut novel."
—Ron Charles, The Washington Post

"A gripping deep dive into urban indigenous community in California: an astonishing literary debut!"
—Margaret Atwood, via Twitter

"Welcome to a brilliant and generous artist who has already enlarged the landscape of American Fiction.  THERE THERE is a comic vision haunted by profound sadness.  Tommy Orange is a new writer with an old heart."
—Louise Erdrich, Birchbark Books

"THERE THERE drops on us like a thunderclap; the big, booming, explosive sound of 21st century literature finally announcing itself.  Essential."
—Marlon James, author of A Brief History of Seven Killings

"There There is a miraculous achievement, a book that wields ferocious honesty and originality in service of telling a story that needs to be told. This is a novel about what it means to inhabit a land both yours and stolen from you, to simultaneously contend with the weight of belonging and unbelonging. There is an organic power to this book – a revelatory, controlled chaos. Tommy Orange writes the way a storm makes landfall."
—Omar El Akkad, author of American War

"There There is an urgent, invigorating, absolutely vital book by a novelist with more raw virtuosic talent than any young writer I've come across in a long, long time. Maybe ever. Tommy Orange is a stylist with substance, a showboater with a deeply moral compass. I want to call him heir to Gertrude Stein by way of George Saunders, but he is even more original than that. This book will make your heart swell."
—Claire Vaye Watkins
 
"This is Tommy Orange. Remember his name. His book's gonna blow the roof off."
—Pam Houston

"A symphonic debut...Engrossing... There There introduces an exciting voice."
—Booklist (starred review)

"Commanding...The propulsion of both the overall narrative and its players are breathtaking as Orange unpacks how decisions of the past mold the present, resulting in a haunting and gripping story."
—Publishers Weekly (starred review)

"Visceral... A chronicle of domestic violence, alcoholism, addiction, and pain, the book reveals the perseverance and spirit of the characters... Unflinching candor... Highly recommended."
—Library Journal (starred review)

"Kaleidoscopic... In this vivid and moving book, Orange articulates the challenges and complexities not only of Native Americans, but also of America itself."
—Kirkus Reviews (starred review)
Coverage from NPR