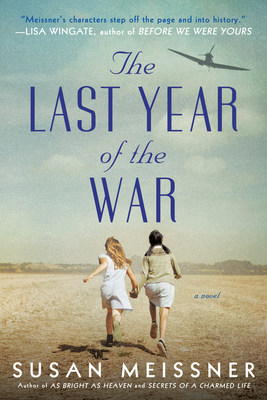 Staff Reviews
---
I was hooked by the first page. This historical novel highlights a profound friendship, family, and shows how an immigrant American family was treated as the enemy during WWII and eventually sent to Germany. The strength lies in Elise and her life story. She brings a fresh perspective and voice - she never lets the atrocities she sees break her spirit. This adult novel is appropriate for young adults branching into adult fiction. I found this an engrossing easy-read and just the right amount of sappy.
— From
What Karin is Reading
Description
---
From the acclaimed author of Secrets of a Charmed Life and As Bright as Heaven comes a novel about a German American teenager whose life changes forever when her immigrant family is sent to an internment camp during World War II.
 
In 1943, Elise Sontag is a typical American teenager from Iowa—aware of the war but distanced from its reach. Then her father, a legal U.S. resident for nearly two decades, is suddenly arrested on suspicion of being a Nazi sympathizer. The family is sent to an internment camp in Texas, where, behind the armed guards and barbed wire, Elise feels stripped of everything beloved and familiar, including her own identity.
 
The only thing that makes the camp bearable is meeting fellow internee Mariko Inoue, a Japanese-American teen from Los Angeles, whose friendship empowers Elise to believe the life she knew before the war will again be hers. Together in the desert wilderness, Elise and Mariko hold tight the dream of being young American women with a future beyond the fences.
 
But when the Sontag family is exchanged for American prisoners behind enemy lines in Germany, Elise will face head-on the person the war desires to make of her. In that devastating crucible she must discover if she has the will to rise above prejudice and hatred and re-claim her own destiny, or disappear into the image others have cast upon her.
 
The Last Year of the War tells a little-known story of World War II with great resonance for our own times and challenges the very notion of who we are when who we've always been is called into question.
About the Author
---
Susan Meissner is a former managing editor of a weekly newspaper and an award-winning columnist. She is the award-winning author of A Fall of Marigolds, Secrets of a Charmed Life, Stars over Sunset Boulevard, A Bridge Across the Ocean, and As Bright as Heaven, among other novels.
Praise For…
---
Praise for The Last Year of the War

"Meissner has created a quietly devastating story that shows how fear and hatred during World War II changed (and even ended) the lives of many innocent Americans."—Kirkus Reviews

"A heartbreaking, thought-provoking work of historical women's fiction."—Booklist

"Powerful and at times chillingly contemporary, and it reminds us why we read historical fiction in the first place."—Michelle Gable, New York Times bestselling author of A Paris Apartment
 
"A beautifully poignant tale, The Last Year of the War explores the complexities of love, friendship, and the fleeting truths of identity. With vividly drawn characters and ever-elegant prose, Meissner highlights a dark, often-overlooked piece of American history. This timely novel will stay with the reader long after its thoughtful, heartwarming conclusion."—Kristina McMorris, New York Times bestselling author of Sold on a Monday
 
"Highlighting a little-known story of World War II with heart-wrenching detail, this beautifully written novel will make you think about what it means to be American, as well as what—and who—determines our identity."—BookBub

"Vivid historical detail and elegant prose bolster this rewarding story of profound friendship, family, fear, and the pain that arose for American-born children of immigrant parents."—Publishers Weekly

"There's no shortage of books about World War II and internment camps coming out right now, given events in the news over the last year. Meissner's latest novel presents a more interesting, untold account than others."—Real Simple

"Gorgeously structured...this beautifully written fictional memoir, as cinematic as a real photo album, takes us to a time we could not know. It shows us the depth of friendship, the moments of courage, impossible love, crucial decisions, and the heartbreaking devastation that happens to the innocent collateral damage of a world war."—BookTrib

"...an unpredictable, can't-put-down novel."—Historical Novel Society