Unholy Night (Paperback)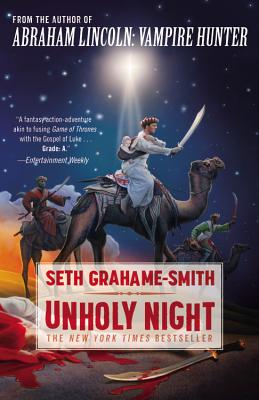 Staff Reviews
---
Christopher says: I came to this book expecting something much more in the vein of Christopher Moore's Lamb, with bawdy, slapstick humor and playful irreverence on every page. What I found was a much more sincere what-if story … with just a touch of dark sarcasm. Little is written about the three wise men of the nativity. Grahame-Smith poses a very unusual what-if. What if the wise men were not kings, but thieves on the run who get themselves tangled up in bigger events than they ever imagined possible? Graphic violence is tempered by heroism in unlikely characters. An engaging read from a best-selling author.
— From
What Christopher is reading
Description
---
From the author of the New York Times bestselling Abraham Lincoln: Vampire Hunter, comes Unholy Night, the next evolution in dark historical revisionism.

They're an iconic part of history's most celebrated birth. But what do we really know about the Three Kings of the Nativity, besides the fact that they followed a star to Bethlehem bearing strange gifts? The Bible has little to say about this enigmatic trio. But leave it to Seth Grahame-Smith, the brilliant and twisted mind behind Abraham Lincoln: Vampire Hunter and Pride and Prejudice and Zombies to take a little mystery, bend a little history, and weave an epic tale.

In Grahame-Smith's telling, the so-called "Three Wise Men" are infamous thieves, led by the dark, murderous Balthazar. After a daring escape from Herod's prison, they stumble upon the famous manger and its newborn king. The last thing Balthazar needs is to be slowed down by young Joseph, Mary and their infant. But when Herod's men begin to slaughter the first born in Judea, he has no choice but to help them escape to Egypt.

It's the beginning of an adventure that will see them fight the last magical creatures of the Old Testament; cross paths with biblical figures like Pontius Pilate and John the Baptist; and finally deliver them to Egypt. It may just be the greatest story never told.
About the Author
---
Seth Grahame-Smith is the New York Times bestselling author of Abraham Lincoln: Vampire Hunter and Pride and Prejudice and Zombies. In addition to adapting the screenplay for Abraham Lincoln: Vampire Hunter, Seth also wrote Tim Burton's film Dark Shadows. He lives in Los Angeles.