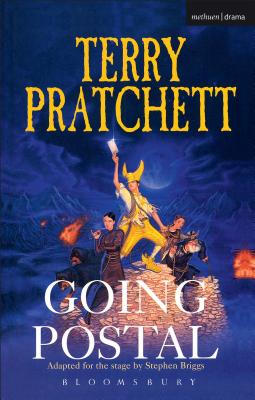 $15.95

Not Currently On The Shelf, But We Can Ship It To You In 3-5 Days
Description
---
Moist von Lipwig was a con artist, a fraud and a man faced with a life choice: be hanged, or put Ankh-Morpork's ailing postal service back on its feet.

It was a tough decision.

With the help of a golem who has been at the bottom of hole in the ground for over two hundred years, a pin fanatic and Junior Postman Groat, he's got to see that the mail gets through. In taking on the evil chairman of the Grand Trunk Semaphore Company, and a midnight killer, he's also got to stay alive.

Getting a date with Adora Bell Dearheart would be nice, too.

In the mad world of the mail, can a criminal succeed where honest men have failed and died? Perhaps there's a shot at redemption for man who's prepared to push the envelope...
About the Author
---
Terry Pratchett is one of the most popular authors writing today. He lives behind a keyboard in Wilt shire and says he 'doesn't want to get a life, because it feels as though he's trying to lead three already'. He was appointed OBE in 1998. He is the author of the phenomenally successful Discworld se ries and his trilogy for young readers, The Bromeliad, is scheduled to be adapted into a spectacular animated movie.