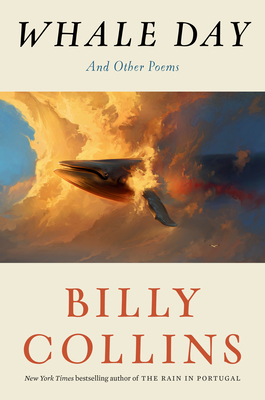 Staff Reviews
---
The whiskers growing on his face or a mouse discovering his kitchen like Columbus discovering America (because it was already there), Collins uses deceptively simple imagery and straightforward language which are enjoyable to read the first time and packed with much greater depth upon rereading. I had the pleasure of meeting the poet during his tenure as Poet Laureate of the U.S. (2001-2003). It changed my perception of what modern poetry could do. Best enjoyed one poem at a time in a deliberate pause of your otherwise harried day.
— From
What Christopher is reading
Description
---
A new collection from Billy Collins, former U.S. Poet Laureate and "America's favorite poet" (The Wall Street Journal) 

Billy Collins's new collection brings together more than fifty poems and showcases his deft mixing of the playful and the serious that has made him one of our country's most celebrated and widely read poets. Here are poems that leap with whimsy and imagination, yet stay grounded in the familiar, common things of everyday experience. Collins takes us for a walk with an impossibly ancient dog, discovers the original way to eat a banana, meets an Irish spider, and even invites us to his own funeral. Sensitive to the wonders of being alive as well as the thrill of mortality, Whale Day builds on and amplifies Collins's reputation as one of America's most interesting and durable poets.
About the Author
---
Billy Collins is the author of twelve prior collections of poetry including The Rain in Portugal, Aimless Love, Horoscopes for the Dead, Ballistics, The Trouble with Poetry, Nine Horses, Sailing Alone Around the Room, Questions About Angels, The Art of Drowning, and Picnic, Lightning. He is also the editor of Poetry 180: A Turning Back to Poetry, 180 More: Extraordinary Poems for Every Day, and Bright Wings: An Illustrated Anthology of Poems About Birds. A former Distinguished Professor at Lehman College of the City University of New York, Collins served as Poet Laureate of the United States from 2001 to 2003 and as New York State Poet from 2004 to 2006. In 2016 he was inducted into the American Academy of Arts and Letters. He lives in Florida with his wife, Suzannah.