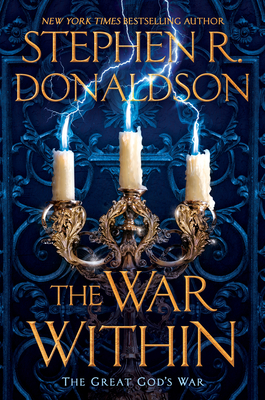 $28.00
Email or call for price.
Staff Reviews
---
20 years after the events of The Seventh Decimate, magic has been restored and an uneasy alliance exists between Belliger and Amkia, cemented by marriage, as they prepare for the coming onslaught. Not everyone believes in the coming threat, and generations of hatred aren't easily resolved. Threats, both internal and external, abound, along with a mysterious new power, religion. With everyone being driven to the extremes of their endurance and ability, can they even survive long enough to face the coming war and save both of their peoples?
— From
What Ryan is reading
Description
---
Stephen R. Donaldson, the New York Times bestselling author of The Chronicles of Thomas Covenant, returns to the world of his Great God's War fantasy epic as two kingdoms— united by force—prepare to be challenged by a merciless enemy…

It has been twenty years since Prince Bifalt of Belleger discovered the Last Repository and the sorcerous knowledge hidden there. At the behest of the repository's magisters, and in return for the restoration of sorcery to both kingdoms, the realms of Belleger and Amika ceased generations of war. Their alliance was sealed with the marriage of Bifalt to Estie, the crown princess of Amika. But the peace--and their marriage--has been uneasy.

Now the terrible war that King Bifalt and Queen Estie feared is coming. An ancient enemy has discovered the location of the Last Repository, and a mighty horde of dark forces is massing to attack the library and take the magical knowledge it guards. That horde will slaughter every man, woman, and child in its path, destroying both Belleger and Amika along the way.

With their alliance undermined by lingering hostility and conspiracies threatening, it will take all of the monarchs' strength and will to inspire their kingdoms to become one to defend their land, or all is lost....
About the Author
---
Stephen R. Donaldson is the author of the original six volumes of the Chronicles of Thomas Covenant, a landmark in modern fantasy. Every volume, beginning with Lord Foul's Bane in 1977, has been an international bestseller. Donaldson returned to the series with the Last Chronicles of Thomas Covenant, which includes The Runes of the Earth, Fatal Revenant, Against All Things Ending, and The Last Dark.
Praise For…
---
Praise for Seventh Decimate, Book One of the Great God's War

"It promises to be as rich in detail as its predecessors—and, Mr. Donaldson's trademark, as emotionally deep and as psychologically unpredictable."—The Wall Street Journal
 
"A new Stephen Donaldson book is always a cause for celebration. Seventh Decimate will whet your appetite for a sequel."—New York Times bestselling author Terry Brooks
 
"Fantastic."—Booklist
 
"Donaldson delivers a surprising start to what promises to be a very unconventional fantasy series…And thus is another fantasy classic forged. Recommended."—SF Revu
 
"[Donaldson] is a writer who has explored the themes of grimdark before grimdark existed, and well knows how to deliver epic qualities in his fantasy prose...Seventh Decimate is a strong novel and promises much for what is to come in Donaldson's new series, The Great God's War."—SF Book
 
Praise for The Chronicles of Thomas Covenant
 
"[A] landmark fantasy saga."—Entertainment Weekly
 
"A trilogy of remarkable scope and sophistication."—Los Angeles Times
 
"The most original fantasy since The Lord of the Rings."—Time Out