Gone So Long: A Novel (Paperback)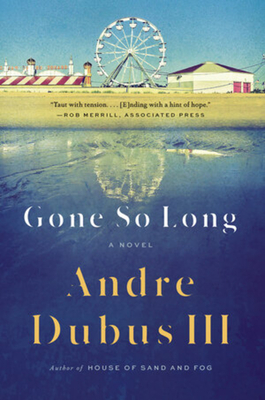 Staff Reviews
---
This is an emotional ride. There is a quiet desperation in the broken characters that makes them human and heartbreaking. Excellent writing especially how the back story is revealed and the differing points of view. Dubus offers neither judgement nor forgiveness but shows the consequences of violence. Asks the question - How do we live with our mistakes? Much to talk about.
— From
What Karin is Reading
Winter 2019 Reading Group Indie Next List
---
"Precision of language, artistry of plot. The author plays no favorites with the three main characters (Daniel, who killed his former wife, Linda, in a fit of rage; Susan, who witnessed the homicide decades earlier; and Lois, Linda's mother, who raised Susan). Each character and storyline is fully developed, giving the reader a great sense of how and why they are who they are. I felt empathy for each of them (yes, even a man who killed his wife!) and read the book on the edge of my seat!"
— Dawn Rennert, The Concord Bookshop, Concord, MA
Description
---
"Taut with tension.… [E]nding with a hint of hope."—Rob Merrill, Associated Press
Cathartic, affirming, and steeped in the empathy and precise observations of character for which Dubus is celebrated, Gone So Long explores how the wounds of the past afflict the people we become.
Gone So Long is a riveting family drama about an ex-con who did time for murder, the estranged daughter he hasn't seen in forty years, and the grandmother angry enough to kill him. A profound exploration of the struggle between the selves we wish to be, and the ones—shaped by chance and circumstance, as well as character—that we can't escape, it confirms Andre Dubus's reputation as a novelist whose "compassion is unsentimental and unblinking, total and unwavering" (Paul Harding).
About the Author
---
Andre Dubus III is the author of Gone So Long, Dirty Love, The Garden of Last Days, House of Sand and Fog (a #1 New York Times bestseller, Oprah's Book Club pick, and finalist for the National Book Award), and Townie, winner of an American Academy of Arts and Letters Award in Literature. His writing has received many honors, including a Guggenheim Fellowship, a National Magazine Award, and two Pushcart Prizes. He lives with his family north of Boston.
Praise For…
---
Full of ghosts and regrets and glimmering shards of excavated memory, Gone So Long is about destruction and redemption and the stupid, stubborn way people have of squandering love.

— Laura Collins-Hughes

Gone So Long is an astonishment. I love this book so much, the humanity in it. I love every single person in it, they are so real, these people—I know them and love them all. I wept for them, I did. Dubus is just so good and real and true, he doesn't pull one sentimental punch the whole time—extraordinary. I thought about those people as I was walking down the sidewalk, and they are inside me as well, not just thoughts that go by. I love this book to pieces.

— Elizabeth Strout, Pulitzer Prize–winning author of Olive Kitteridge

I tore through this haunting novel about people driven by pain beyond the reach of love and forgiveness, and the roads they use as they seek their way back. It hits just the right note at the end, and I'll be thinking about Susan a long time. A hell of a read.
— Phil Klay, National Book Award–winning author of Redeployment

Well, he's done it again, hasn't he? What a gorgeous heartbreaker of a book. Dubus's compassion is unsentimental and unblinking, total and unwavering. That and sheer artistry makes Gone So Long dark and radiant, beautiful and never to be forgotten.

— Paul Harding, Pulitzer Prize–winning author of Tinkers

[Dubus] brings a light touch to questions of morality and justice and moves delicately between seaside New England and swampy Florida, infusing life into the characters in this heartbreaking novel.

Dubus is in his gritty wheelhouse, exploring the question of how we live with our mistakes and whether we can ever stop adding to them.

Dubus evokes a dazzling palette of emotions as he skillfully unpacks the psychological tensions between remorse and guilt, fear and forgiveness, anger and love. Susan, Daniel, and Lois are fully realized and authentic characters who live with pain and heartache while struggling to fill the tremendous void created by the tragedy. Heartrending yet unsentimental, this powerful testament to the human spirit asks what it means to atone for the unforgivable and to empathize with the broken.
— Bill Kelly

Dubus (Townie) renders this story of love, jealousy, guilt, and atonement in a voice that rings with authenticity and evokes the texture of working-class lives.… This is a compassionate and wonderful novel.


The people at the heart of this novel feel intensely real. That's because Dubus has the imagination, patience and empathy to make them so.
— Kevin Canfield

Andre Dubus III has made a name for himself as a kind of poet of violence—a dubious accolade, to be sure—a writer who vibrantly captures a kind of hardscrabble New England living that's not rough around the edges, it's just rough.
— Chloe Schama