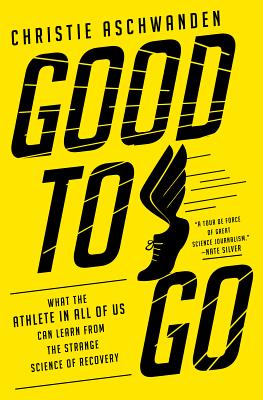 $27.95

Not Currently On The Shelf, But We Can Ship It To You In 3-5 Days
Description
---
A New York Times Sports and Fitness Bestseller



An eye-opening exploration of how the human body can best recover and adapt to sports and fitness training.
In recent years recovery has become a sports and fitness buzzword. Anyone who works out or competes at any level is bombarded with the latest recovery products and services: from drinks and shakes to compression sleeves, foam rollers, electrical muscle stimulators, and sleep trackers.
In Good to Go, acclaimed FiveThirtyEight science writer Christie Aschwanden takes readers on an entertaining and enlightening tour through this strange world. She investigates whether drinking Gatorade or beer after training helps or hinders performance; she examines the latest trends among athletes, from NFL star Tom Brady's infrared pajamas to gymnast Simone Biles' pneumatic compression boots to swimmer Michael Phelps's "cupping" ritual; and she tests some of the most controversial methods herself, including cryochambers, float tanks, and infrared saunas.
At a time when the latest recovery products and services promise so much, Good to Go seeks answers to the fundamental question: Do any of them actually help the body recover and achieve peak performance?
About the Author
---
Christie Aschwanden is an award-winning science journalist. She's cohost of the podcast Emerging Form, a contributor to the New York Times, Washington Post, and Slate, and was previously lead science writer for FiveThirtyEight. A National Magazine Award finalist and former elite athlete, she lives in Colorado.
Praise For…
---
Deeply researched and artfully written…A must-read for all athletes, from the professional to the weekend warrior.
— Michael Shermer - Wall Street Journal

Absorbing…Aschwanden separates the facts from the hype in the realm of athletic recovery, dispensing welcome doses of common sense.
— David Takami - Seattle Times

An intelligent and entertaining tour of fitness research for anyone who exercises, with clear advice on what actually works to aid recovery.
— Julia Belluz - Vox

As buzzy as recovery is among athletes right now, the question of how to best adapt to and benefit from training is still fraught with confusion…Christie Aschwanden offers much-needed clarity on the subject in Good to Go.

— Becky Wade - Runner's World

Aschwanden turbocharges Good to Go by relentlessly delving into the science behind the most touted treatment regimes…[Her] persuasive science and snappy writing helped me relinquish some recovery beliefs I'd been holding for years.

— Cyan James - Science

This book is fascinating! Christie Aschwanden makes the mind-boggling world of sports recovery a hilarious adventure, and she mixes science with stories that everyone can relate to. Recreational athletes, professionals, and coaches alike will find Good to Go entertaining and informative in answering the ever-changing question: How do I feel better, faster?

— Jessie Diggins, member of the U.S. Cross Country Ski Team and 2018 Olympic Gold Medalist

Christie Aschwanden is simply one of the best science writers in the world. Good to Go is the definitive tour through a bewildering jungle of scientific (and pseudoscientific) claims that comprise a multibillion-dollar recovery industry.

— David Epstein, best-selling author of The Sports Gene

Recovery is the great athletic obsession of our time. But how much do we really understand about it? Christie Aschwanden cuts through the hype to explore the topic with nuance, humor, and—most important—scientific rigor. The result is a much-needed reappraisal of how we should think about recovery, making Good to Go the most important book about training you'll read this year.

— Alex Hutchinson, best-selling author of Endure

Christie Aschwanden's experience as both a journalist and a competitive athlete makes her uniquely well-qualified to write this book. The result is a skeptical and precise but also immensely enjoyable and relatable examination of the science of recovery. Even if you're not someone who regularly trains, you should read this book as a tour de force of great science journalism, shining a critical light onto a field that has historically been dominated by pseudoscientific and exaggerated claims.
— Nate Silver, best-selling author of The Signal and the Noise

This authoritative, delightful, and much-needed book slices through the hype around athletic recovery, and will surely cement Christie Aschwanden's status as one of the world's top science writers. I laughed a lot, and learned even more.
— Ed Yong, best-selling author of I Contain Multitudes

Christie Aschwanden is the real deal, an engaging and inspiring champion of good science. What makes Good to Go so delightful and unique is how much fun it is to read her equally persuasive debunking of pseudoscience. A rollicking read.

— Seth Mnookin, best-selling author of The Panic Virus
Coverage from NPR