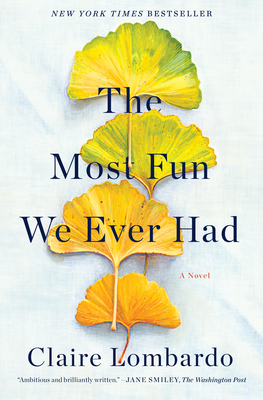 Staff Reviews
---
The title is a "tongue in cheek" statement about the lives in a loving family that is also at times dysfunctional. The Most Fun We Ever Had is about relationships on every level - parents who have been married for 40 years, four sisters, lovers and children. A great read for anyone who has thought about what makes a "perfect marriage."
— From
What Susan is Reading
A big Chicago family filled with joys and sorrows, love and rivalries. Its easy to get drawn into Lambardo's engrossing debut. I grew to love and care about the Sorensons, but mostly the amazing writing impressed me. Underlying secrets are revealed masterfully through four decades of four sisters trying to find a love such as their parents. There's no politics, or social-racial issues but just a large messy endearing family. Good character driven family saga - a modern day Little Women.
— From
What Karin is Reading
July 2019 Indie Next List
---
"Claire Lombardo has written a rich and rewarding novel brimming with the messiness of families. Secrets kept and revealed provide a backdrop for the life-long love affair of Marilyn and David Sorenson as they raise their four daughters. The years are filled with joy, angst, anger, longing, and love as the members of the Sorenson family struggle to define their place among the ones who are nearest and dearest to their hearts. The Most Fun We Ever Had will resonate with all readers who have experienced and celebrated the chaotic love of family."
— Betsy Von Kerens, The Bookworm of Omaha, Omaha, NE
Description
---
Longlisted for the Women's Prize for Fiction

When Marilyn Connolly and David Sorenson fall in love in the 1970s, they are blithely ignorant of all that awaits them. By 2016, their four radically different daughters are in a state of unrest. Wendy, widowed young, soothes herself with booze and younger men; Violet, a litigator turned stay-at-home-mom, battles anxiety and self-doubt; Liza, a neurotic and newly tenured professor, finds herself pregnant with a baby she's not sure she wants by a man she's not sure she loves; and Grace, the dawdling youngest daughter, begins living a lie that no one in her family even suspects. With the arrival of Jonah Bendt--a child placed for adoption by one of the daughters fifteen years before--the Sorensons will be forced to reckon with the rich and varied tapestry of their past: years marred by adolescent angst, infidelity, and resentment, but also the transcendent moments of joy that make everything else worthwhile.
About the Author
---
Claire Lombardo earned her MFA in fiction at the Iowa Writers' Workshop. Prior to writing The Most Fun We Ever Had, she spent several years doing social work in Chicago. She was born and raised in Oak Park, Illinois.
Praise For…
---
Named a most anticipated book of the summer by O Magazine, People, Chicago Tribune, NY Post, InStyle, Good Housekeeping, Daily Beast, PopSugar, and LitHub

"A rich, engrossing family saga, spiked with sisterly malice...[rendered] with such skill and finely tuned interest that it feels like a quiet subversion of the traditional family saga."
—The New York Times Book Review

"Ambitious and brilliantly written."
—Jane Smiley, The Washington Post

"If ever there were to be a literary love child of Jonathan Franzen and Anne Tyler, then Claire Lombardo's outstanding debut, which ranges from ebullience to despair by way of caustic but intense familial bonds, would be a worthy offspring…This is a novel epic in scope—emotionally, psychologically and narratively. Combining a broad thematic canvas with impressive emotional nuance, it's an assured and highly enjoyable debut."
—The Guardian

"An assured first novel…The fun—well, that's in the reading of the novel, which nicely blends comedy with pathos and the sharp- with the soft-edged."
—Wall Street Journal     

"The Most Fun We Ever Had is a remarkable first-time novel offering such an intimate picture of people's interior lives I feel as if every one of these characters is now a close friend. Lombardo has the remarkable ability to delve into people's minds so deeply that the most quotidian moments become utterly fascinating."   
—Ruth Reichl, Los Angeles Times

"A wonderfully immersive read that packs more heart and heft than most first novels…A deliciously absorbing novel with—brace yourself—a tender and satisfyingly positive take on family."
—NPR

"The big family saga of the summer, unfurling the fallout of a long-buried secret and persisting rivalries between four sisters across 50 transformative years."
—EW
 
"A sprawling, enchanting debut, this novel jumps back and forth across time to tell the story of one powerful, complicated, and utterly unforgettable family as they navigate love and loss."
—Town and Country

"This juicy saga spans more than four decades…You'll be glad this loopy family isn't yours, but reading about them is a treat."
—People Magazine

"[A] satisfying multicourse feast."
—O Magazine

"A rich, complex family saga."
—USA Today

"[A] brilliant debut." 
—PopSugar

"A sharp, sly family story of feminine guile and guilt...A fun and brimming tale...Divine."
—Kirkus Reviews

"Lombardo captures the complexity of a large family with characters who light up the page with their competition, secrets, and worries…A rich and rewarding family saga."
—Publishers Weekly

"A family epic…It resembles other sprawling midwestern family dramas, like Jonathan Franzen's The Corrections (2001)…The result is an affectionate, sharp, and eminently readable exploration of the challenges of love in its many forms."
—Booklist

"A sprawling drama that explores the maelstrom of love, resentment and tension of the nuclear family, and the ways in which a shared history can affect the future for years…Covering 40 years of Sorenson family strengths and foibles, The Most Fun We Ever Had is a classy but juicy read that always has one more surprise up its sleeve."
—Shelf Awareness

"Everything about this brilliant debut cuts deep: the humor, the wisdom, the pathos. Claire Lombardo writes like she's been doing it for a hundred years, and like she's been alive for a thousand." 
—Rebecca Makkai, author of The Great Believers
 
"In The Most Fun We Ever Had, Claire Lombardo has given us a truly unforgettable American family. The book bristles on every page with intelligence and fierce wit. What a debut!"
—Richard Russo, author of That Old Cape Magic and Chances Are…
 
"Lombardo's impressive debut is a gripping and poignant ode to a messy, loving family in all its glory. She juggles a huge cast of characters with seeming effortlessness, bringing each to life with humor, vividness and acute psychological insight."
—Madeline Miller, New York Times bestselling author of Circe

"What a splendid, spacious, gripping novel Claire Lombardo has written.  These pages sparkle with wit and wisdom.  I love the four difficult Sorenson daughters, each in the grip of her own emergencies. The Most Fun We Ever Had is a gorgeous and profound debut."
—Margot Livesey, author of Mercury
 
"Remarkably alive and wise, Claire Lombardo's story of the Sorensons is a stunning vision--not just of family or love, but the funny, tender mystery of human connection itself, with all its intensity, charm, and wonder."
—Affinity Konar, author of Mischling

"Lombardo has a wry, often spiky humour and tightly written style that should appeal to fans of Maria Semple, Emma Straub and Jennifer Egan…A moving, immersive, often very funny study of family and sisterhood."
—Times UK