Ranger Games: A Story of Soldiers, Family and an Inexplicable Crime (Hardcover)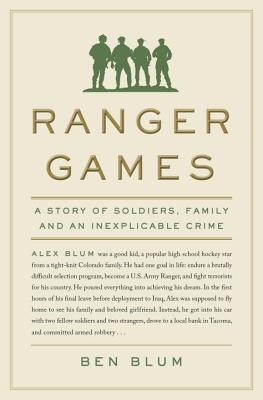 Staff Reviews
---
I didn't know what I was getting into-- especially looking at a book that was 400 pages long. How could this armed robbery fill 400 pages? When I finished it, I needed more. The book is about more than the crime on the cover. It worked through the army Ranger training, the military and the control over their members, psychology experiments, mental illness, family drama and more. It wasn't like any other book I have ever read. To be honest, I still don't know what to think! It's a book that will inspire additional readings on war, military, and pschological experiements. Read it and then lets discuss.
— From
What Mackenzie is reading
September 2017 Indie Next List
---
"Ranger Games is a fascinating examination of family, duty, psychology, and crime. Ben Blum's cousin Alex wanted one thing in life, to be a U.S. Army Ranger, but after completing the program and right before his first deployment, he seemingly inexplicably wound up driving the getaway car for an armed bank robbery with three other Rangers. Blum digs deep into his cousin's story and the culture of the Rangers to find out why and how, and the result is a riveting, thought-provoking book."
— Cody Morrison (M), Square Books, Oxford, MS
Description
---
"A gloriously good writer...Ranger Games is both surprising and moving...A memorable, novelistic account."—Jennifer Senior, New York Times 

Intricate, heartrending, and morally urgent, Ranger Games is a crime story like no other
 
Alex Blum was a good kid, a popular high school hockey star from a tight-knit Colorado family. He had one goal in life: endure a brutally difficult selection program, become a U.S. Army Ranger, and fight terrorists for his country. He poured everything into achieving his dream. In the first hours of his final leave before deployment to Iraq, Alex was supposed to fly home to see his family and beloved girlfriend. Instead, he got into his car with two fellow soldiers and two strangers, drove to a local bank in Tacoma, and committed armed robbery... 
     The question that haunted the entire Blum family was:  Why?  Why would he ruin his life in such a spectacularly foolish way?
     At first, Alex insisted he thought the robbery was just another exercise in the famously daunting Ranger program.  His attorney presented a case based on the theory that the Ranger indoctrination mirrored that of a cult. 
     In the midst of his own personal crisis, and in the hopes of helping both Alex and his splintering family cope, Ben Blum, Alex's first cousin, delved into these mysteries, growing closer to Alex in the process.  As he probed further, Ben began to question not only Alex, but the influence of his superior, Luke Elliot Sommer, the man who planned the robbery. A charismatic combat veteran, Sommer's manipulative tendencies combined with a magnetic personality pulled Ben into a relationship that put his loyalties to the test.      
About the Author
---
BEN BLUM was born and raised in Denver, Colorado. He holds a PhD in computer science from the University of California Berkeley, where he was a National Science Foundation Graduate Research Fellow, and an MFA in fiction from New York University, where he was awarded the New York Times Foundation Fellowship. He lives in Brooklyn with his wife and stepdaughter.
Praise For…
---
"A gloriously good writer...Ranger Games is both surprising and moving...A memorable, novelistic account."
—Jennifer Senior, New York Times 

"Saga and social science both, a riveting exploration of the codes of conduct by which men are meant to comport themselves, the lengths to which we go to forge identity, and how far the stories we tell can be stretched before they become prisons of our own making… Blum is remarkably empathetic, offering heartbreaking portraits… If [he] begins as the odd piece in the family puzzle, his precise, exhaustive and sympathetic work proves both deeply salutary and in step with the logistician's mind."
—Wall Street Journal

"Captivating… a riveting exploration of the malleability of memory and the stories we choose to tell — to others and to ourselves… Blum is as gifted with language as he is with numbers, and Ranger Games is an extraordinary book, a thrilling, bumpy journey into the complexities of the mind, with its capacity to protect and betray — often within the very same moment…Surprisingly poignant."
—Washington Post

"On a simple level, Ranger Games is about Ben Blum's obsessive quest to understand why his 19-year-old cousin participated in an inexplicable, ham-handed bank robbery that landed him in prison and nearly destroyed the people he loved. But there is nothing simple about Blum's book. It turns out to be a labyrinthine, utterly engrossing meditation on matters as seemingly disparate as the perils of loyalty, the seductive force of mathematical certainty, the toxicity of "honor," the Stanford Prison Experiment, the weirdness of daytime television, and the dangerous power of family mythology. It is an astonishing book, unlike anything else I have ever read."
—Jon Krakauer, New York Times bestselling author of Missoula and Into Thin Air

"Ranger Games is a rare and totally original work of nonfiction. The odd characters and dangerous situations live vibrantly in these pages and the stakes are always high. Ben Blum's search for truth leads him down many paths into an inner turmoil and boil about family, fidelity, identity, good and evil, and military service. Once you start reading you won't put it down."
—Anthony Swofford, New York Times bestselling author of Jarhead and Hotels, Hospitals, and Jails: A Memoir