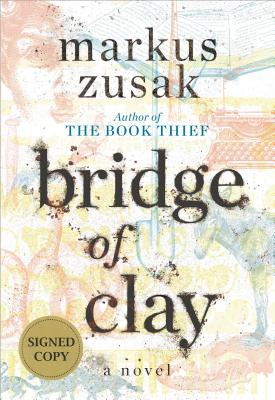 $26.00
Email or call for price.
Staff Reviews
---
When I started this book, I wasn't sure Zusak could do it again. But let me assure you he has. Five brothers, contemporary Australia, a bit of horse racing and plenty of horse play make for an epic adventure. But the by each boy to uncover the passionate artists their parents once were makes this story Homeric. Outstanding as a book can be!
— From
What Nicole is reading
Don't be put off by the length of this book! Themes of love and loss within an Australian family of five brothers are prevalent throughout this well-written novel. The brothers take care of themselves as well as each other, with each having unusual passions. Home life is raucous and at times violent . There are sub-plots of rejection and then bridge building that offer the reader a rich experience.
— From
What Susan is Reading
Description
---
NAMED ONE OF THE BEST BOOKS OF THE YEAR BY ENTERTAINMENT WEEKLY • THE WALL STREET JOURNAL

The unforgettable, New York Times bestselling family saga from Markus Zusak, the storyteller who gave us the extraordinary bestseller THE BOOK THIEF, lauded by the New York Times as "the kind of book that can be life-changing."

This is a signed edition with limited copies available.
 
"One of those monumental books that can draw you across space and time into another family's experience in the most profound way." —The Washington Post

"Mystical and loaded with heart, it's another gorgeous tearjerker from a rising master of them." —Entertainment Weekly

"Devastating, demanding and deeply moving." —Wall Street Journal 

The breathtaking story of five brothers who bring each other up in a world run by their own rules. As the Dunbar boys love and fight and learn to reckon with the adult world, they discover the moving secret behind their father's disappearance.

At the center of the Dunbar family is Clay, a boy who will build a bridge—for his family, for his past, for greatness, for his sins, for a miracle.

The question is, how far is Clay willing to go? And how much can he overcome?
 
Written in powerfully inventive language and bursting with heart, BRIDGE OF CLAY is signature Zusak.
About the Author
---
Markus Zusak is the author of six books, including The Book Thief, which spent more than a decade on the New York Times bestseller list, and has been translated into more than forty languages.

Zusak's books The Underdog, Fighting Ruben Wolfe, Getting the Girl, I Am the Messenger, and The Book Thief have received numerous honors including literary prizes and readers' choice awards.

In 2013, The Book Thief was adapted to film by Twentieth Century Fox. In 2014, Zusak received the American Library Association's Margaret Edwards Award, for his body of work.

On his much-anticipated new novel, Bridge of Clay, Zusak stated, "Clay Dunbar builds a bridge for a multitude of reasons: for his brothers and to honor his parents…but it's also an attempt at greatness. He builds a bridge to save himself, and to make a single, beautiful moment: a miracle and nothing less." 

Markus Zusak grew up in Sydney, Australia, and still lives there with his wife and two children.
Praise For…
---
"This book is a stunner. Devastating, demanding and deeply moving, Bridge of Clay unspools like a kind of magic act in reverse, with feats of narrative legerdemain concealed by misdirection that all make sense only when the elements of the trick are finally laid out." —Wall Street Journal

"Markus Zusak crafts an unforgettable saga." —US Weekly

"In a complex narrative that leaps through time and place and across oceans, Zusak paints a vivid portrait of the brothers trying to regain their balance by keeping their family's story alive." —Time

"It blew me away." —Jodi Picoult, bestselling author of A Spark of Light and Small Great Things
 
"A captivating book with a mighty, fearless heart, BRIDGE OF CLAY is filled with characters to believe in and care about ... achingly moving, delightfully funny, and thoroughly uplifting." —M. L. Stedman, bestselling author of The Light Between Oceans

"If The Book Thief was a novel that allowed Death to steal the show . . . [its] brilliantly illuminated follow-up is affirmatively full of life." —The Guardian 

"Warm and heartfelt. . . . This is a tale of love, art and redemption; rowdy and joyous, with flashes of wit and insight, and ultimately moving." Times of London

"With heft and historical scope, Zusak creates a sensitively rendered tale of loss, grief, and guilt's manifestations." —Publishers Weekly, starred review

"[A] gorgeously written novel." —Booklist, starred review


Praise for The Book Thief by Markus Zusak: 

#1 NEW YORK TIMES BESTSELLER
WINNER OF THE NATIONAL JEWISH BOOK AWARD
MORE THAN 16 MILLION COPIES SOLD
 
"Brilliant and hugely ambitious." --The New York Times Book Review

"Deserves a place on the shelf with the Diary of Anne Frank . . . Poised to become a classic." --USA Today

"Absorbing and searing." --Washington Post

"Zusak's novel is a major achievement." –People

"Zusak doesn't sugarcoat anything, but he makes his ostensibly gloomy subject bearable the same way Kurt Vonnegut did in Slaughterhouse-Five: with grim, darkly consoling humor." –Time