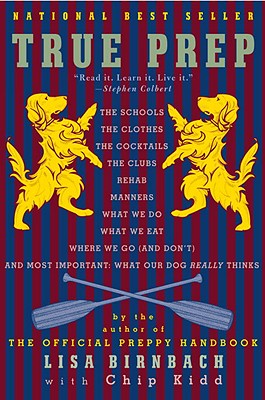 Staff Reviews
---
Christopher says: It's been more than 30 years since publication of The Official Preppy Handbook. But, with upturned collars coming back, the preppy way is still going strong and True Prep gives us a modern guide to that domestically foreign way of life. From family to manners, from clothes to where we summer, and even a section on what we don't talk about, True Prep provides the essential tongue-in-cheek truth.
— From
What Christopher is reading
Description
---
Now in paperback from Lisa Birnbach, the author of The Official Preppy Handbook, comes True Prep, which looks at how the old guard of natural-fiber-loving, dog-worshipping, G&T-soaked preppies adapts to the new order of the Internet, cell phones, rehab, political correctness, reality TV, and . . . polar fleece.
About the Author
---
Lisa Birnbach is a contributing editor at Parade magazine and the author of more than twenty books, including Lisa Birnbach's College Book. She lives in New York with her three children.

Chip Kidd is a designer and writer at Alfred A. Knopf, where he has worked since 1986. In 1980, when he was in the tenth grade, The Official Preppy Handbook changed his life. Now he wants to return the favor.
Praise For…
---
"[T]his book touches many bases. And it's funny without exactly being satirical. The authors take their mission sort of seriously and approach the prep ethos with obvious affection . . . True Prep makes a point of flaunting the sexual, racial, ethnic and class diversity that were in short supply the first time around . . ."
—Janet Maslin, The New York Times

"True Prep is a hilarious send-up of the frills and foibles of the elite and privileged. It's satire, of course, but it's cringe-inducingly on target at times."
—Lylah M. Alphonse, The Boston Globe
 
"[T]here's something very interesting going on in True Prep . . . One need no longer be white, Protestant, heterosexual—or even accomplished at tennis—to be a preppy . . . [T]here's a sense in the book that the contemporary iteration of preppiness has far more to do with savoir faire than pedigree . . . [T]o dig beneath the surface of this thing that's been labeled 'prep' is to arrive at a surprising and perhaps even counterintuitive theory about the whole gestalt. Perhaps preppiness is less about demographics and style than it is about living decently in an often indecent world . . . [P]reppiness at its core is ultimately about self-respect. It's about pulling your pants up . . . It's about knowing that you don't necessarily need to have money to have class. And what better time to be reminded of all this than now?"
—Meghan Daum, Los Angeles Times

"The first thing you notice about True Prep . . . is its design. Chip Kidd, a celebrated graphic designer, has made this book a visual pleasure, with precise illustrations, vivid photographs and a colour palette that would make Kate Spade swoon. Paging through this book, which considers the current state of the North American 'preppy' style, the words 'gift material' come to mind. This isn't to undersell the writing. Ms Birnbach has a sly wit, an editor's eye and an excellent vocabulary. Every sentence is quotable. Really . . . True Prep is frivolous, but comprehensively, amusingly, and intelligently so. All too few books fit that description. Like its predecessor, this is a fond and inventive satire for the ages."
—The Economist
 
"Birnbach . . . and Kidd, well-known as book-jacket designer, novelist, and natty dresser, have produced a book as witty as, and more thorough than, the original . . . The most important change from The Official Preppy Handbook to True Prep is the more capacious sense of who is preppy . . .  True Prep is as noisily inclusive as The Preppy Handbook was quietly exclusive . . ."
—Mark Oppenheimer, Slate
 
"[W]hat was once a rarefied blue-blood clique has become a bona fide social phenomenon . . . The basic prep values—politeness, sportiness, and adherence to tradition—have, however, remained the same."
—Jennifer Wright, New York Post
 
"Lisa Birnbach and Chip Kidd's long-awaited sequel to The Official Preppy Handbook is good for a laugh, no matter how many pastel polo shirts you own."
—Parade magazine
 
"Birnbach is back with True Prep, an updated field guide to the preppy lifestyle . . . You know, things like rehab (the new boarding school) and texting (not at the dinner table). There's vital information on how to keep that sporty tan in an era when overexposure to the sun is frowned upon, without resorting to Snooki-type tanning salons."
—Jura Koncius, The Washington Post

"True Prep . . . is a slyly written and debatably satirical take on what it means to be 'preppy' in today's age . . . It makes a great gift for your favorite Sperry-wearing Yalie, or someone that just enjoys a quick read and an easy laugh."
—Benjamin Clymer, Forbes.com