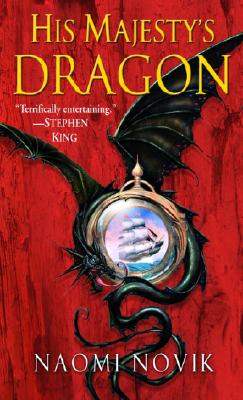 Other Books in Series
This is book number 1 in the Temeraire series.
Staff Reviews
---
When a British ship captures a struggling French ship, the crew is only thinking of the prize money that will be allocated, not that they will find a dragon egg that could change the life of one of their officers and possibly the entire war. Naomi Novik has created a world where one change (the existence of sentient dragons) has had widespread effects on the world. Cleverly writing and well thought out world-building make the characters feel as real and compelling as those of Patrick OBrian or Bernard Cornwell. The implications of pre- and early industrial societies having airforces is fascinating, and the action and character interactions d rive this series forwards in an absorbing manner. I would recommend this book (and the entire series) to anyone interested in the Napoleonic Wars and alternate histories, or anyone who still loves dragons!
— From
What Kathleen Is Reading
Description
---
In the first novel of the New York Times bestselling Temeraire series, a rare bond is formed between a young man and a dragon, and together they must battle in the Napoleonic Wars.

"A terrifically entertaining fantasy novel."—Stephen King

Aerial combat brings a thrilling new dimension to the Napoleonic Wars as valiant warriors rise to Britain's defense by taking to the skies . . . not aboard aircraft but atop the mighty backs of fighting dragons.

When HMS Reliant captures a French frigate and seizes its precious cargo, an unhatched dragon egg, fate sweeps Capt. Will Laurence from his seafaring life into an uncertain future–and an unexpected kinship with a most extraordinary creature. Thrust into the rarified world of the Aerial Corps as master of the dragon Temeraire, he will face a crash course in the daring tactics of airborne battle. For as France's own dragon-borne forces rally to breach British soil in Bonaparte's boldest gambit, Laurence and Temeraire must soar into their own baptism of fire.

"Just when you think you've seen every variation possible on the dragon story, along comes Naomi Novik. . . . Her wonderful Temeraire is a dragon for the ages."—Terry Brooks

About the Author
---
Naomi Novik is the acclaimed author of His Majesty's Dragon, Throne of Jade, Black Powder War, Empire of Ivory, Victory of Eagles, Tongues of Serpents, Crucible of Gold, and Blood of Tyrants, the first eight volumes of the Temeraire series. She has been nominated for the Hugo Award and has won the John W. Campbell Award for Best New Writer, as well as the Locus Award for Best New Writer and the Compton Crook Award for Best First Novel. She is also the author of the graphic novel Will Supervillains Be on the Final?
 
Fascinated with both history and legends, Novik is a first-generation American raised on Polish fairy tales and stories of Baba Yaga. Her own adventures include pillaging degrees in English literature and computer science from various ivory towers, designing computer games, and helping to build the Archive of Our Own for fanfiction and other fanworks. Novik is a co-founder of the Organization for Transformative Works.
 
She lives in New York City with her husband, Charles Ardai, the founder of Hard Case Crime, and their daughter, Evidence, surrounded by an excessive number of purring computers.
Praise For…
---
"Just when you think you've seen every variation possibleon the dragon story, along comes Naomi Novik. . . . Her wonderful Temeraire is a dragon for the ages."—Terry Brooks

"Terrifically entertaining."—Stephen King
Coverage from NPR