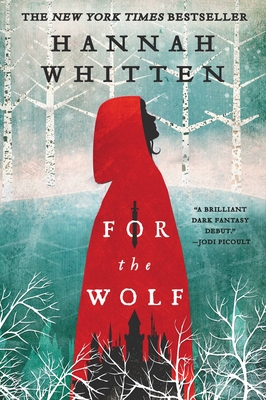 Staff Reviews
---
A dark, gothic retelling of Red Riding Hood that brings in elements from other fairy tales (mostly Beauty and the Beast). As the Second Daughter, Redarys is by tradition fated to be sacrificed to the Wolf in the Woods both as appeasement and in hopes that the gods will be released. She is willing to go to protect those she loves, especially from the powers within herself. However, all is not as it seems in the woods. Red must learn to control her abilities if the world is to have a chance of surviving. This book is beautifully written dark fantasy woven with horror elements and political scheming. The characters swiftly become people you car e about and the story pulls you in. If you like fantasy with elements of both horror and romance, then this is the story for you!
— From
What Kathleen Is Reading
Description
---
AN INSTANT NEW YORK TIMES BESTSELLER!

The first daughter is for the Throne.
The second daughter is for the Wolf.

For fans of Uprooted and The Bear and the Nightingale comes a dark, sweeping debut fantasy novel about a young woman who must be sacrificed to the legendary Wolf of the Wood to save her kingdom. But not all legends are true, and the Wolf isn't the only danger lurking in the Wilderwood.

As the only Second Daughter born in centuries, Red has one purpose—to be sacrificed to the Wolf in the Wood in the hope he'll return the world's captured gods.

Red is almost relieved to go. Plagued by a dangerous power she can't control, at least she knows that in the Wilderwood, she can't hurt those she loves. Again.

But the legends lie. The Wolf is a man, not a monster. Her magic is a calling, not a curse. And if she doesn't learn how to use it, the monsters the gods have become will swallow the Wilderwood—and her world—whole.

"A brilliant dark fantasy debut!" —Jodi Picoult, NYT bestselling author
About the Author
---
Hannah Whitten has been writing to amuse herself since she could hold a pen, and sometime in high school, she figured out that what amused her might also amuse others. When she's not writing, she's reading, making music, or attempting to bake. She lives in Tennessee with her husband and children in a house ruled by a temperamental cat.
Praise For…
---
"Drenched in atmosphere, with sharp and biting prose, Whitten's For the Wolf is a glorious journey through woods deep and so very dark. A stunning debut."—Erin Craig, NYT bestselling author of House of Salt and Sorrows

"A brilliant dark fantasy debut. I loved it! I was completely swept away by the world-building, the characters, and the delicate gorgeousness of the writing."—Jodi Picoult, New York Times bestselling author

"Eerie, earthy to its bones, and rife with elder magic. Hannah Whitten is one to watch."—Anna Bright, author of The Beholder

"Atmospheric, folkloric, and half-familiar. If you ever wished Beauty and the Beast had more eldritch forest monsters and political machinations, this is the romance for you."—Alix E. Harrow, author of The Ten Thousand Doors of January

"Whitten weaves a captivating tale in this debut, in which even secondary characters come to feel like old friends. The novel seamlessly blends "Little Red Riding Hood" and "Beauty and the Beast" into an un-put-down-able fairy tale that traces the boundaries of duty, love, and loss. A masterful debut from a must-read new voice in fantasy."
 —Kirkus

"Whitten debuts with a dark, dazzling reimagining of 'Little Red Riding Hood'... Whitten lovingly weaves in elements from other fairy tales, including 'Beauty and the Beast' and 'Snow White,' while crafting a story that is all her own. With clever, immersive prose and a subtle touch of horror, this is sure to enchant."—Publishers Weekly

"This hauntingly beautiful, fractured retelling of Little Red Riding Hood is dark, emotional, and filled with tense action. Whitten's debut is epic and enthralling."—Library Journal