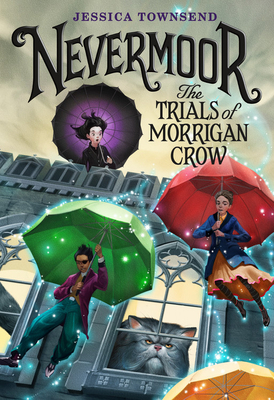 $17.99
Not Currently On The Shelf, But We Can Ship It To You In 3-5 Days
Other Books in Series
This is book number 1 in the Nevermoor series.
Staff Reviews
---
Morrigan Crow was born a cursed child and has lived her life surrounded by bad luck and misadventures. Her father - a big political figure - will never admit that he is eagerly awaiting midnight of Eventide when his daughter will die with the rest of the cursed children, but when it comes earlier than expected, his family can hardly wait to move on. Morrigan has accepted this fact until an unbelievable ginger named Jupiter saves her from fate and whisks her off to the hidden land of Nevermoor. It is here that she finds unexpected friends, magic all around and maybe, just maybe a place she can call home. I will be highly anticipating the rest of this series and so will you. Once you step into the world of Nevermoor, you'll never want to leave.
— From
What Sarah is reading
Loved this book! It was the Tri-Wizard Cup (from Harry Potter) on steroids with new and exciting characters. I was immediately thrown into this new world. Morrigan Crow was deemed a curse child and was set to die on her eleventh birthday... little does she know that a new adventure will be waiting instead.
— From
What Mackenzie is reading
Description
---
A breathtaking, enchanting new series by debut author Jessica Townsend, about a cursed girl who escapes death and finds herself in a magical world--but is then tested beyond her wildest imagination.

Morrigan Crow is cursed. Having been born on Eventide, the unluckiest day for any child to be born, she's blamed for all local misfortunes, from hailstorms to heart attacks--and, worst of all, the curse means that Morrigan is doomed to die at midnight on her eleventh birthday.

But as Morrigan awaits her fate, a strange and remarkable man named Jupiter North appears. Chased by black-smoke hounds and shadowy hunters on horseback, he whisks her away into the safety of a secret, magical city called Nevermoor.

It's then that Morrigan discovers Jupiter has chosen her to contend for a place in the city's most prestigious organization: the Wundrous Society. In order to join, she must compete in four difficult and dangerous trials against hundreds of other children, each with an extraordinary talent that sets them apart--an extraordinary talent that Morrigan insists she does not have. To stay in the safety of Nevermoor for good, Morrigan will need to find a way to pass the tests--or she'll have to leave the city to confront her deadly fate.

Perfect for fans of the Harry Potter series and Neil Gaiman, this fast-paced plot and imaginative world has a fresh new take on magic that will appeal to a new generation of readers.

"A Harry Potter-esque adventure." -- Time Magazine
About the Author
---
Jessica Townsend lives on the Sunshine Coast in Australia, but has lived on and off in London for a few years. She was a copywriter for eight years, and in a previous role, was the editor of a children's wildlife magazine for Steve Irwin's Australia Zoo.
Praise For…
---
Praise for Nevermoor: The Trials of Morrigan Crow:
A New York Times Bestseller
An IndieBook Bestseller
#1 Kids' Indie Next Pick
Waterstones Children's Book Prize in Young Fiction Winner
Winner of the 2018 Australian Indie Book Award for Overall Book of the Year
Winner of the 2018 Australian Indie Book Award for Children's Book of the Year
Winner of the 2017 Aurealis Award for Best Children's Fiction
#1 Amazon Best Children's Book of the Year
Publishers Weekly Fall Flying Start Pick
TIME Magazine Top YA and Children's Books of the Year Pick
The Chicago Tribune Best Children's Books of the Year Pick
PDX Parent Best Books of the Year Pick
A Mighty Girl Book of the Year Pick
B&N Kids Blog Best Books of the Year Pick
Brightly Best Children's Books of the Year, According to Kids Pick
Iowa Public Radio Best Children's Books to Give Pick
South Coast Today Gift to Wrap Up for the Teen Readers in Your Life Pick

"Poignant.... A Harry Potter-esque adventure."—Time Magazine

"Imaginative."—The Washington Post

"Jessica Townsend's Nevermoor: The Trials of Morrigan Crow is more than just a spectacular debut. Exciting, charming, and wonderfully imagined, it's the sort of delightful, grand adventure destined to be many a reader's favorite book."—Trenton Lee Stewart, New York Times bestselling author of The Mysterious Benedict Society series and The Secret Keepers

* "[A] spellbinding debut...Morrigan is a captivating heroine, filled with moxie and wit.... Whimsical worldbuilding, humorous dialogue, and colorful supporting characters compliment an adventurous, magic-filled plot that champions bravery, self-confidence, and hope."—Publishers Weekly, starred review

* "Readers, like Morrigan herself, will feel at home in this evocative novel where magic and confidence go hand in hand. An excellent and exciting work."—School Library Journal, starred review

* "Readers will leap into this captivating world brimming with witty characters and unforgettable adventures. A perfect fit for fans of Harry Potter and Percy Jackson."—School Library Connection, starred review

"Townsend's debut novel is a tour de force of fantastical invention, revealing original conceits with each page-turn."—The Horn Book

"Townsend knows how to keep the pages turning in this fast-paced story."—Booklist

"The magical elements are well-written and clever...but the core of this novel lies in Morrigan's realization of her own value, of being a person worth attention and affection. A dark, mystical, and emotional look at a girl who has a complex relationship with magic in a sophisticated and lushly described world."—The Bulletin

"Exciting, whimsical, and colorful, this first book in a planned series will be a favorite with readers who love fantasy and adventure."—A Mighty Girl

"Whimsical and captivating....For fans of the Harry Potter and Divergent series."—South Coast Today