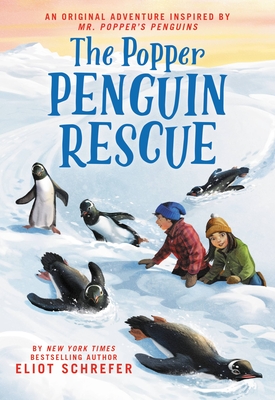 Staff Reviews
---
"If you're a fan of the Popper family and their Polar penguins who waddled into the classic children's literature hall of fame in 1938, you will be thrilled to discover this fresh adventure. If you're not already smitten, you will be after reading bestselling author Eliot Schrefer's new story, THE POPPER PENGUIN RESCUE. It's a wonderful companion book to the original Newbery Honor book, MR. POPPER'S PENGUINS, by Florence and Richard Atwater with illustrations by Robert Lawson, also a 2011 motion picture release.
The setting is Hillport, just across the river from Stillwater, the former Popper 1930s residence. Young Nina and Joel Popper (yes, they belong on the Popper family tree) move to Hillport with their single mother. Struggling to make ends meet, she buys a dilapidated building which used to house the commercial Penguin Pavilion. She intends to convert it into their modest new home.
While unpacking, the kids discover two abandoned eggs in the dark basement. Sure enough, these belong to penguins, and soon Nina and Joel and their mother are the guardians of two rambunctious chicks. The modern Poppers realize that they shouldn't try to keep the pair and set out to reunite them with the famous penguin relatives who are now relocated in the Antarctic.
A long journey with an Inuit sea captain follows, with plenty of drama, danger, humor, and MORE POPPER PENGUINS GALORE. So timely, an appropriate environmental theme adds awareness and respecot for wild creatures. A surprise ending makes everyone happy, especially the Penguin pair, Mae and Ernest, and their new young forever caretakers.
Sandy Ferguson Fuller"
— From
What Sandy is Reading
Description
---
From two-time National Book Award finalist Eliot Schrefer comes an original penguin-tastic adventure inspired by the beloved classic Mr. Popper's Penguins.

It's been years and years since the Popper family lived in Stillwater, but the town is still riding high on its former penguin residents. Across the river, in Hillport, residents try to re-create the magic with penguin carnival rides and penguin petting zoos, pretending they're the Popper originals. As the years have gone by, fewer and fewer people have come, and the small attractions shuttered.

Nina and Joe Popper have just moved to Hillport with their mother. There's a lot to do: unpacking, scrubbing the floors, investigating the basement -- wait, what's this? Two penguin eggs are tucked snugly near the furnace!

It's up to Nina and Joe to find their newly hatched penguin chicks a home. Setting off on the adventure of a lifetime, they endure perilous storms, a long journey to the Arctic, and of course, penguins. Lots and lots of Popper penguins!
About the Author
---
Eliot Schrefer is a New York Times bestselling author, and has twice been a finalist for the National Book Award. He is also the author of two novels for adults and four other novels for children and young adults. His books have been named to the NPR "best of the year" list, the ALA best fiction list for young adults, and the Chicago Public Library's "Best of the Best." His work has also been selected to the Amelia Bloomer List, recognizing best feminist books for young readers. He lives in New York City, where he reviews books for USA Today.
Praise For…
---
"Quite delightful."Kirkus Reviews

"Bringing a contemporary conscience to its predecessor, the wholesome book champions respect for animals and environmental issues within the structure of a satisfying family adventure."Publishers Weekly

"There are plenty of affectionate callbacks to the original Popper tale, but Schrefer's story is an entertaining adventure of its own. It's a joy to have Popper penguins back to play."Booklist