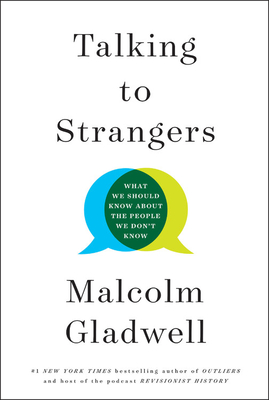 Staff Reviews
---
We assume that people generally tell the truth. We assume that we can tell when they're not. We assume that we can read someone's intentions beyond their words. We assume that emotions look the same in Cleveland, Ohio as they do in Accra, Ghana. Gladwell explores how these and other assumptions function as perfectly rational even necessary aspects of society, yet can have potentially disastrous consequences in the wrong circumstances. A compelling consideration of communication, social interaction, and the absolute necessity of developing an awareness of our blind spots.
— From
What Christopher is reading
I loved this book, even though it wasn't perfect. Gladwell makes it clear that even the smartest and authoritative people make mistakes. We should step back and take the context of the situation into mind when dealing with people we don't know well. Highly recommended and does a good job of looking at many sides to the issues facing us.
— From
What Bartas is Reading
Description
---
Malcolm Gladwell, host of the podcast Revisionist History and author of the #1 New York Times bestseller Outliers, offers a powerful examination of our interactions with strangers—and why they often go wrong.

 A Best Book of the Year: The Financial Times, Bloomberg, Chicago Tribune, and Detroit Free Press

 How did Fidel Castro fool the CIA for a generation? Why did Neville Chamberlain think he could trust Adolf Hitler? Why are campus sexual assaults on the rise? Do television sitcoms teach us something about the way we relate to one another that isn't true?
 
Talking to Strangers is a classically Gladwellian intellectual adventure, a challenging and controversial excursion through history, psychology, and scandals taken straight from the news. He revisits the deceptions of Bernie Madoff, the trial of Amanda Knox, the suicide of Sylvia Plath, the Jerry Sandusky pedophilia scandal at Penn State University, and the death of Sandra Bland—throwing our understanding of these and other stories into doubt.
 
Something is very wrong, Gladwell argues, with the tools and strategies we use to make sense of people we don't know. And because we don't know how to talk to strangers, we are inviting conflict and misunderstanding in ways that have a profound effect on our lives and our world. In his first book since his #1 bestseller David and Goliath, Malcolm Gladwell has written a gripping guidebook for troubled times.
About the Author
---
Malcolm Gladwell is the author of six New York Times bestsellers, including Talking to Strangers, David and Goliath, Outliers, Blink, and The Tipping Point. He is also the co-founder of Pushkin Industries, an audio content company that produces the podcasts Revisionist History, which reconsiders things both overlooked and misunderstood, and Broken Record, where he, Rick Rubin, and Bruce Headlam interview musicians across a wide range of genres. Gladwell has been included in the TIME 100 Most Influential People list and touted as one of Foreign Policy's Top Global Thinkers.
Praise For…
---
"Talking to Strangers is a must-read...I love this book... Reading it will actually change not just how you see strangers, but how you look at yourself, the news--the world...Reading this book changed me."—Oprah Winfrey, O, The Oprah Magazine

"Powerful advice on truly getting to
know others...Gladwell brilliantly argues that
we should stop assuming, realize no one's transparent and understand that
behavior is tied to unseen circumstances."—People, Book of the Week

"Gladwell has again delivered
a compelling, conversation-starting read...At a time when the world feels intractably
polarized, a book examining the varying ways we misinterpret or fail to
communicate with one another could not feel more necessary...With a mix of
reporting, research and a deft narrative hand, Gladwell illuminates these
examples with the page-turning urgency of a paperback thriller."—Chris Barton, Los Angeles Times

"Mr. Gladwell's towering success rests on the moment when the skeptic starts to think that maybe we're wrong about everything and maybe, just maybe, this Gladwell guy is onto something...Talking to Strangers is weightier than his previous titles."—Amy Chozick, New York Times

"Gladwell uses compelling real-world examples to show the how and why behind our interactions with folks we're trying to understand."
—Rhett Power, Forbes

"Gladwell's case studies are thrilling...Chock-full
of gripping anecdotes from the recent and forgotten past. He uses these
riveting stories to offer up bite-size observations about how we engage with
strangers."—Maggie Taft, Booklist

"Another Gladwell tour de force...intellectually stimulating...Readers expecting another everything-you-think-you-know-is-wrong page-turner will not be disappointed."—Kirkus Reviews (starred review)

"Both fascinating and topical...A thoughtful treatise...Gladwell writes in his signature colorful, fluid, and accessible prose."—Publishers Weekly

"Gladwell interviews brilliant people, generates powerful
insights, writes like an angel, and has earned a massive and admiring audience.
He has a keen eye and a witty flair and he's one of the best observationalists
of a generation. Gladwell is a big-picture thinker who helps us make sense of
the human condition."—Bob Brisco, WebMD Magazine

"As always, with his narrative gift and eye for the telling detail,
Gladwell peppers his work with unforgettable facts... He has immense gifts--a
probing, original, questioning mind, an ability to dig up information others
haven't considered and tie it to a broader point. He has a narrative skill
nonpareil."—Stephen Galloway, Hollywood Reporter

"Engaging...Mr. Gladwell [presents] a mountain of quirky anecdotes and
interesting research about our blunders with strangers, and why we make
them...It's fascinating to peek at these incidents through Mr. Gladwell's
psychological lens."—Leigh Anne Focareta, Pittsburgh Post-Gazette

"Inspiring and motivating...Gladwell is a wunderkind and a saint...He takes on racial division, incompatible perspectives, and emotional dissonance
without ever sounding preaching or proud. The stories make you think."—John Brandon, Daily Beast

"Superb writing. Masterful structure."—Pilita Clark, Financial Times (UK)