A Door in the Earth (Hardcover)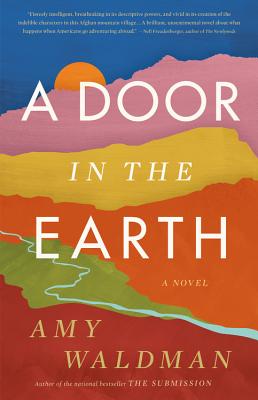 Staff Reviews
---
Naive 22-year old American-raised Afghan goes on a quest to do good and to research a rural Afghan village. With echoes of the Three Cups of Tea scandal Waldman expertly depicts gaping holes in what Parveen was led to believe by an American doctor's memoir of his time and heroic(?) efforts in Afghanistan. This memoir also spurred the American Army to bring progress to this village. This is an excellent exploration into the grey areas of American influence and sheds light on misunderstanding, misguided intentions and differing cultures. Superb!
— From
What Karin is Reading
Description
---
From the author of the national bestseller The Submission comes the journey of a young Afghan-American woman trapped between her ideals and the complicated truth in this "penetrating" (O, Oprah Magazine), "stealthily suspenseful," (Booklist, starred review), "breathtaking and achingly nuanced" (Kirkus, starred review) novel for readers of Cutting for Stone and The Reluctant Fundamentalist.
Parveen Shams, a college senior in search of a calling, feels pulled between her charismatic and mercurial anthropology professor and the comfortable but predictable Afghan-American community in her Northern California hometown. When she discovers a bestselling book called Mother Afghanistan, a memoir by humanitarian Gideon Crane that has become a bible for American engagement in the country, she is inspired. Galvanized by Crane's experience, Parveen travels to a remote village in the land of her birth to join the work of his charitable foundation.
When she arrives, however, Crane's maternity clinic, while grandly equipped, is mostly unstaffed. The villagers do not exhibit the gratitude she expected to receive. And Crane's memoir appears to be littered with mistakes, or outright fabrications. As the reasons for Parveen's pilgrimage crumble beneath her, the U.S. military, also drawn by Crane's book, turns up to pave the solde road to the village, bringing the war in their wake. When a fatal ambush occurs, Parveen must decide whether her loyalties lie with the villagers or the soldiers -- and she must determine her own relationship to the truth.
Amy Waldman, who reported from Afghanistan for the New York Times after 9/11, has created a taut, propulsive novel about power, perspective, and idealism, brushing aside the dust of America's longest-standing war to reveal the complicated truths beneath. A Door in the Earth is the rarest of books, one that helps us understand living history through poignant characters and unforgettable storytelling.
About the Author
---
Amy Waldman's first novel,
The Submission
, was a national bestseller, a PEN/Hemingway Award finalist, and the #1 Book of the Year for
Entertainment Weekly
and
Esquire
. A former bureau chief for
The New York Times
and national correspondent for
The Atlantic
as well as a fellow at the Radcliffe Institute and the American Academy in Berlin, she lives with her family in Brooklyn.
Praise For…
---
"A teeming
panoply...layers moving storytelling onto penetrating reportage...Waldman is particularly gifted at giving tangible reality to ethical
dilemmas...Few contemporary authors have shown so expertly that
well-intentioned intervention can be the most dangerous kind of all."—Lara Feigel, New York Times Book Review

"Waldman has crafted a story that doesn't shrink from
moral ambiguity and difficult questions."—Joumana Khatib, New York Times

"In her illuminating second novel, Waldman unpeels layers of cultural conditioning to explore the American use of 'kind power.'"—BBC

"Amy Waldman's penetrating second novel speaks
truth to power."—Leigh Haber, O, The Oprah Magazine

"Waldman writes about the clash of cultures and ideals with clean-lined
grace and quiet eye-level empathy."—Entertainment Weekly

"Waldman's characters are fully realized individuals, as morally complex as the choices
facing them...Waldman is that rare novelist who writes from
both the head and heart, combining high moral seriousness with moments of irony
and humor. In A Door in the Earth, she has created a novel as moving as
it is provocative."—Elizabeth Toohey, Christian Science Monitor

"Waldman delivers a breathtaking and achingly nuanced examination of the grays in a landscape where black and white answers have long been the only currency. A bone-chilling takedown of America's misguided use of soft power."—Kirkus Reviews (starred review)

"A deeply well-informed, utterly engrossing, mischievously disarming, and stealthily suspenseful tale...Every aspect of this complex and caustic tale of hype and harm is saturated with insight and ruefulness."—Donna Seaman, Booklist (starred review)

"A Door in the Earth is a
deeply chilling, multifaceted examination of not just the situation in Afghanistan
but also the more pernicious and complex consequences of awakening the sleeping
giant that is America."—Stephenie Harrison, Bookpage (starred review)

"Thrilling and brilliantly nuanced...The most stunning and supple
novel of the season for anyone who wants to understand the larger world and our
part in it...A Door in the Earth brings The Quiet American
into a new millennial generation."—Pico Iyer, bestselling author of The Art of Stillness and The Open Road

"Waldman's moral vision, spare and unsparing prose style, and feel for the way history upsets settled lives all make A Door in the Earth one of the essential books of the post-9/11 era."—George Packer, National Book Award winner for The Unwinding

"Amy Waldman brings her fierce intelligence and breathtaking descriptive powers to bear in this brilliant, unsentimental novel."—Nell Freudenberger, New York Times bestselling author of Lost and Wanted

"Some stories stick with you, becoming like your own memories. When I finished the last page of this book I could've sworn it had all happened to me."—Elliot Ackerman, National Book Award finalist for Dark at the Crossing

"Potent...Waldman paints a blistering portrayal of the misguided aspirations and convenient lies that have fed the war in Afghanistan. This is an impressive novel.—Publishers Weekly