Underground Airlines (Paperback)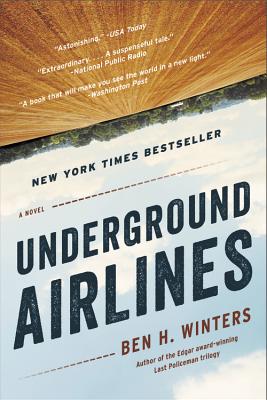 Staff Reviews
---
Fast-paced and slightly distopian, this inventive novel imagines a notion that four states in America have never outlawed slavery. Now corporate interests, technology and geo-political tensions shape the economy and culture of the so-called United States. Part spy novel, part social commentary, this book is for readers of Neal Stephenson, Emily St. John Mandel and Colson Whitehead."
— From
What Nicole is reading
A chilling alternative-reality story that is brilliant! Part classic spy, part what if? Great complicated character that kept me wondering the whole way through. Thought provoking on how slavery in this country was in the past, but also the repercussions and ramifications we face in both our reality and that of the story. Very good and different!
— From
What Karin is Reading Archive
Description
---
The bestselling book that asks the question: what would present-day America look like if the Civil War never happened?

A New York Times bestseller; a Goodreads Choice finalist; named one of the Best Books of the Year by NPR, Slate, Publishers Weekly, Hudson Bookseller, St. Louis Post-Dispatch, Kirkus Reviews, AudioFile Magazine, and Amazon

A young black man calling himself Victor has struck a bargain with federal law enforcement, working as a bounty hunter for the US Marshall Service in exchange for his freedom. He's got plenty of work. In this version of America, slavery continues in four states called "the Hard Four." On the trail of a runaway known as Jackdaw, Victor arrives in Indianapolis knowing that something isn't right -- with the case file, with his work, and with the country itself.

As he works to infiltrate the local cell of a abolitionist movement called the Underground Airlines, tracking Jackdaw through the back rooms of churches, empty parking garages, hotels, and medical offices, Victor believes he's hot on the trail. But his strange, increasingly uncanny pursuit is complicated by a boss who won't reveal the extraordinary stakes of Jackdaw's case, as well as by a heartbreaking young woman and her child -- who may be Victor's salvation.

Victor believes himself to be a good man doing bad work, unwilling to give up the freedom he has worked so hard to earn. But in pursuing Jackdaw, Victor discovers secrets at the core of the country's arrangement with the Hard Four, secrets the government will preserve at any cost.

Underground Airlines is a ground-breaking novel, a wickedly imaginative thriller, and a story of an America that is more like our own than we'd like to believe.
About the Author
---
Ben H. Winters is the New York Times bestselling author of Underground Airlines, Golden State, and the Last Policeman trilogy. The second novel in the trilogy, Countdown City, was an NPR Best Book of 2013 and the winner of the Philip K. Dick award. The Last Policeman received the 2012 Edgar Award and was named one of the Best Books of 2012 by Amazon.com and Slate. Ben lives with his family in Los Angeles, CA.P346
Praise For…
---
NOMINATED FOR THE BEST HARDCOVER NOVEL ITW THRILLER AWARD




A FINALIST FOR THE CHAUTAUQUA PRIZE




A New York Times Bestseller; a Goodreads Choice finalist; named one of the Best Books of the Year by NPR, Slate, Publishers Weekly, Hudson Bookseller, St. Louis Post-Dispatch, Kirkus Reviews, AudioFile Magazine, and Amazon

"This one kept me up at night and changed the way I saw the world once I was finished."—

Ann Patchett

,

Time

"This is one of the most thoughtful and inventive books I've read. Part alternate history and part detective novel,

Underground Airlines

couldn't be more timely or thrilling. It's a page-turner with a big mission: to warn against placing our history on a dusty shelf. On every page is the spirit of Faulkner's quote-

The past is never dead. It's not even past.

Here, Winters takes America's legacy as a slaveholding nation all the way to its logical and terrifying conclusion."—

Attica Locke, Edgar Award-nominated author of Bluebird, Bluebird

"An extraordinary work of alternate history . . . Indisputably a winner"—

Maureen Corrigan

,

NPR

"

Underground Airlines

is a masterful work of art with a gripping mystery at its most basic level. It's also a complex allegory woven throughout with sparking rich dialogue and multiple shades of awareness. Passengers, fasten your seat belts. The ride may be turbulent, but that's what makes it great."—

Jen Forbus

,

Christian Science Monitor

"A swift, smart, angry new novel . . . Its vibrant imagination never slackens. . . . As a feat of world-building,

Underground Airlines

is astonishing, immediately taking its place in the genre's very first rank."—

Charles Finch

,

USA Today

"[Winters] paints a convincing picture of what fugitive life would look like in our own era... he wants to get us to see the past in the present-the innumerable ways that we still live in a world made by slavery."—

Kathryn Schulz

,

The New Yorker

"An immersive thriller as well as a provocative alternative history, 'Underground Airlines' showcases a fully realized central character who believes his own disturbing past can be kept safely buried. But history has a way of bubbling to the surface of the present."—

Jean Zimmerman

,

New York Times Book Review

"[A] striking work of speculative fiction . . . Winters creates a powerful and timely ethical framework for his fast-moving new thriller."—

Jane Ciabattari

,

BBC

"Chilling"—

Alexandra Alter

,

New York Times

"The novel succeeds so well in part because its fiction is disturbingly close to our present reality... Winters has written a book that will make you see the world in a new light."




—

The Washington Post

"Like Victor, Winters, who is white, has a wonderful ability to inhabit different characters...[and] creates a believable world out of telling details...The voices he conjures can be rough, but they ring true...As the book twists and turns to its conclusion, only one thing is clear. This is not a problem that will be easily solved, in Victor's world or in ours."

—

- The Boston Globe

"Ralph Ellison's

The Invisible Man

meets

Blade Runner

in this outstanding alternate history thriller. . . . The novel's closing section contains several breathtaking reversals, a genuinely disturbing revelation, and an exhilarating final course of action for Victor."—

Publishers Weekly (starred review)

"Explosive, well plotted, and impossible to put down, this alt-hist by the Edgar Award-winning author of the "Last Policeman" trilogy will attract readers of all genres. . . . Fast paced and filled with menace, the story has an ambience that makes it special."—

Library Journal (starred)

"A daring and very well constructed novel"—

Booklist

"Astonishing . . . A timely novel focusing on race and equality . . . Winters handles the controversial topic with sensitivity, yet isn't afraid to ask some bold questions along the way."—

BookPage

"[

Underground Airlines

] is powerful, suspenseful, and devastating-hard to put down, even harder to forget."—

Family Circle

"Strange, modern . . . [A] genre-bending detective yarn"—

Oprah.com

"This is a smart and compelling thriller, set in an alternate reality that bears an uncomfortable resemblance to our own."




—

Vox.com

"

Underground Airlines

is a masterwork of world-building...[the book] gives you an incredibly complex character to explore it with, ensuring that your attention is well-spent down to the last page." —

- LitReactor

"A top-flight thriller that's as emotionally searing and tragically plausible as anything in contemporary fiction."—

Lev Grossman, author of The Magicians

"The most timely of alternate history novels. Ben Winters has created a spellbinding world that forces the reader to look around-and to look within. This is a thriller not to be missed and one that will not be easily forgotten."—

Hugh Howey, New York Times-bestselling author of Wool

"

Underground Airlines

is bold, brilliant, and beautiful -- everything you could want from a novel, Ben Winters delivers ten-fold. He's a writer to watch, one of exceptional vision and imagination whose characters draw the reader in to the point that an alternate history seems not only plausible, but the only one that counts until the final page."—

Michael Koryta, author of Those Who Wish Me Dead

"A rich noir in a terrifingly convincing alternate America. It's both beautiful and brutal.

The Handmaid's Tale

for Black Lives Matter."—

Lauren Beukes, author of Broken Monsters and The Shining Girls

"Underground Airlines is like nothing I have ever read before. I know it will be a pivot point in my reading life. Thought you'd wrestled sufficiently with the stain of Slavery? Have a seat. You'll only need the edge. By spinning a pounding thriller in a past that did not happen, Winters has somehow wrapped his hands around the catastrophe that did. This is how it might have been, I kept thinking, if history had gone that way. But the moral shock at the heart of the book: Winters's rabbit hole is not strange enough, the gulf between that and this is not wide enough. Underground Airlines does what all great speculative fiction wants to do - show the reader that Everything is possible. That's the good news and bad. The novel's many-named narrator descends from Ralph Ellison's Invisible Man - his voice is mesmeric, it comes from any corner, it can boil with savagery, sing with grace or do pretty much anything in between. Oh, and he descends from Jason Bourne as well; he has mad field skills. So does Winters. You're set down in motion on a tilted mirror and then it's turn after gripping turn - my every next hour depended on which way he went."

—

David Shafer, National Bestselling author of Whiskey Tango Foxtrot

"It is a rare thing when a writer has a fresh new provocative idea - and then executes it beautifully. This is what Ben H. Winters has done in his novel

Underground Airlines

. Imagine an America in which slavery still exists. Now imagine a dramatic telling of the story."—

James Patterson

"Brilliantly written, terrifyingly conceived,

Underground Airlines

had me from the first page to the last. Many writers might have been content to set a few characters loose in the middle of the kind of powerful premise - slavery in four states never ended -put to work here, but Winters gives us gripping plot, clear-eyed social commentary and chilling implications. This may be alternate history, but what it has to say about actual, enduring race and racism cuts awfully close to the 21st century American bone."—

Laird Hunt, author of Neverhome

"Smart, quick and tricky, Ben Winters knows how to pull off a high-concept thriller. Fans of

The Man in the High Castle

will love

Underground Airlines

."—

Stewart O'Nan, author of The Speed Queen