The Boy: A Novel (Paperback)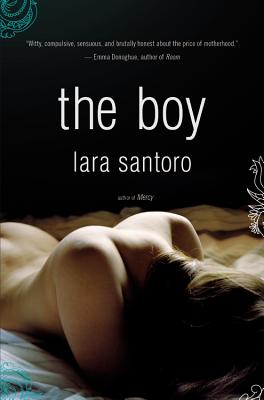 $15.99
Not Currently On The Shelf, But We Can Ship It To You In 3-5 Days
Staff Reviews
---
Christopher says: I picked it up for the provocative cover. I stayed for the story of a woman I desperately wanted to like, but whose life is a train-wreck of bad choices. Anna is an intelligent, accomplished, forty-something woman and doting mother haunted by a disastrous marriage, a divorce that propelled her to another hemisphere, and a history of alcoholism that she only seems to have under control. But, a party at her friend and neighbor's leads to meeting Jack, the boy, a 20-year-old college drop-out and eldest son of her neighbor. Jack pursues Anna relentlessly, despite her objections, and the egg-shell of control Anna has cracks. Not even all the king's horses and all the king's men can put her life back together again.
— From
What Christopher is reading
Description
---
Anna has always been a risk-taker and a free spirit, but now she is raising a young daughter on her own and she has to play it safe. Her twenty-something neighbor with the slow, easy smile is in no way part of Anna's plans. She resists temptation in every way she can, yet Anna is soon drawn into a reckless and obsessive affair.

Provocative, headlong, and utterly compelling, The Boy is the story of a woman on the edge, torn between love and compulsion, desire and duty. Lara Santoro writes in "hypnotic and swiftly paced" prose (Daniel Woodrell) about the hazards of passion and motherhood and about one woman's unthinkable rebellion.

"Gorgeous, fiercely intelligent, deeply honest, and incredibly entertaining." -- Anne Lamott
About the Author
---
Lara Santoro spent most of her career as a foreign news correspondent, based primarily in Rome and in Nairobi working for Newsweek and the Christian Science Monitor. She holds a Bachelor's degree in Comparative Literature from Smith College, a Master's degree in French Literature from the Sorbonne, and a Master's in Fine Arts from New York University. She was born in Rome, and currently lives in New Mexico. She is also the author of Mercy.
Praise For…
---
"Fierce....The Boy achieves startling power because of Ms. Santoro's refusal to soften the edges of her riveting main character, who hates and loves at hot-blooded extremes....Ms. Santoro has made her all too human." ---Sam Sacks, Wall Street Journal—-

"The Boy unfolds with terse, impressionistic rapidity-like a spare, brutalist modern fairy tale....You can't turn away." ---Ben Dickinson, Elle —-

"I read it in one go, with my heart in my mouth. Witty, compulsive, sensuous, and brutally honest about the price of motherhood."
—Emma Donoghue, author of Room

"Lara Santoro's The Boy is both a swift and seductive novel. To experience such brutal beauty is why I read fiction."—Alice Sebold, author of The Almost Moon

"I read this novel in one sitting and was mesmerized, addicted, charmed, jealous. The Boy is gorgeous, fiercely intelligent, deeply honest, and incredibly entertaining."—Anne Lamott, author of Some Assembly Required

"The Boy is beautifully written, beguiling in its fashion, hypnotic and swiftly paced. Lara Santoro tells a morally complicated and edgy story and doesn't retreat, but stays true to her music. The word brave comes to mind, as does masterful."—Daniel Woodrell, author of Winter's Bone

"Lara Santoro is a brilliant novelist whose vision is fierce and unsparingly clear. The Boy is a beautiful, brutally sensuous novel."—Kate Christensen, author of The Great Man

"Lara Santoro drills deep down, to the maelstrom of desire and despair that we cover up with the stories we tell ourselves. Unflinching and passionate, fierce and tender, The Boy is both a love story between parents and children, and a coming-of-age story for all women who are old enough to know better. It broke my heart."—Allegra Huston, author of Love Child