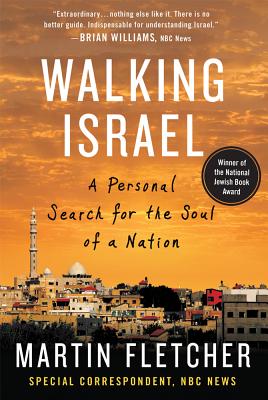 Description
---
From the much lauded author of Breaking News comes a version of Walking the Bible just for Israel.

With its dense history of endless conflict and biblical events, Israel's coastline is by far the most interesting hundred miles in the world. As longtime chief of NBC's Tel Aviv news bureau, Martin Fletcher is in a unique position to interpret Israel, and he brings it off in a spectacular and novel manner. Last year he strolled along the entire coast, from Lebanon to Gaza, observing facets of the country that are ignored in news reports, yet tell a different and truer story. Walking Israel is packed with hilarious moments, historical insights, emotional, true-life tales, and, above all, great storytelling.
About the Author
---
MARTIN FLETCHER is one of the most respected television news correspondents in the world and he is also rapidly gaining an equally impressive reputation as a writer. He has won many awards, including five Emmys, a Columbia University DuPont Award, several Overseas Press Club Awards, and the National Jewish Book Award. Fletcher and his wife, Hagar, have raised three sons. He spent many years as the NBC News Bureau Chief in Tel Aviv and he is currently based in Israel and New York, where he is a Special Correspondent for NBC News. He is also the author of Breaking News, Walking Israel, and The List.
Praise For…
---
"Extraordinary…nothing else like it. There is no better guide. Indispensable for understanding Israel." —Brian Williams, NBC News

"Martin Fletcher is more than the consummate journalist. He is a master storyteller. In Walking Israel he gives us a special gift - a real sense of himself and his passion for the land and the people who are much more than the sum of their conflicts. This book offers a sense of place about a country so many around the world love." —David Gregory, Moderator, "Meet the Press"

"Th[e] kaleidoscope of perspectives allows readers to glimpse an Israel too complex to reduce to the familiar script of interethnic strife...A much-needed corrective to media stereotypes." —Booklist

"Spectacular and unique." —The Jewish Herald Voice

"This book is about the other Israel, the Israel that the news organizations... ignore on the way to covering yet another tragedy." —Associated Press