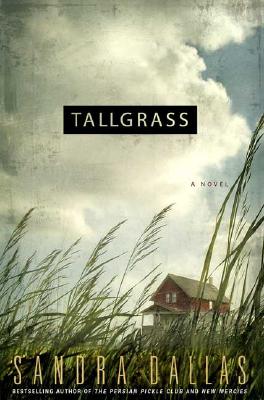 $23.95
Email or call for price.
Description
---
An essential American novel from Sandra Dallas, an unparalleled writer of our history, and our deepest emotions...

During World War II, a family finds life turned upside down when the government opens a Japanese internment camp in their small Colorado town. After a young girl is murdered, all eyes (and suspicions) turn to the newcomers, the interlopers, the strangers.
This is Tallgrass as Rennie Stroud has never seen it before. She has just turned thirteen and, until this time, life has pretty much been what her father told her it should be: predictable and fair. But now the winds of change are coming and, with them, a shift in her perspective. And Rennie will discover secrets that can destroy even the most sacred things.
Part thriller, part historical novel, Tallgrass is a riveting exploration of the darkest--and best--parts of the human heart.

About the Author
---
Award-winning author Sandra Dallas was dubbed "a quintessential American voice" by Jane Smiley, in "Vogue" Magazine. She is the author of "The Bride's House, Whiter Than Snow," and "Prayers for Sale," among others. Her novels have been translated into a dozen languages and optioned for films. She is the recipient of the Women Writing the West Willa Award and the two-time winner of the Western Writers of America Spur Award. For 25 years, Dallas worked as a reporter covering the Rocky Mountain region for "Business Week," and started writing fiction in 1990. She lives with her husband in Denver, Colorado.
Praise For…
---
"Tallgrass will undoubtedly draw apt comparisons with such novels as To Kill a Mockingbird and Snow Falling on Cedars. Sandra Dallas has penned a poignant novel that is not just about a young woman's coming of age, but also about the battle of reasonable people against unreasoned fear and prejudice. A powerful story whose strength is firmly rooted in its respect for language, its depth of character, and its marvelous evocation of place and time, Tallgrass has all the elements of an American classic." --William Kent Krueger, author of the prize-winning Corcoran O'Connor mystery series
"Sandra Dallas is a true American Voice. She writes of small towns within a big landscape. And Tallgrass speaks to a time in our history when prejudice and fear fueled passions that divided family and friends. And yet, always, Dallas writes of the human spirit that soars above it all." --Gail Tsukiyama, author of Dreaming Water
"Deftly capturing regional voice as well as period detail, Sandra Dallas weaves a vivid portrait of a Colorado farm town unsettled by change and divided by mistrust on the World War II home front. Tallgrass is a compelling and genuinely moving novel that will keep readers guessing until the last page." --Jennifer Chiaverini, author of Circle of Quilters
"Tallgrass is a must-read for every American. . . . Sandra Dallas captures the feelings of people in eastern Colorado, a part of the great American plains. Residents thought they were isolated from the great global conflict, but the winds of change deposited one of the internment camps in their midst. What a setting for a novel!" --former congresswoman Pat Schroeder, president and chief executive officer of the Association of American Publishers (AAP)
"A profoundly moving story, told from the viewpoints of victims and witnesses, that hits the reader with insights into the human side of a barely remembered national tragedy of World War II." --Bill Hosokawa, author of Nisei
"A rich and unforgettable story . . . With astonishing deftness, Sandra Dallas evokes a part of our history that we might wish to forget, and she does it in such a way that we understand why it is important to remember." --Margaret Coel, author of The Drowning Man
"Even the barbed wire can't contain the characters in this novel. They escaped from the story to live in my mind long after I put down the book. With their hopes and dreams and dilemmas, they seem made of flesh and blood." --Iain Lawrence, author of The Wreckers
"A moving tale of maturation . . . Fear and prejudice threatens a small Colorado town in World War II, but goodness and mercy abound in a young heroine every bit as appealing as To Kill a Mockingbird's Scout." --Angela Hunt, author of Magdalene and The Elevator
"Tallgrass is a coming-of-age novel in that classic tradition, and perhaps the author's most stellar achievement in this book is her creation of young Rennie Stroud, the novel's memorable young narrator, a frank and watchful girl burdened by her own kind heart." --Michael Raleigh, author of In the Castle of the Flynns