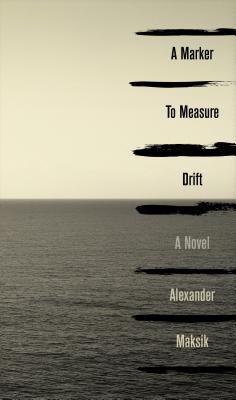 Staff Reviews
---
Christopher says: Jaqueline has lost everything, absolutely everything. She's lost her family, her home, even her country. A Liberian refugee turned homeless drifter on the island of Santorini, she must try to eke out the most basic existence, while haunted by a past which is slowly revealed to the reader. The books is a glimpse into a wholly unfamiliar world on so many levels, yet stripped down to the basics connecting each and every one of us.
— From
What Christopher is reading
August 2013 Indie Next List
---
"I'm haunted by the power of A Marker to Measure Drift by Alexander Maksik. Shattering, gorgeous, each sentence is a dagger to the heart. This is the story of a young Liberian female refugee, Jacqueline, who has come to a Greek island, whose shaky memories are suffused with profound loss and shadowy images: holding the feet of her beloved sister, an orange cat, the Rolex watch on her father's wrist, the clink of ice mixed with gin and lime in her mother's glass, ghost boys with machetes. The novel explores profound themes, both political and existential: Where does one find the courage to survive something horrific beyond description? How is it possible to negotiate incipient madness? Is there a context in which to describe barbarism? Can the tiniest connection with another human being, the merest act kindness lead one out of despair? Can a life that has been traumatized, pared down to the most elemental of human requirements - safety, shelter, food - find hope? The ending is breathtaking. I'm still dazed. - Amy V Palmer Northshire Bookstore Manchester Center, VT"
— Amy Palmer, Northshire Bookstore, Manchester Center, VT
Description
---
A New York Times Notable Book

A hypnotic, spellbinding novel set in Greece and Africa, where a young Liberian woman reckons with a haunted past. 

On a remote island in the Aegean, Jacqueline is living alone in a cave accessible only at low tide. With nothing to protect her from the elements, and with the fabric between herself and the world around her increasingly frayed, she is permeated by sensory experiences of remarkable intensity: the need for shade in the relentless heat of the sun-baked island; hunger and the occasional bliss of release from it; the exquisite pleasure of diving into the sea. The pressing physical realities of the moment provide a deeper relief: the euphoric obliteration of memory and, with it, the unspeakable violence she has seen and from which she has miraculously escaped.

Slowly, irrepressibly, images from a life before this violence begin to resurface: the view across lush gardens to a different sea; a gold Rolex glinting on her father's wrist; a glass of gin in her mother's best crystal; an adoring younger sister; a family, in the moment before their fortunes were irrevocably changed. Jacqueline must find the strength to contend with what she has survived or tip forward into full-blown madness.
Visceral and gripping, extraordinary in its depiction of physical and spiritual hungers, Alexander Maksik's A Marker to Measure Drift is a novel about ruin and faith, barbarism and love, and the devastating memories that contain the power both to destroy us and to redeem us. 
About the Author
---
Alexander Maksik is the author of the novel "You Deserve Nothing "and a graduate of the Iowa Writers' Workshop.""His writing has appeared in "The Best American Nonrequired Reading, Harper's, Tin House, Harvard Review, The New York Times Magazine, Salon, "and "Narrative Magazine, "among other publications, and has been""translated into more than a dozen languages. He lives in""New York City.
Praise For…
---
Praise for A Marker to Measure Drift

"Bold . . . Undaunted . . . Maksik writes, credibly, across the boundaries of gender and race . . . A study of scarred consciousness struggling to come to terms with the violence done to it in a moment of cataclysmic horror . . . The sustained representation of Jacqueline's search for release, for haven, has moments of bleak poetry . . . Maksik has illuminated for us, with force and art, an all too common species of suffering—grievous, ugly, and, unfortunately, a perennial."
            —The New York Times

"Immensely powerful . . . Beautifully written . . . Jacqueline is a mesmerizing heroine . . . She is alive on the page from the outset, and with each paragraph she deepens, grows more complicated. Clearer and yet more mysterious . . . Maksik brings Jacqueline's tale to a devastating finale . . . giving her quest an awful and moving dignity."
            —The Boston Globe
 
"It will leave you breathless and speechless; it will send you reeling." 
            —The San Francisco Chronicle

"A fever dream of a novel . . . One might linger over most of this book, rereading particularly beautiful passages. Yet the ending is so compelling and visceral that one rushes until the fever breaks, dazed and haunted by its power."
            —Chicago Tribune, "Editor's Choice"

"A masterpiece . . . Maksik manages to accomplish in Marker something next to no one has managed to do, namely, to strip the world down to naked life, life in all its glory and all its agony and terror, and death . . . Maksik's prose floats weightlessly and then falls like a fist on the table."
            —The Buenos Aires Review
 
"Assured, intent . . . Through a catalogue of sensations, Maksik charts the cruelty and the hope of Jacqueline's new life, while slowly approaching the horrors of her past . . . Maksik's world is reaching out to touch. The task he's set for himself is to record the impression of that touch, be it caress or jab."
            —Guernica
 
"The starving body, as it turns to its own fat and tissue for energy, enters a state called ketosis; Maksik's lean, affecting prose burns this way—stripped of any excess, entirely attuned to the prospect of survival, beautifying the simple things that sustain life."
            —The Atlantic 

"Haunting and sensual, Maksik's prose deftly intertwines the tenderness and torment of memory with the hard reality of searching for sustenance and shelter."
             —Harper's

"Stark and essential . . . With A Marker to Measure Drift, Alexander Maksik's deep belief proves warranted: he has succeeded."
            —The Millions
 
"A deeply invested character exploration of a young woman who is undergoing a transition to a life of alienation, whose memories are just beginning to operate with a newly installed consciousness of past events . . . Glimmers with reflection and lyricism."
            —The Coffin Factory 

"Beautifully written . . . Through an impressionistic stream of consciousness, Maksik slowly reveals Jacqueline's ordeal . . . A novel that measures the ripple effect of trauma and violence."
            —The Daily Beast, "Hot Reads"
 
"Small events—a coffee, a gyro—take on monumental significance, and Maksik is deft and patient as he teases out Jacqueline's recovery . . . In creating a well-drawn character so far removed from his own life, Maksik has written a novel that stands solidly on its own merits."
            —Portland Mercury
 
"Remarkable . . . Conjures the horror of war almost entirely without describing its events . . . As the novel unspools it becomes clear that the truth is far more complicated and heartbreaking than it first appears . . . Deeply compelling."
            —Kirkus

"Maksik has wonderful instincts for delivering just enough insight into Jacqueline's character to keep us turning the pages. He manages to raise the stakes to the highest possible level without blinking . . . Marker is a book where the 'big questions' are stripped to their essential core: What is necessary to sustain life? The answers Maksik leads us to are touching, and the book ends on a hopeful note. Rating: 9/10"
            —Chicago Center for Literature and Photography 
 
"A story about a woman coping—a woman reconciling her newly manufactured life with her reality . . . Resonates on many levels: the impermanence of life, the perils of solitude, the futility of running from the past . . . Explores where memory and madness collide."
            —Idaho Mountain Express
 
"Luminous . . . Maksik is both deft and lyrical, a master of tense—his shifts from past to present and back again are nearly invisible, so appropriate do they feel—and a sensualist, and it is impossible to read Marker with less than total attention . . . Maksik's brilliance is evident in his ability to keep the novel's stripped-down cast and plot so riveting."
            —Winnipeg Free Press
 
"Palpable and affecting . . . Maksik has infused his tale of suffering with the loveliness of his prose . . . The desperate rhythms of thought intended to hold deeper desperation at bay are on display throughout this beautiful book that plumbs the depths of misery both mental and physical."
            —The Gazette
 
"Thoughtful, often dreamy . . . A Marker to Measure Drift draws portraits of simple but honest kindness, offered in the form of conversation, a free meal, a ride across the island or a hand on a shoulder. In this way Maksik displays both realism and hopefulness about human nature without being unrealistic about either."
            —Washington Independent Review of Books

"Gorgeously written, tightly wound, with language as precise as cut glass, Alexander Maksik's A Marker to Measure Drift is a tour de force. Maksik renders the soul of his heroine, a Liberian refugee, with stark honesty so that we understand both the brutality of what she has run from and the terror she experiences as she tries to build her life back. I was undone by this novel. I challenge anyone to read it and not come away profoundly changed."
            —Marisa Silver, author of Mary Coin and The God of War

"This novel is spellbinding. In its tenderness, grandeur and austerity, it reminds us that there is no country on earth as foreign, as unreachable, as the frantic soul of another human being."
            —Susanna Sonnenberg
 
"A Marker to Measure Drift is a haunting, haunted novel. Things get stripped down to essentials—food, water, where to sleep for the night, a state of solitary desperation brought on by the most profound kind of loss. Every line of this excellent novel rings true as Maksik leads us toward the catastrophe at the story's core. This is one of those books that leaves you staring into space when you finish, dazed from the sheer power of what's been said."  
            —Ben Fountain

"Arresting . . . Here is a human, detached from humanity, in pain and need. The world swirls around, the past lingers, but this human is at the center, small and yet deep. Maksik's prose brilliantly delivers—I think he has fully realized what this story could be, and has told it in the best way possible. An amazing accomplishment."
            —Lydia Netzer, author of Shine Shine Shine

"A moving, deeply felt and lyrical novel about past and present."
            —Kirkus Reviews (starred review)

"A vivid depiction of disillusionment, shock, and resilience . . . Sheds light on a setting great in both its beauty and violence . . . An exploration of terrible brutality and the effort it takes to survive."
            —Library Journal

"Readers will be rewarded by Maksik's gorgeous and evocative prose."
            —Publishers Weekly