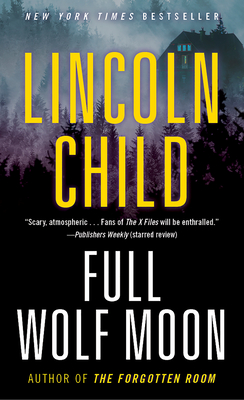 Other Books in Series
This is book number 5 in the Jeremy Logan Series series.
Staff Reviews
---
Once in a blue moon, it's refreshing to step outside one's comfort zone and sample a different voice or genre! The title of bestselling author Lincoln Child's supernatural thriller compelled me to try it…I love the majesty of wolves and the mystery of full moons. This backlist bestseller didn't disappoint me and even encouraged me to read more of Investigator Jeremy Logan's series. Logan is addicted to analyzing unexplained phenomena…and in this saga, he risks his own life to solve several grisly murders.
Traveling to the remote Adirondacks, Logan hopes to spend quality quiet time at an isolated writer's retreat. He is writing a book. But his tranquility is shattered when a dead hiker is found mauled on nearby Desolation Mountain. Initially suspecting a wild bear attack, Logan soon changes his mind. Is it possible that he should entertain the rumor that a werewolf roams these woods? Or should he focus on human suspects? The only certainty is that he must act quickly to identify the killer…before there is yet another victim. And he knows he also stands in harm's way.
Available in paperback and an affordable audio version. My guess is that the audio guarantees a tense, entertaining diversion to pass the miles on a long road trip! Either format will be a treat and you'll probably return for more in the series.
— From
What Sandy is Reading
Description
---
NEW YORK TIMES BESTSELLER • On the trail of a killer who cannot possibly exist ... Jeremy Logan, the renowned "enigmalogist," has often found himself in situations where keeping an open mind could mean the difference between life and death, and that has never been more true than now.
    
When Logan travels to an isolated writers' retreat deep in the Adirondacks to work on his book, he discovers the remote community has been rocked by the grisly death of a hiker on Desolation Mountain. The attack occurred during the full moon and the body was severely mauled, but the unusual savagery calls into question the initial suspicions of a bear attack. Logan's theories take a dramatic turn when he meets Laura Feverbridge, a respected scientist who is still struggling with the violent loss of her father months earlier. As Feverbridge shares her research with Logan, he begins to wonder whether he is actually up against something he can't believe is real.
About the Author
---
LINCOLN CHILD is the New York Times bestselling author of The Forgotten Room, The Third Gate, Terminal Freeze, Deep Storm, Death Match, and Utopia, as well as coauthor, with Douglas Preston, of numerous New York Times bestsellers, most recently Crimson Shore. He lives with his wife and daughter in Morristown, New Jersey.
Praise For…
---
Praise for Lincoln Child and Full Wolf Moon

"Chilling. . . . Child uses cutting-edge science and the beautiful Adirondacks landscape to tell a quick and tense story." —Associated Press

"Scary, atmospheric. . . . Fans of The X Files will be enthralled." —Publishers Weekly (starred review)
 
"A frightening, exciting tale." —New York Journal of Books

"Lincoln Child's Jeremy Logan novels just get better and better, and this latest installment really knocks it out of the park. Full Wolf Moon proves again that mysterious phenomena with a supernatural or otherworldly edge are fully in Child's wheelhouse, and the result this time around is an intense and chilling read." —Bookreporter

"Child's characters are first-rate, as is his writing." —The Washington Post Book World
 
"Child creates a perfectly creepy ambiance, and his dialogue and descriptions are yeomanlike." —Kirkus Reviews
 
"Lincoln Child's novels are thrilling and tantalizing." —Vince Flynn, #1 New York Times bestselling author of The Last Man
 
"Lincoln Child is a master at mystery plots." —The Florida Times-Union