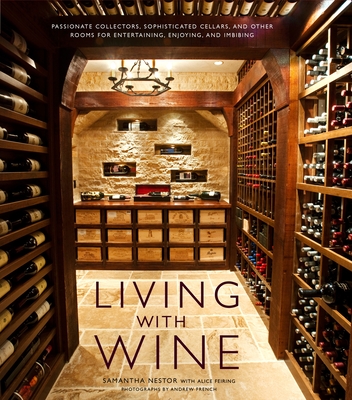 $75.00

Not Currently On The Shelf, But We Can Ship It To You In 3-5 Days
Description
---
America's love of wine has spurred a collecting and entertaining phenomenon.

Some of America's most passionate oenophiles have re-invented the wine cellar as an inviting and beautiful part of the home.

True collectors love to share their passion, and this book offers a tour of their distinctive cellars. Created with the help of some of the best designers in the field, these rooms blend luxurious design aesthetics with ingenious storage solutions. The thirty stunning spaces featured include a traditional wood cellar finished with rich paneling and ornate lighting; a cathedral-like space that showcases ironwork inspired by the French Quarter of New Orleans (and has a secret entry from a library inside the house); an inviting living room lined with temperature-controlled wood alcoves behind insulated glass; and an Old World terra-cotta cellar–within a sprawling entertainment center that includes a wet bar, a billiards table, and a tasting room.

Living with Wine reveals the details that make the cellars a welcoming place to return–from the materials, artwork, lighting, and cutting-edge preservation technology to the way the space harmonizes with the rest of the house. From the Bay Area to Boston, Napa to New York, homeowners such as Nancy and John Lasseter, the founder of Pixar Studios; American Idol host and TV and radio personality Ryan Seacrest; and entrepreneur Rick Ryan share insights into what they collect, why they started collecting, and how they designed their spaces to fit their passion.

This elegant volume shows what it means to love and collect wine.
About the Author
---
SAMANTHA NESTOR is the special projects editor at Metropolitan Home magazine and a contributor to POINTCLICKHOME.com. She regularly lectures on a variety of topics relating to interior design and architecture, and has appeared on television and radio and in publications, including the Chicago Tribune, the Baltimore Sun, Architectural Record, and Gotham. The author of The Luxury Bathroom and a graduate of Cornell University, Nestor lives in Weston, Connecticut, with her husband and son.

ALICE FEIRING is a James Beard Award—winning wine writer, author of The Battle for Wine and Love, and creator of the wine blog Veritas in Vino. She is the wine editor for the Los Angeles Times, and writes frequently for the Wall Street Journal, Saveur, the New York Times, and other publications.

Praise For…
---
The book just begs you to open it.
--Steve Bachmann, Vinfolio.com

"A gorgeous photographic trip to the cellars of our dreams"
--Eric Asimov, The New York Times

"Bottom Line: Every wine collector would love to have this book."
--Steve Bachmann, CEO Vinfolio

"From Napa Valley to Massachusetts, they've cultivated a mix of some
of the most dynamic uses of space (an under-the-staircase wine
cellar?) and the most incredible wine collections (20,000 bottles
owned by one person?)."
--Wall Street Journal Magazine

"Highly recommended for all wine aficionados!"
--Vicente Wolf Blog