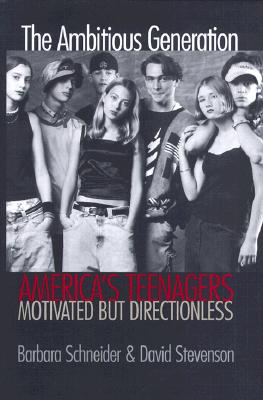 $18.00
Email or call for price.
Description
---
Are today's teenagers really slackers, the apathetic, baggy-pants wearing, unmotivated individuals so often portrayed by the media? This engrossing account--based on a landmark study of 7,000 teens--gives us good news and bad news about our teenagers. Contrary to prevailing notions, theirs is the most ambitious generation yet. But because schools and parents do a poor job of directing them, many take the wrong courses, choose the wrong colleges, and often finish college with neither job skills nor specific career goals. Their dreams of success are likely to remain just that--dreams.
Barbara Schneider and David Stevenson reveal that today's teens are not only misdirected but often very alienated. They spend more time alone and are depressed about it. Fewer teens have best friends or solid romantic relationships. And at school they move from group to group, changing affiliations often. Schneider and Stevenson show how parents and teachers can take adolescents' admirable raw ambition and provide them with direction and social support that they so sorely lack. As the authors demonstrate through many poignant cases, it is not enough to simply tell teens to work hard. We must also help them to figure out what they want to do and how to go about doing it.
About the Author
---
Barbara Schneider is professor of sociology at the University of Chicago and senior social scientist at the National Opinion Research Center. David Stevenson is a senior advisor to the deputy secretary of education. In his former role as deputy executive director of the National Council on Education Standards and Testing, he was responsible for the report Raising Standards for American Education.