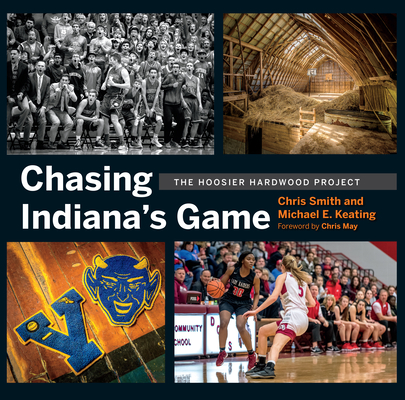 $25.00
Not Currently On The Shelf, But We Can Ship It To You In 3-5 Days
Description
---
Hoosiers have always loved basketball
Long before Larry Bird carried Indiana State University to the 1979 NCAA National Championship or Bobby Knight walked the sidelines at Indiana University, basketball fostered community identity across the Hoosier state. From Indiana's tiniest towns to its biggest cities, high school basketball is a source of pride, unifying communities with different races, religions, and social and economic status.
First drawn simply to documenting the architecture of Indiana's high school buildings and basketball courts, Chris Smith and Michael Keating quickly discovered that the real story was about more than just brick and mortar, maple and shellac. Told repeatedly by locals how important these places were to their communities, they began to embrace the "game on Saturday, church on Sunday" mantra that is found in many towns through Indiana, watching countless hours of basketball and becoming a part of the Hoosier tradition themselves.
With over 150 color photographs and unforgettable stories from high school basketball and beyond, Chasing Indiana's Game: The Hoosier Hardwood Project is a tribute to the Hoosier state and all who love basketball.
About the Author
---
Chris Smith has travelled the US and Caribbean for more than 35 years as a photographer for Fortune 500 companies and editorial outlets like the Wall Street Journal, National Geographic Traveler, and Smithsonian Magazine. He also teaches photography at Northern Kentucky University and in 2013, inspired by a photograph of his father's 1937 basketball team, began work on the Hoosier Hardwood project. He lives on a farm in southeastern Indiana with his wife, Elise, not far from their two daughters, Kaitlin and Maggie. Michael E. Keating is a photojournalist whose career spans five decades. A Perry County, Indiana, native, Keating worked for newspapers in Cannelton, Tell City, and Evansville and was named Indiana News Photographer of the Year in 1977. Keating joined the staff of the Cincinnati Enquirer in 1978 where his prize-winning work garnered local, regional, state, and national recognition. Keating won an Emmy for a collection of videos in 2009 and earned another nomination in 2018 for a documentary short on the creation of a sculpture of Pete Rose in a headfirst slide. He is the author of Cincinnati Shadow & Light. He lives with his wife, Sarah, in the greater Cincinnati area. They have two grown children.