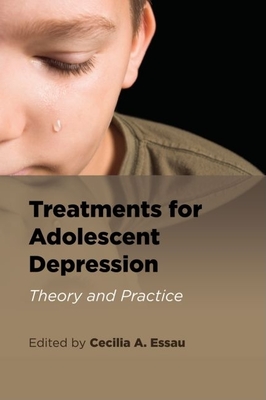 $77.00
Email or call for price.
Description
---
Depression is one of the most common mental health problems in adolescence. Up to 20% of adolescents suffer from depression at some point in their lives. As well as being a chronic disorder, associated with significant and persistent impairment in everyday life, there is also a strong association between depression and suicidal behavior, making depression a significant burden for both the individual, and society as a whole. In response to a growing awareness of this problem, various prevention and intervention programs have been developed. In addition, a large number of studies have examined the effectiveness of these interventions for depression. This timely, comprehensive, and authoritative volume brings together an eminent group of international experts to provide an overview of the major evidence-based treatments for depression in adolescents. This volume is divided into five sections. The first section presents an introduction to the field of adolescent depression, including classification, epidemiology, comorbidity, course, and risk of depression in adolescents. Sections two to four focus on various psychological and pharmacological interventions for adolescent depression, from various theoretical orientations. Each of the chapters in these sections begins with a description of the theoretical background of the respective intervention programs, the therapeutic goals and methods, and the way in which the interventions are delivered. In addition, studies that examined the effectiveness and their mechanisms of action are also presented and discussed. Section 5 examines the progress and unresolved issues in the treatment of adolescent depression, providing some recommendations for future studies in this field. The book will be valuable for advanced students, researchers, and clinicians in the fields of psychology, psychiatry, social work, paediatrics, and counseling.

About the Author
---
Cecilia A. Essau obtained her undergraduate and MA degrees in Psychology from Lakehead University (Canada), her PhD from the University of Konstanz (Germany), and her post-doctoral degree (professorial qualification in Germany) from the University of Bremen (Germany). She held numerous academic positions in Canadian, Austrian, and German universities before joining Roehampton University in 2004 as a Professor of Developmental Psychopathology. She is also the Director of the Centre for Applied Research and Assessment in Child and Adolescent Wellbeing (CARACAW). With research grants from national and international institutions, her research has focused on understanding the interacting factors that can lead children and adolescents to have serious emotional and behavioural problems and using this research to (a) enhance the assessment of childhood and adolescent psychopathology and (b) design more effective interventions to prevent and treat such problems.