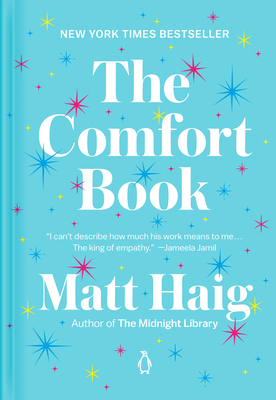 Staff Reviews
---
This personal reflection from best selling novelist Matt Haig is in fact very comforting. Drawing on a range of wisdom traditions and philosophies, Matt Haig discusses his struggles with depression, and shares lessons he has learned along the way. He offers hope and comfort to readers, which is something we could all use in our lives! This is a great book to read, and re-read.
— From
What Matt Is Reading
Description
---
An instant New York Times Bestseller!

The new uplifting book from Matt Haig, the New York Times bestselling author of The Midnight Library, for anyone in search of hope, looking for a path to a more meaningful life, or in need of a little encouragement.

Named by The Washington Post as one of the best feel-good books of 2021.

"It is a strange paradox, that many of the clearest, most comforting life lessons are learnt while we are at our lowest. But then we never think about food more than when we are hungry and we never think about life rafts more than when we are thrown overboard."

THE COMFORT BOOK is Haig's life raft: it's a collection of notes, lists, and stories written over a span of several years that originally served as gentle reminders to Haig's future self that things are not always as dark as they may seem. Incorporating a diverse array of sources from across the world, history, science, and his own experiences, Haig offers warmth and reassurance, reminding us to slow down and appreciate the beauty and unpredictability of existence.
About the Author
---
Matt Haig is the author of the New York Times bestseller The Midnight Library and the internationally bestselling memoir Reasons to Stay Alive and the follow-up Notes on a Nervous Planet, along with six novels, including How to Stop Time, and several award-winning children's books. His work has been translated into more than forty languages.
Praise For…
---
"...a collection of empowering, beautiful concepts that'll help anyone get through tough times. I read and reread sections of The Comfort Book..." -- Zibby Owens, Katie Couric Media

'The Comfort Book, a collection of aphorisms and inspirational stories of survival against the odds, is a guide to living and finding hope in these disjointed times' --Guardian

"The bestselling author of Notes on a Nervous Planet and The Midnight Library offers earnest reflections in this thought-provoking, affirming collection that is both personal and universal...With Haig's trademark empathy and celebration of the resilience of the human heart, this is a book we all need and deserve." -- Booklist
 
"The Comfort Book... is brilliant, full of nuggets of profundity to consume when you're feeling low. And he has a way of discussing mental health that rises above the general confessional noise." -- The Independent (Dublin)

"Profound, witty and uplifting, and a stirring testament to hope and the imagination" ― Observer (London)

"The literary equivalent of a steaming hot chocolate on a chilly day . . . The ideal read for dipping into whenever you need a pick-me-up or change of perspective" ― Metro (London)

"Pick up this book any time you're in need of a boost of positivity, calm and - as it says on the cover - comfort" ― ELLE (UK)

"Promises two things I can't get enough of: hugs and lists . . . After a year starved of hope and hugs to the extreme, I can't think of a greater comfort read than that" ― Evening Standard, Best Summer Reads (London)

"...the book's unpretentiousness will enable its positive message to reach a wide and grateful readership." -- The Guardian

"Whether it is about fitting in, facing one's demons or happiness itself, each short anecdote, quote or simple sentence does just what the book aims to do: give comfort" -- Evening Express (London)


"Bite-sized advice and aphorisms . . . Full of solid good sense and hard-won wisdom" ― Scotsman

"Every page of Haig's smooth prose will inspire you to think. Whether it is about fitting in, facing one's demons or happiness itself, each short anecdote, quote or simple sentence does just what the book aims to do: give comfort" ― Herald (London)


"A charming tonic, fitting for these troubled times. The Comfort Book is a mix of short, hopeful anecdotes and reflections on life to dip into when in need of consolation, and help in seeing hard situations in a softer light" --BBC

"Drawing from a diversity of sources from across the world, as well as history, science, and his own experiences, Haig provides a book of hope and reassurance for us all, encouraging us to slow down and appreciate our existence." --The Fredericksburg Freelance Star


Praise for Matt Haig:

"A keen-eyed observer of contemporary life." ―New York Times

"I can't describe how much his work means to me . . . The king of empathy." ―JAMEELA JAMIL

"Love this man's books." ―JODI PICOULT

"Haig is one of the most important writers of our time." ―DOLLY ALDERTON

"Matt Haig is a writer for children and adults who is adept at digging into the human heart." ―Sunday Times (London)

"Matt Haig has an empathy for the human condition, the light and the dark of it, and he uses the full palette to build his excellent stories." ―NEIL GAIMAN

"Matt Haig uses words like a tin-opener. We are the tin." ―JEANETTE WINTERSON

"Haig is one of the most inspirational popular writers on mental health of our age." ― Independent (London)

"Haig writes exquisitely from the perspective of the heart-sore outsider, but at their most moving his novels reveal the unbearable beauty of ordinary life." ―Guardian

"Matt Haig has a way of looking at life which will make you stop and think, and by the time you reach the last page, you will understand the world just that little bit better and feel a little more comfortable being in it." ―JOANNA CANNON