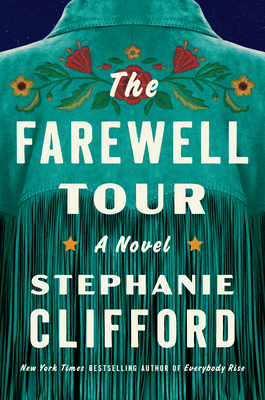 Staff Reviews
---
A backstage pass to the colorful life of country singer, Lil. The highs and lows, loves and losses, grit and glamour of life on the road. Like a good western song this is filled with yearning, regrets, heartache, whiskey, good dogs and great prose. Off the charts good!
— From
What Karin is Reading
I could hear Lillian's raspy, cigarette worn voice telling everyone on her tour bus exactly what she thought and this being her last tour, she believed she had the right to do this because she had been through a lot! The book interweaves her life story growing up in Eastern Washington and moving to Tacoma, Bakersfield and then eventually her success in Nashville with the last tour in 1980. This is historical fiction with sexual assault, domestic violence, race issues, and the male dominated music industry. But in the end you will be cheering her on and truly wishing you were at that last concert on her Farewell Tour!
— From
What Amy is Reading
March 2023 Indie Next List
---
"A fun, fictional bio of a country superstar, like Loretta Lynn and Dolly Parton, making her last tour due to health issues. A moving portrait of a woman trying to break through a patriarchal industry and the pratfalls she endured."
— Gerard Villegas, Auntie's Bookstore, Spokane, WA
Description
---
From the author of the New York Times bestseller Everybody Rise, a "shimmering" (New York Times Book Review) novel with the exquisite historical detail and evocative settings of The Cold Millions and Great Circle that tells the story of one unforgettable woman's rise in country and western music.
It's 1980, and Lillian Waters is hitting the road for the very last time.
Jaded from her years in the music business, perpetually hungover, and diagnosed with career-ending vocal problems, Lillian cobbles together a nationwide farewell tour featuring some old hands from her early days playing honky-tonk bars in Washington State and Nashville, plus a few new ones. She yearns to feel the rush of making live music one more time and bask in the glow of a packed house before she makes the last, and most important, stop on the tour: the farm she left behind at age ten and the sister she is finally ready to confront about an agonizing betrayal in their childhood.
As the novel crisscrosses eras, moving between Lillian's youth—the Depression, the Second World War, the rise of Nashville—and her middle-aged life in 1980, we see her striving to build a career in the male-dominated world of country music, including the hard choices she makes as she tries to redefine music, love, aging, and womanhood on her own terms.
Nearing her final tour stop, Lil is forced to confront those choices and how they shaped her life. Would a different version of herself have found the happiness and success that has eluded her? When she reaches her Washington hometown for her very last show, though, she'll undergo a reckoning with the past that forces her to reconsider her entire life story.
Exploring one unforgettable woman's creativity, ambition, and sacrifices in a world—and an art form—made for men, The Farewell Tour asks us to consider how much of our past we can ever leave behind.
About the Author
---
Stephanie Clifford is an award-winning investigative journalist and a bestselling novelist. As a New York Times reporter for almost a decade, she covered business and law. She now writes long-form investigations about criminal justice and business for the Times, The New Yorker, The Atlantic, Wired, Elle, The Economist, Bloomberg Businessweek, and other publications. Her accolades include the Loeb Award in Investigative Reporting, the Deborah Howell Award for Writing Excellence from the News Leaders Association, the Society of American Business Editors and Writers Award in Explanatory Reporting, and the Deadline Club Award in magazine profiles, among others. Everybody Rise, her first book, was a New York Times bestseller and a New York Times Book Review editors' choice. She grew up in Seattle and lives in Brooklyn with her family.
Praise For…
---
"Breathtaking. . . . The Farewell Tour is a shimmering paean to the deeply flawed American West, which feels real and vital thanks to Clifford's gift for description." — The New York Times Book Review
"Thought-provoking and entertaining. . . . The Farewell Tour is indeed a redemption tale. But its seemingly predictable arc is disrupted by plenty of smart misdirections and subtexts. Like a particularly sharp country song, it takes clichés and untangles and renews them. . . . Clifford's emotional acuity is matched by her grasp of country history. . . . The strength of The Farewell Tour is in showing just how much work is required to escape that judgment, to erase the persona and see yourself clearly."
— Washington Post
"Terrific, keenly observed....Clifford's command of country-music history runs deep, and her powers of description are prodigious....There's a song here for sure." — Wall Street Journal
"Seamlessly written, The Farewell Tour reads more like a musician's confessional memoir than a fictional work. It's a novel that rock music fans and country music acolytes alike can enjoy—even if they can't always appreciate one another's music." — Southern Review of Books
"A must-read country-music novel. . . . Like a great country tune, The Farewell Tour takes readers on a journey of tough-to-swallow reflection, much-needed self-discovery and plot-twisting closure." — The Tennessean
"Many details give the book depth, from the history of so-called "hillbilly" music in Washington state during the Great Depression, to rich descriptions of key country figures throughout the genre's eras. But the most compelling element is the main character herself. Waters is a refreshing and intense artist whose candor kept me rooting for her at every stage. Her story of redemption, unrequited love, and growth brings the reader along on tour. It's a gig you don't want to miss." — Nevada Public Radio
"If you ever wondered what would happen if Daisy Jones confronted her past, this book is for you." — Esquire
"A book about music, about country music in particular and the struggle one woman has to achieve stardom in a world dominated by men….but it is so much more than that. Clifford takes the reader on a tour of country music and some of country music's greatest and most memorable stars, including Buck Owens, Loretta Lynn, Patsy Cline and Dolly Parton, as our main character struggles to become a country music legend herself."

— Yakima Herald (Yakima, WA)
"Go places with this country music saga. . . . Clifford takes you into the early generations of country music, to the landscape of eastern Washington state, to the vanished world of mid-century America, and into the heart and mind of a hardscrabble, fiercely independent woman." — The Free Lance Star (Fredericksburg, VA)
"Fine-grain detail, historical import, and emotional heft. . . . Early chapters in Depression-era Walla Walla – where 10-year-old Lil leaves her troubled family – read a bit like Marilynne Robinson's Housekeeping, while the novel's exploration of band dynamics would be at home in David Mitchell's recent Utopia Avenue. . . . Clifford dives deep—genuinely, unapologetically deep." — Post Alley (Seattle)
"Triumphant. . . . Tracing both the rocky start to her farewell tour and her youthful rise to stardom, Clifford introduces readers to a refreshingly alive and authentic protagonist. . . . Both a startling, resonant portrait of a woman creating and living in the male-dominated world of country music and a late-in-life coming-of-age drama that soars with themes of reinvention and redemption." — Book Reporter
"The Farewell Tour is rich in historical touches and will appeal to fans of American culture and country music alike. The novel is the second by a New York Times bestselling author with a no-nonsense ear for both narrative and dialog; the style is well-paced and accessible without sacrificing depth. . . .Her final tour stop is both bookend and epiphany for a woman who had sacrificed self-awareness for a life lived in the minds of others. Recommended reading." — Historical Novel Society
"Years ago, someone told me that you should write as though your characters have immortal souls. I keep trying, but Stephanie Clifford has done it, with a novel that feels like real life, so alive and heartbreakingly authentic. This story is a fictional paean to real survivors, a tribute and a triumph."  — Jamie Ford, New York Times bestselling author of The Many Daughters of Afong Moy
"Beautifully written, wise, and true, THE FAREWELL TOUR honors the hard-working, hard-living women of country music—their resilience, courage, and powerful devotion to artmaking. I won't soon forget the indomitable Lillian Waters." — Elizabeth Wetmore, New York Times bestselling author of Valentine
"What happens when your coming-of-age story begins with your retirement tour? What happens when we become too old to feel young? Stephanie Clifford's novel is about regret, love, despair, country music triumph and failure, and betrayal. It's about 'the music spreading...out from the migrant camps and down from the mountain towns, over radio waves, into jukeboxes.' It's about a Nashville where everybody is hungry for fame and a Walla Walla, Washington, where everybody is broken by shame. This is a novel to be read by dusty barlight and wheatfield sunlight. I loved it." — Sherman Alexie
"Stephanie Clifford nails the character of Depression-era songbird-turned-country crooner Lillian Waters in her fabulous new novel, The Farewell Tour. . . . I saw myself in Lillian's journey, from the highs to the lows to the numbness, from the bench seat of a roadster rumbling across dirt roads to shiny tour buses humming down interstates. . . . By the last chorus we learn that a life in country is a holy sacrifice to the Gods of hillbilly music—for which The Farewell Tour is a worthy offering." — Grammy-winning singer, songwriter, and performer Ketch Secor of Old Crow Medicine Show

"A dual-timeline redemption story and an epic journey through a half-century of country music….Full of marvelous period details about World War II-era Tacoma, Washington, and its proto-country music scene as well as glitzy 1970s Nashville, Tennessee….Like a country ballad, this is a bittersweet testament to the healing power of old love, long friendships and heartfelt songs." — BookPage
"Clifford conveys Lillian's joy in crystalizing an emotion into a song and connecting with a live audience. . . . a moving tribute to the power of country music." — Publishers Weekly