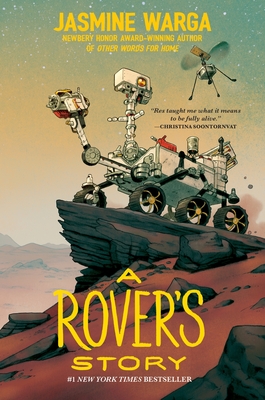 Staff Reviews
---
A Rover's Story is by far the cutest and most heartwarming book I have read in a very long time! It features a talking robot, Resilience, who starts developing human emotions as he and his drone companion, Fly, try as hard as they can to carry out their mission on Mars; what's cuter than that? And it's packed full of facts about NASA's Mars Rover Program; I sure learned a lot. Every middle grade reader, and everyone who gets read to at bedtime, should pick up this book, especially fans of WALL-E and The One and Only Ivan!
— From
What Ali Is Reading
November/December 2022 Kids Indie Next List
---
"Resilience drove his way right into my heart. Such a sweet story and a clever, fantastical spin on real life NASA projects. Resilience's wonder and curiosity is catching. Anyone who is enthusiastic about science or Mars will love it."
— Leah Atlee, Bright Side Bookshop, Flagstaff, AZ
Description
---
New York Times bestseller * Best Book of the Year from The Washington Post, Publishers Weekly, New York Public Library, Chicago Public Library
The One and Only Ivan meets The Wild Robot in this unique and deeply moving middle grade novel about the journey of a fictional Mars rover, from the Newbery Honor–winning author of Other Words for Home.
Meet Resilience, a Mars rover determined to live up to his name.
Res was built to explore Mars. He was not built to have human emotions. But as he learns new things from the NASA scientists who assemble him, he begins to develop humanlike feelings. Maybe there's a problem with his programming….
Human emotions or not, launch day comes, and Res blasts off to Mars, accompanied by a friendly drone helicopter named Fly. But Res quickly discovers that Mars is a dangerous place filled with dust storms and giant cliffs. As he navigates Mars's difficult landscape, Res is tested in ways that go beyond space exploration.
As millions of people back on Earth follow his progress, will Res have the determination, courage, and resilience to succeed… and survive? 
About the Author
---
Jasmine Warga's debut middle grade book, Other Words for Home, is a Newbery Honor Book. She is the author of the novels for teens My Heart and Other Black Holes, which has been translated into over twenty languages, and Here We Are Now. She lives and writes in Cincinnati, Ohio. You can visit Jasmine online at www.jasminewarga.com.
Praise For…
---
"It's a gripping read. The novel does a terrific job of communicating scientific information to young readers, and it's also emotionally satisfying."
— New York Times Book Review
"Warga follows her cybernetic narrator from first awareness to final resting place—and stony indeed will be any readers who remain unmoved by the journey. The intelligences here may be (mostly) artificial, but the feelings are genuine and deep." — Kirkus Reviews (starred review)
"A touching, fact-filled novel [that] centers the maturation of gutsy Mars rover Resilience." — Publishers Weekly (starred review)
"An endlessly inventive story, replete with gentle humor and playful pondering, offering a unique perspective on everything from music and electronics to loyalty and love. Res is written in a distinct, precise voice and sweetly countered by interspersed letters to the rover from a young girl intimately connected to his being, and both thoughtfully evolve as the years pass. A profound and poignant exploration of the universe both outside and within us all." — Booklist (starred review)
"Will thrill fans of both adventure and robot stories and also provide intellectual sustenance for the deep thinkers…Through the character of a robot Warga probes issues of identity, attachment, and the purpose of life, offering readers an unusual but heartfelt example of the importance of staying true to yourself, quirks and all." — Horn Book Magazine
"A fictional Mars Rover narrates its own journey from the robotics lab to the Red Planet. The format of brief journal entries and letters is engagingly readable for even reluctant readers, and the humorous interactions between ­robots and machines keep the science-heavy story moving at a reasonable pace. A fresh format and timely topic engage readers in this uplifting and deeply human sci-fi story." — School Library Journal
"As a mechanical engineer and STEM-lover, this beautiful book filled my heart right to the top. Res may be a rover, but he taught me what it means to be fully alive."  — Christina Soontornvat, two-time Newbery Honor recipient