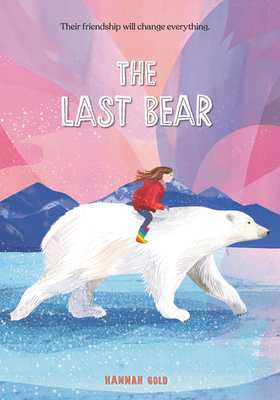 Staff Reviews
---
This is a beautiful story, perhaps "an instant classic" by debut U.K. author, Hannah Gold. Targeted to a middle grade audience, but evocative for all ages, THE LAST BEAR celebrates the unlikely (and fictional) friendship between a nine-year-old girl and a solitary polar bear. Gold also magnifies themes of global warming, the power of imagination, and parental nurturing in her novel.
After the loss of her mother, April and her bereaved father arrive to spend six summer months on Bear Island. Dad is on a work assignment, researching climate change in the Arctic and spending long hours in the remote lab. April is left alone to entertain herself and to explore the island. On an outing to Walrus Bay, she discovers Bear. Slowly she befriends the hungry polar animal with patience and peanut butter, and they form an extraordinary bond.
Is Bear the only one of his kind left on Bear Island? How did get there? How will he survive the winter after April leaves? How can she help him? How will she convince her workaholic father that she needs his attention and his love? And how will she survive without Bear's friendship?
Fans of PAX, A WOLF CALLED WANDER, KEEPER, SHILOH and other bestselling animal stories surely will add THE LAST BEAR to their favorites list. A welcome dose of heart and hope.
— From
What Sandy is Reading
Description
---
An instant classic with a bear-sized heart, Hannah Gold's debut novel is a touching story of kindness, adventure, and forging your own path—perfect for fans of Pax and A Wolf Called Wander.
There are no polar bears left on Bear Island. At least, that's what April's father tells her when his scientific research takes them to a faraway Arctic outpost.
But one night, April catches a glimpse of something distinctly bear shaped loping across the horizon. A polar bear who shouldn't be there—who is hungry, lonely and a long way from home.
An excellent choice for readers in grades 3 to 7, this fierce celebration of friendship includes full-page black-and-white illustrations throughout, as well as information about the real Bear Island and the plight of the polar bears.
About the Author
---
Hannah Gold grew up in a family where books, animals, and the beauty of the outside world were ever present, and is passionate about writing stories that share her love of the planet. She now lives in the UK with her tortoise, her cat, and her husband and, when not writing, is busy hunting for her next big animal story as well as practicing her roar. The Last Bear is her debut novel. 
Praise For…
---
"Fans of Pax will appreciate this endearing story of interspecies friendship."
— Publishers Weekly

"For animal lovers, defenders of the environment, and fans of female-powered stories. Touching and poignant."
— Kirkus Reviews

"Gold has an ear for descriptive language, and the close narration of April's story keeps readers intimately engaged. The book's environmental message is clear without being overpowering, and the combination of internal and external conflicts allows the story to be quiet and dramatic at the same time."
— Horn Book Magazine

"A bold, unapologetic look into the devastating effects of climate change and its impact on wildlife."
— School Library Journal

"This is an important first novel, important for us, for polar bears, for the planet. It is deeply moving, beautifully told, quite unforgettable." 
— Michael Morpurgo, bestselling author of War Horse