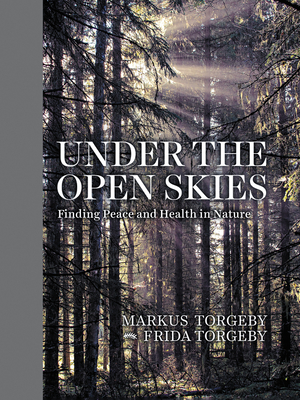 Description
---
THE INTERNATIONAL BESTSELLER
A guide for living outdoors and communing with the natural world—under the open skies.
"I believe in sleeping outdoors, surrounded by tall fir trees, darkness and cold. Lying on my back and looking up at the stars, watching my breath form thin clouds."
Under the Open Skies is one man's perspective-shifting, immersive journey into the wilds of northern Sweden and into his own soul.  
For four years, Markus Torgeby lived alone in a hut he built with his hands in the Jämtland forest on the northern tip of Sweden, reconnecting with nature, and healing from the stress and strain of urban life and an athletic career derailed by injury.
For Markus, living in the forest provided something concrete—cool winter air on his face, a cotton canvas of clouds overhead, wet clothes drying over the fire. Free from the constraints of modernity, his only responsibilities were the basics of survival—shelter, heat, food. Rooted on the ground under a bed of leaves, with his head finally aligned with his body, Markus found the solitude and silence he needed to be reborn.
In this moving elegy, Markus offers lessons both practical—how to make fire, how to craft an outdoor bed, how to tap trees for water—and profound—what it means to become one with the natural world, to live authentically, to reconnect with yourself and your surroundings. Illustrated with 75 beautiful full-color photographs taken by his wife, Frida, Under the Open Skies is as invigorating as a long hike on a brisk morning and as sublime as a bowl of cinnamon porridge at the end of a long day. It is an invitation—to the stressed, disconnected, and lonely, to all who yearn to unplug and slow down, to those who wonder how life got so complicated—to come home to nature, to open the mind and heart to the wide-open sky.
About the Author
---
Markus Torgeby was an elite runner until an injury ended his career and triggered a life crisis. Four years of self-selected loneliness in a hut in the Jamtland forest returned a calm to his body and gave him a new sense of direction. Today, Markus lectures on "what is really important" and builds houses and outdoor beds. 
Frida Torgeby created the photographs and illustrations in Under the Open Skies. She studied at the Photography College and has a degree from HDK, the College of Design and Crafts, in Gothenburg. She has worked as an Expert Senior Designer at Volvo Cars, but now runs her own photo and design business. Frida and Markus run the Torgeby clothing brand (Torgeby.com) together. They live with their three daughters in Jamtland, outside Undersaker, in Sweden.