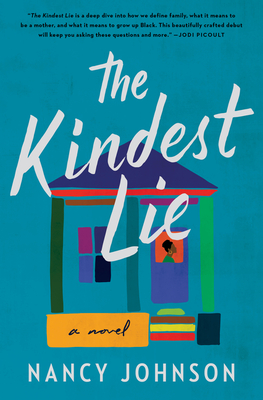 Staff Reviews
---
African American debut novelist, Nancy Johnson, grew up on the infamous South Side of Chicago, the baddest part of town. Her compelling first book reflects her personal struggle to succeed against the odds as a determined and driven Black woman in Obama era America. She explores the complexities of race and family relationships, the subtle currents of social discrimination, and the sacrifices and compromises still required to change the norm.
The novel's protagonist, Ruth, and her brother, Eli, were raised in a poor community of Ganton, Indiana, by their grandmother, Mama, purportedly abandoned by their own mother. If a person left Ganton, few ever returned . . .but in reality, few ever left. Ruth was to be an exception, excelling in her academics and being accepted as a "token" black women into Yale, an institution striving to fully embrace coeducation and inclusion. On the outside, Ruth seems a model of promise; but the secret she harbors Inside threatens to destroy her future. Mama is determined to hide Ruth's teen pregnancy, fearing that Ruth's life will be ruined if she keeps the baby. She doesn't allow Ruth any choice, and the child disappears after birth. Ruth is left with an empty soul to move on with her ambitious college career.
Ultimately Ruth's strong maternal values compel her to find her son. She returns to Ganton and meets Midnight, a bright yet insecure white boy who looks to Ruth for emotional support. At first Ruth is unaware that Midnight's best friend, Corey, is her son who is being raised by loving adoptive parents. Once she discovers Corey's identity, the plot escalates and Ruth faces agonizing choices.
THE KINDEST LIE is a testament to Black Lives Matter, women's equality, and to the power of love to guide personal and public action. As a Yale woman grad and mother myself, I related to Ruth and her conflicting priorities. Her integrity and dilemma rivals Tara Westover's in EDUCATED. Johnson writes with emotion, color, insight, and morality. I recommend this book and look forward to her next.
— From
What Sandy is Reading
February 2021 Indie Next List
---
"You know you are in the hands of a natural storyteller from the very first pages of The Kindest Lie, a story of unlikely friendships, difficult choices, and the untold burden of our past. Ruth is compelled to return to the hometown she fled to pursue her dreams. Midnight is a boy broken and in search of a safe port amidst the stormy seas of his young life. Both have been impacted by the brutal politics of race and class in modern America, and both must find a way to heal their broken hearts. A moving story of the compassion and strength needed to move past fear and distrust and begin to hope for a better future."
— Luisa Smith, Book Passage, Corte Madera, CA
Description
---
Named a Most Anticipated book by O Magazine * GMA * Elle * Marie Claire * Good Housekeeping * NBC News * Shondaland * Chicago Tribune * Woman's Day * Refinery 29 * Bustle * The Millions * New York Post * Parade * Hello! Magazine * PopSugar * and more!
"The Kindest Lie is a deep dive into how we define family, what it means to be a mother, and what it means to grow up Black...beautifully crafted." —JODI PICOULT
"A fantastic story...well-written, timely, and oh-so-memorable."—Good Morning America
"The Kindest Lie is a layered, complex exploration of race and class." —The Washington Post
A promise could betray you.
It's 2008, and the inauguration of President Barack Obama ushers in a new kind of hope. In Chicago, Ruth Tuttle, an Ivy-League educated Black engineer, is married to a kind and successful man. He's eager to start a family, but Ruth is uncertain. She has never gotten over the baby she gave birth to—and was forced to leave behind—when she was a teenager. She had promised her family she'd never look back, but Ruth knows that to move forward, she must make peace with the past.
Returning home, Ruth discovers the Indiana factory town of her youth is plagued by unemployment, racism, and despair. As she begins digging into the past, she unexpectedly befriends Midnight, a young white boy who is also adrift and looking for connection. Just as Ruth is about to uncover a burning secret her family desperately wants to keep hidden, a traumatic incident strains the town's already searing racial tensions, sending Ruth and Midnight on a collision course that could upend both their lives.
Powerful and revealing, The Kindest Lie captures the heartbreaking divide between Black and white communities and offers both an unflinching view of motherhood in contemporary America and the never-ending quest to achieve the American Dream.
About the Author
---
A native of Chicago's South Side, Nancy Johnson worked for more than a decade as an Emmy-nominated, award-winning television journalist at CBS and ABC affiliates nationwide. A graduate of Northwestern University and the University of North Carolina at Chapel Hill, she lives in downtown Chicago and manages brand communications for a large nonprofit. The Kindest Lie is her first book.
Praise For…
---
"Johnson's rich examinations of ambiguities in this moral dilemma take center stage, but institutional racism and its constant, draining impact are the boards these players stand on. And can't escape…The Kindest Lie is an easy, accessible novel filled with hard, important truths."
— New York Times Book Review, Editor's Choice

"A fantastic story of a marriage and what happens when one spouse secretly had a child prior to knowing the other.... This modern-day depiction of a woman in crisis and what she discovers about what she left behind is well-written, timely, and oh-so-memorable."
— Good Morning America

"Hope and change upend quickly in Johnson's timely, heartwarming debut."
— O magazine

"The Kindest Lie is a layered, complex exploration of race and class."
— Washington Post

"[A] triumph, a deeply affecting work of truth and reconciliation over what it means to live the American Dream—and not just for the winners."
— Los Angeles Times

"A profound look at racial and economic injustices in America."
— Refinery 29

"A heart-wrenching story of family, racism, poverty and love."
— Good Housekeeping

"This heart-wrenching story teaches us how long love really endures."
— Woman's Day

"Johnson's sharp debut takes a deep dive into the life of a Black Chicago woman after the 2008 presidential election… Powerful insights emerge on the plurality of Black American experience and the divisions between rural and urban life, and the wealthy and the working class. Johnson's clear-eyed saga hits hard."
— Publishers Weekly (starred review)

"Generational secrets, class divides, motherhood, and American life on the edge of political and economic change are all examined in Johnson's engaging debut…. Through well-developed characters, Johnson provides a realistic portrayal of middle America in the tumultuous era of economic collapse."
— Booklist

"Similar to The Vanishing Half by Brit Bennett, The Kindest Lie is an engrossing story about race, class, and coming to grips with your past… The Kindest Lie will not only pull at your heartstrings, but it will also make you want to call your family, fight racial injustice, and hold on tighter to those you love. With every page you turn, you'll see just how powerful unconditional love really is."
— Popsugar

"The Kindest Lie is the story of one family that reveals the larger story of America itself. Taut and surprising, Nancy Johnson's debut novel tackles complex issues—ambition, romance, class—with the lightest of touches."
— Rumaan Alam, New York Times bestselling author of Leave the World Behind 

"Race, class, family, and secrets are all on a collision course in Johnson's extraordinarily moving, timely read. Like a heat-seeking missile, her novel hones in on who we think we belong to and why, following the merging lives of Ruth, a black female engineer who seeks out the child she gave away, and Midnight, a young white boy struggling to find his place in the very poverty Ruth managed to escape. A gloriously written, stunning heart scorcher about who we are and what we could be."
— Caroline Leavitt, New York Times bestselling author of Pictures of You and Cruel Beautiful World

"The Kindest Lie is a deep dive into how we define family, what it means to be a mother, what secrets we owe to those we love, and what it means to grow up Black. Does our past become the skeleton upon which our future fleshes out — or can we erase our beginnings? This beautifully crafted debut will keep you asking these questions and more."
— Jodi Picoult, New York Times bestselling author of The Book of Two Ways and Small Great Things

"In this winning portrait of circumstance, sacrifice, and forgiveness, the lines that separate past from present and right from wrong are erased and redrawn--oftentimes with earth-shattering consequences. Rife with rich language, shocking revelations, and easy-to-fall-into characters, The Kindest Lie is the kind of novel you'll feel in your bones."
— Zakiya Dalila Harris, New York Times bestselling author of The Other Black Girl

"In The Kindest Lie Nancy Johnson takes us both into a bygone time, the dawning of the Obama era, and into the tender heart of her protagonist Ruth. This is a novel that seeks to discover the beauty of our journeys despite the lies we tell each other and ourselves."
— Rion Amilcar Scott, award-winning author of The World Doesn't Require You and Insurrections  

"One of the most buzzed about books of the season."
— New York Post

"Johnson makes powerful points about our connections and communities."—
— Real Simple

"This profound and beautiful debut is a sharp exploration of racial divides and community in America."
— Newsweek

"It takes tremendous talent to seamlessly combine social commentary with a powder keg of a plot, and Nancy Johnson accomplishes just that in her gripping debut novel, The Kindest Lie, addressing issues of race, class, privilege and upward mobility.... A fictional callback to Isabel Wilkerson's Caste, The Kindest Lie also brings to mind Brit Bennett's The Vanishing Half, in which another young Black woman returns to her hometown to try to reconcile her past, present and future. Don't miss this powerful debut." 
— BookPage, starred review

"Johnson's powerful debut novel examines the racial injustices and class."
— E! Online

"In The Kindest Lie, Nancy Johnson gives us two unforgettable characters. Ruth and Midnight represent different Americas: one trending up, one spiraling down. Johnson--through graceful sentences, tenderness, dramatic expertise, and overflowing empathy--is able to twist these Americas into a singular portrait of a country in transition. This enviable debut enlightens while breaking your heart. A truly beautiful achievement."
— Gabriel Bump, author of Everywhere You Don't Belong

"A heart-wrenching portrayal of an unlikely bond, and a profound nod to the fallacy of post-racial America—The Kindest Lie is nuanced, spellbinding, and necessary."
— Margaret Wilkerson Sexton, award-winning author of The Revisioners

"Johnson has built a cast of beautifully complex characters.... This story speaks to race, class, and what it means to be a family."
— SheReads

"Essential, powerful, wrenching: Nancy Johnson's debut novel tells a history of family secrets and lies shaped by the racism that permeates modern America.... A riveting story, a searing lesson on why Black Lives Matter is today's crucial social justice movement."
— Sara Paretsky, New York Times bestselling author

"The Kindest Lie is a soul-stirring, vividly told saga that demands to be read! Johnson presents a story with dazzling prose and textured, complicated characters that haunt you long after you've closed the book. It's hard to believe The Kindest Lie is Johnson's debut as it's told with such an assured voice and graceful conviction. I thoroughly enjoyed and HIGHLY recommend it!"
— Catherine Adel West, author of Saving Ruby King 

"The Kindest Lie is not only a superb debut novel, it is without qualification a superb novel. Nancy Johnson endows her characters with a generous grace that slowly embraces the reader as the plot unfolds, accomplishing what the very best novels do—tell the stories of strangers so well we are ultimately compelled to discover the strangers within us all." 
— James Anderson, award-winning author of The Never-Open Desert Diner and Lullaby Road

"Nancy Johnson's eloquently written, introspective, and emotionally resonant debut novel, The Kindest Lie, is a timely commentary on social justice, race relations, and what it means to be Black in today's America…With subtle details as rich as they are emotionally resonant, Johnson takes readers into Ruth's intimate struggle to find peace and come to terms with being an imperfect mother. The Kindest Lie is a visceral depiction of being Black in America, the quest for understanding and acceptance, the struggles of motherhood, and the strength of family amid the backdrop of a racially divided country."
— Washington Independent Review of Books

"Johnson's debut novel will appeal to a wide range of readers, who will be drawn into the despairing lives of her characters. Ruth's predicament comes to a most satisfying conclusion."
— Library Journal

"[T]imely, layered, and perfect for your Zoom book club."
— HelloGiggles