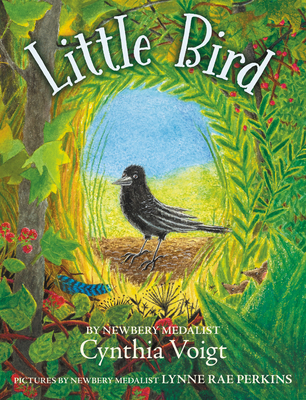 $16.99
Not Currently On The Shelf, But We Can Ship It To You In 3-5 Days
Staff Reviews
---
Everyone learns that birds and cats aren't buddies by nature, but how about a tiny crow and a wild fisher cat? Little Bird, the intrepid heroine of Cynthia Voigt's newest middle grade animal story, realizes early on that the nasty creature who invades her flock's nest is her enemy. Despite being the smallest member of her family, she is determined to find the fisher (not a feline but more like a marten) and retrieve the good luck pendant that he stole from the nest.
Little Bird sets out on her own, undeterred by her family's quips and slurs about her chances of survival. With the help of a funny old goat and a few kindly stranger crows who only judge Little Bird for her curiosity and bravery, she pursues the dangerous fisher and the stolen treasure. She succeeds in finding "Our Luck", only to discover that the pendant rightfully belongs to some gentle humans, not to the greedy crows. She reports back home to her family, but only for a brief while, as she now realizes that she belongs with friends who truly value her. She is forever changed by her adventure. She is FREE to spread her wings, to go where she chooses, and to be herself.
Voigt is a Newbery Medal winner and popular author of more than twenty books; Lynne Rae Perkins, the illustrator for LITTLE BIRD, is also a Newbery medalist, the author of CRISS CROSS. She adds her artistic touch to this delightful tale.
— From
What Sandy is Reading
Description
---
"A sweet and uplifting read."—Publishers Weekly
Celebrated Newbery Medal–winner Cynthia Voigt introduces Little Bird, a tiny crow with a big imagination and an even bigger heart, in this timeless read-alone and read-aloud just right for the young middle grade audience. Little Bird features black-and-white illustrations by Newbery Medalist Lynne Rae Perkins throughout.
When a wild fisher cat attacks their nest, Little Bird and her flock are devastated. Not only does the fisher cat harm the fledglings, but it also makes off with the shiny pendant that the superstitious crows rely on for good luck. Little Bird believes that she can find the lucky pendant and return it to the nest before disaster strikes. The other crows aren't so sure—after all, Little Bird is so little and undependable and meek.
But with the help of some new friends—including a very funny goat—Little Bird journeys through forests and over lakes and fields, challenging her wits and survival skills along the way. The crow who returns home is wiser, braver, kinder, and ready—at last—to spread her wings.
Newbery Medal–winner Cynthia Voigt's gentle humor, sense of fun and adventure, and delightful main character sing off the page in this timely short novel about bravery and friendship, illustrated by Newbery Medal–winner Lynne Rae Perkins. A page-turning read-aloud for families and classrooms, and a terrific book for fans of Nuts to You, by Lynne Rae Perkins, and Avi's Poppy books.
About the Author
---
Cynthia Voigt is the Newbery Award-winning author of more than twenty books, including Dicey's Song and A Solitary Blue. This is her first book with HarperCollins.
Praise For…
---
"From Newbery Medalist Voigt comes this story of a tiny, inquisitive crow tackling life's big questions. . . . Voigt's craft is on full display in emotionally evocative scenes, such as wonder at soaring and palpable fear at an encounter with death. Little Bird is a plucky protagonist, whose joy at discovering her wings, both literally and proverbially, makes this a sweet and uplifting read."
— Publishers Weekly

"A crow goes on a journey and is forever changed. . . . This allegorylike story is brilliantly conceived . . . Flashes of bright humor burst joyfully . . . and the story's theme sneaks up on readers: Curiosity changes you, enriches you, and gives you choices."
— Kirkus Reviews

"When an animal attacks [the crow's] nest and steals "Our Luck" . . . it's up to Little Bird to find it. . . . Voigt's animal story hits all the right notes, from our upstart underdog (bird) heroine, to the colorful cast of characters she meets along her journey, to her returning to her flock wiser, more confident, and readier to fly along with the big birds. . . . [Little Bird] falls into the . . . tradition of Charlotte's Web or Babe."
— Bulletin of the Center for Children's Books

"Readers will look at crows quite differently after reading Newbery Medalist Cynthia Voigt's Little Bird, the tale of a young crow who's the smallest member of her flock. . . . It's a pleasure to put yourself into the hands of a writer like Voigt . . . masterful . . . A wild and wonderful adventure told completely from a corvid's point of view. This memorable tale is a celebration of knowledge and truth, as well as the importance of understanding and communicating with those who are like and unlike yourself."
— BookPage.com

"When a fisher cat attacks a crow's nest and makes off with a fledgling and the trinket known as 'Our Luck,' Little Bird must set off on a quest to find them. . . . Along the way, she learns about herself, the world around her, and those that are in it. This story incorporates themes of believing in yourself, friendship, communication, and more."
— School Library Journal

"Little Bird is a curious crow who doesn't quite fit in. . . . Her quest takes her outside her usual territory, where she encounters new situations, new creatures, dangers, and a dark night of the soul. . . . Voigt is a master at creating animal characters that are convincing and compelling."
— Horn Book Magazine