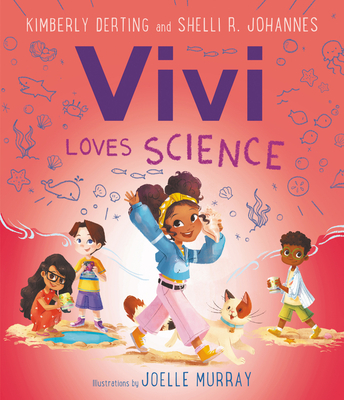 Description
---
Vivi loves science! In this STEM-themed picture book, part of a series about girls who love science, Vivi and her classmates go on a field trip to the ocean to investigate tide pools. A must-have for fans of Rosie Revere, Engineer and What Do You Do with an Idea? and anyone who loves to ask questions and learn about the world. Features a glossary and fun tide pool activity to do a home.
In the companion to Cece Loves Science and Libby Loves Science, Vivi and her classmates take a field trip to the beach to study tide pools. With help from her teacher and a park ranger, Vivi and her friends make aquascopes, participate in a marine-inspired scavenger hunt, and learn about different species that call the ocean home.
At the end of their trip, there's one more surprise for Vivi! Full of fun facts about marine biology and conservation, Vivi Loves Science is a perfect pick for aspiring scientists, classrooms, and fans of Andrea Beaty's Ada Twist, Scientist.
Features a glossary and instructions on how to make your own aquascope and tide pool at home. 
About the Author
---
Kimberly Derting is the author of the Cece Loves Science series, the Body Finder series, the Pledge trilogy, and the Taking series. She lives in the Pacific Northwest, where the gloomy weather is ideal for writing anything dark and creepy. Her three beautiful (and often mouthy) children serve as an endless source of inspiration and frequently find things they say buried in the pages of their mother's books. You can visit her online at www.kimberlyderting.com.
Shelli R. Johannes (AKA Sassy Sparklepants) is secretly a unicorn who celebrates with gobs of glitter, overuses rainbow sprinkles, and creates magical children's books that inspire kids to show off their shine. Her books include the popular Cece Loves Science titles. Shelli lives in Atlanta, Georgia, with her husband and two kids. Visit her online at www.srjohannes.com.
Praise For…
---
"Fans of the series that began with CeCe Loves Science will enjoy this beach-themed exploration. . . . The brightly colored images rival those of Dreamworks or Disney in cuteness and charm while also providing information. . . . A nifty way to help young learners see the beach through the lens of science."
— Kirkus Reviews